Everything You Need To Know About Where You Have To Go To Vote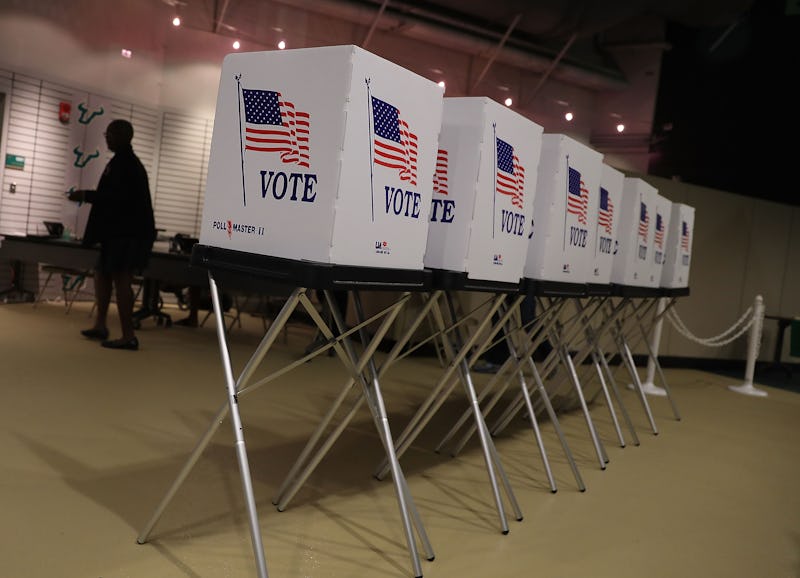 Joe Raedle/Getty Images News/Getty Images
You're registered, know who you want to vote for, and are excited to participate in the democratic process — then there's only one thing missing: knowing where to go. To show up at the right place on Election Day, here are polling places explained with everything you need to know about where to vote.
It's likely you got this information when you registered or maybe it was sent to you in the mail. But if you don't have the address handy, there are lots of online tools that can help you figure out where to go if your local elections board hasn't made that 100 percent clear or you've misplaced the information.
One of the best options is to go to Rock The Vote's polling place tool. All you have to do is enter your registered voting address and it will tell you where to go. It shows you your polling place on Election Day — complete with a Google Map to find your way or look up directions.
They also provide election resources, like who in your state is in charge of administering elections. They also show some helpful information on who is on the ballot from governor to the U.S. Congress to the smallest of local elections.
If you want to clarify any of this information from an official resource, it's important to go to the right place. Every state has a different Secretary of State or elections board that oversees the voting process. To make sure you get the right one, you can Google — or better yet, go to the list complied by the federal government on USA.gov. Simply click on the state you vote in and they'll connect you to the right website.
If you want to vote before Election Day, say on Monday, there's a tool for that too. If your jurisdiction has early voting, use Vote.org. It works much like the Rock Your Vote polling place tool, except that it provides you with the address of where you can vote early. If you suspect your state might not allow that, or that it has already ended, you can also check their early voting calendar on the same page.
Polling places are decided based on your address, and therefore in general it's not possible to change yours unless you move. That means on Election Day Tuesday, you'll need to go to the one that's assigned to you. There are exceptions for voters with disabilities who are assigned a polling place that's not accessible. But call as soon as possible to sort this out in advance.
If you don't go to your own polling place, you will be directed to it. If that's not an option, in many cases you will be given a provisional ballot — even if you're in the same state and county as where you're meant to vote. A provisional ballot isn't ideal because it's only counted after your eligibility to vote is checked.
All of this information should be double-checked with your local elections officials because the precise rules vary state to state and even county to county. And if you think your rights are being violated, don't hesitate to call a resource hotline like 866-OUR-VOTE, which will help you advocate for your voting rights.
If you're able — and haven't already voted early — the best option on Election Day is to head to your very own polling place. They'll be waiting for you.