The Trump Hotel In D.C. Was Lit Up With Poop Emojis & You Need To See The Photos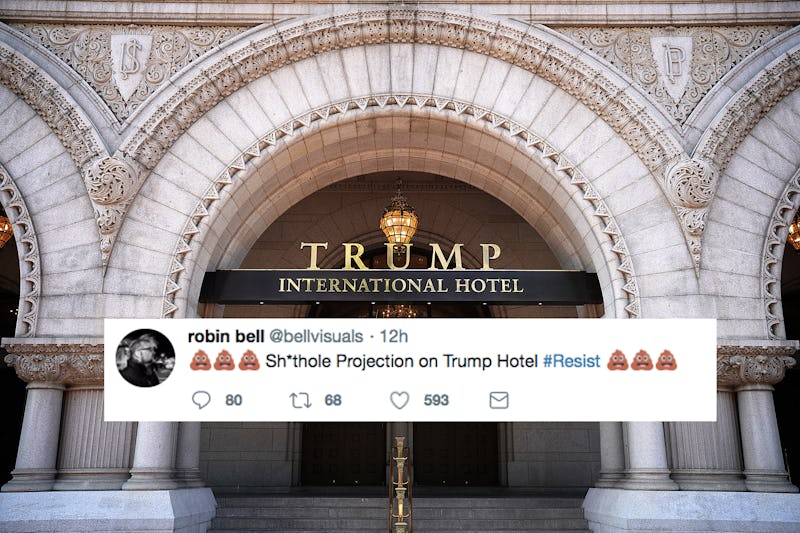 Win McNamee/Getty Images News/Getty Images
The president received widespread criticism this weekend from politicians, world leaders, and immigrants for calling Haiti and African nations "sh*thole countries," during an immigration briefing last week, and one activist stepped his criticism up a notch on Saturday. A Washington, D.C. based artist projected the word "sh*thole" across the Trump International Hotel in the nation's capital, using the president's own words against him in a very public way.
Multimedia artist Robin Bell used a video projector to project the phrase "This place is a sh*thole" onto the front steps of the hotel. The word "sh*thole," in large, bold letters was also shown above the hotel's entrance, surrounded by a number of smiling poop emojis.
Bell also used the projector to convey a number of other messages critical of the president to onlookers. One message read, "This is not normal," while another urged citizens to "stay vigilant" and "#resist."
Bell, the founder of a projection company called Bell Visuals, has used this technique to make public statements about President Trump in the past. Back in May, Bell projected the words, "Pay Trump bribes here" onto the same Trump Hotel in D.C.; later that same month, Bell projected the phrases "Fire Sessions," and "I thought the KKK was OK until I learned that they smoked pot" onto the hotel, both repudiations of Attorney General Jeff Sessions, who has also been criticized in the past for using allegedly racist language.
In addition to Bell, a number of online vigilantes have bashed Trump for his "sh*thole" remark through another pretty creative method. According to The Washingtonian, people are leaving negative reviews on the Yelp page for Trump's luxury hotel in D.C. that make reference to his controversial comment. As one review read:
It's a shithole. The owner is a racist senile old man. Don't waste your money. #shithole
Another read:
This hotel is a real sh*thole. I don't know why anyone would want to stay in a sh*thole hotel, when they could go on a Norwegian Cruise or something.
After allegedly making the disparaging comments about Haiti and African nations last week, Trump suggested that the United States should instead accept "more people from Norway."
Aside for subtle acts of civil resistance, Trump's comments are attracting major blowback from across the world stage — for starters, Norwegians have expressed contempt for Trump's backhanded compliment. In a recent op-ed for CNN, Norwegian political commentator Martine Aurdal said "thanks, but no thanks for the offer" to visit America.
Although we love to visit America, Mr. Trump, it is highly unlikely that Norwegians are going to flow into the US to live. As a citizen of Norway, I can tell you we're not flattered, but offended by the President's eagerness to have us emigrate.
And of course, that's coming from the country that Trump didn't necessarily criticize. Representatives from Haiti and African countries, however, had even more strongly worded condemnations. The African Union, which represents 55 African nations, expressed "shock, dismay and outrage" at the Trump administration, and suggested a "a serious need for dialogue between the US Administration and the African countries."
Additionally, Haiti's Ambassador to the United States has said that Trump should apologize for his comments, and even the spokesperson for the United Nations has derided Trump's remark as "racist."
Although a number of lawmakers who were present at last week's immigration briefing have confirmed to news outlets that the "sh*thole" remark was made behind closed doors, President Trump denies the reports. In a Saturday Tweet, Trump claimed that his language about immigration was "tough," but did not refer to the countries in question using the derogatory language that is being reported.