Pop Secret Released A Popcorn That Tastes Just Like Funfetti Cake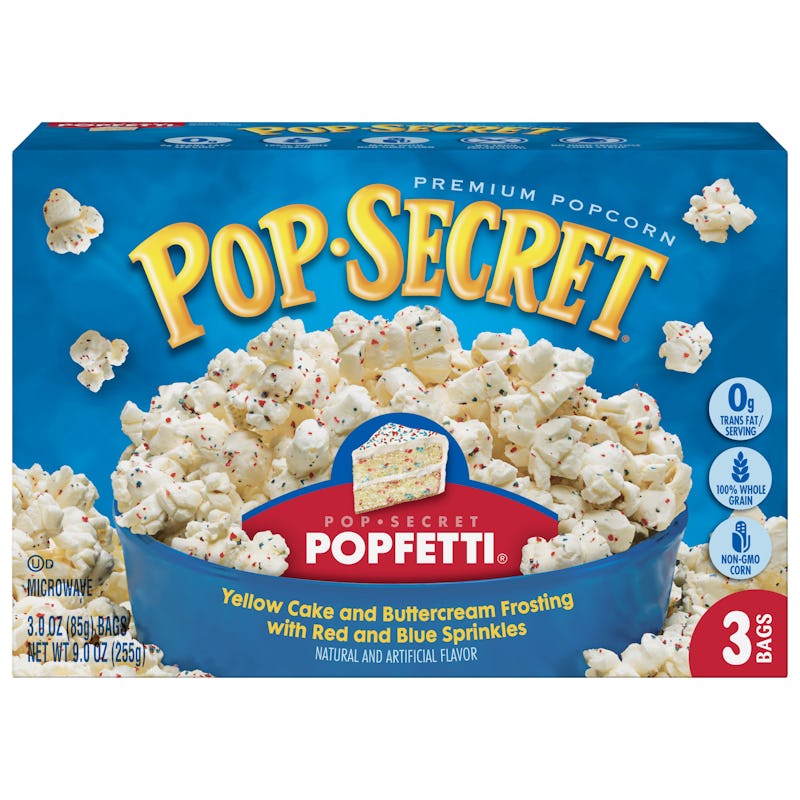 Walmart
There is a cherished union between sweet and salty. It is an edible romance, a delicious love story so sweet you can literally lick it up. Chocolate covered pretzels are the Meg Ryan and Tom Hanks of this flavor pairing but there's a new coupling taking over this swoon worthy combination. At least for now. Popfetti Popcorn is changing the snacking game — for a limited time. One thing is for sure, you're about to fall head over microwave in love.
Pop-Secret has once again introduced their limited edition Popfetti Popcorn to an adoring audience — and you'll soon want to introduce a box or two to your pantry. The limited edition flavor was previously circulated in Jul. 2017.
Each bag of popcorn is described by the package as packing the flavor of "Yellow Cake and Buttercream Frosting with Red and Blue Sprinkles." Basically, it's like kernels magically popping into multiple slices of cake. And that makes this the perfect snack to accommo~date~ your romantic comedy movie night marathon.
Reviews of the limited time popcorn suggest that it's worth snuggling up to a bowl of it. Instagrammer and expert in all things high fructose corn syrup JunkFoodMom gives professional advice on how to enjoy a bag, revealing in a post, "I'm putting some of this aside to add to some ice cream." Now that I'm back from running out to the store for a box of Popfetti Popcorn and ice cream, you might be curious as to how the popcorn actually tastes.
The blog JunkBanter writes, "It has a delicate balance of sweet & salty with some vanilla frosting notes and a bit of butter flavor to boot." As for how many handfuls you'll stuff into your face? It's noted that "this stuff is really addictive." The answer most likely being: yes, you will embark on an endless sequence of hand to bag to face. But, really, when it comes to funfetti, in any form, is that so hard to believe?
Funfetti has long been a baking favorite. A color wheel of sprinkles adds life to cakes and cupcake frosting and pop tarts and now, popcorn. Dessert lovers everywhere delight in both its appearance and flavor. Even those tough with textures of certain treats relish in the sweet crunch. Whether it's for a birthday, a movie marathon party, or just because it's breakfast, there's always a reason to add a little funfetti to your day.
You can find boxes of Pop-Secret's limited edition Popfetti Popcorn at many retailers. Walmart has 3 bag boxes available. A single box retails for $2.20 while a 4 pack will cost you $8.80. Popfetti can also be found on Amazon and at grocery chains such as Hannaford. While you're stocking up on Popfetti, so that love can last forever, why not also round up more funfetti products for future snacking and baking projects?
Walmart carries loads of funfetti options so that you never run the risk of exhausting this delight in your baking or straight up snacking routine. There's always the classic Super Moist Rainbow Chip Cake by Betty Crocker. Pillsbury has your Funfetti Chocolate Fudge Brownie Mix to take care of a chocolate craving. And even the celiac stricken or gluten sensitive are not excluded from the fun-fetti. Hungry Jack's Gluten Free Buttermilk Pancake and Waffle Mix features funfetti candy bits.
There are multiple romances at play here, really. The one between sweet and salty, so amorously embodied in the Pop-Secret Popfetti Popcorn. And then there's the love between person and funfetti. Thankfully we can nurture these life-long romances and trot off into the sunset hand in a bag of popfetti.