Portia de Rossi Accuses Steven Seagal Of Sexual Harassment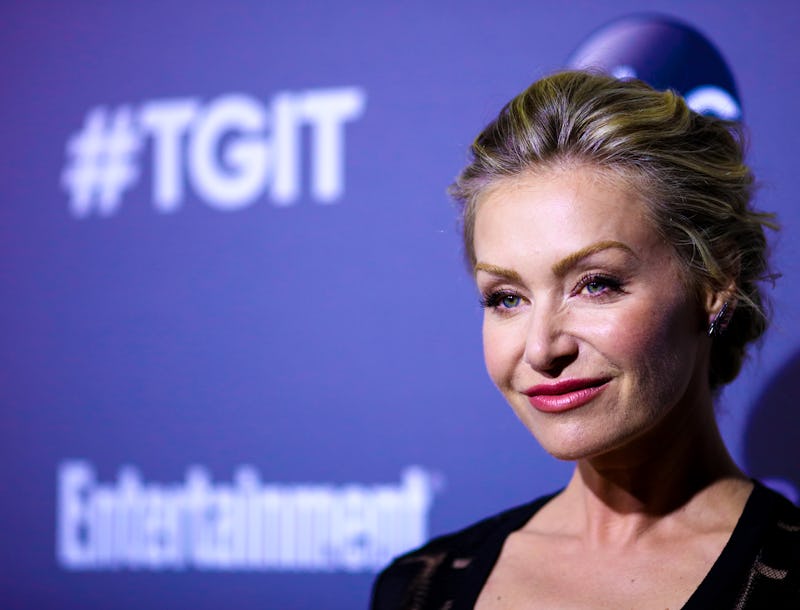 Mark Davis/Getty Images Entertainment/Getty Images
Continuing the trend of women coming forward to share their allegations of sexual assault at the hands of Hollywood men in recent weeks, this former Scandal star is speaking out on Twitter. Late Wednesday night, Portia de Rossi accused Steven Seagal of sexually harassing her during an audition for one of his movies. Bustle has reached out to Seagal's lawyer regarding de Rossi's claims, as well as the claims from the other women mentioned below, but did not receive a response at the time of publication.
In her tweet, de Rossi alleged that the sexual harassment occurred when she met Seagal in his office for a final audition for one of his movies. He allegedly told her that chemistry between costars is important and unzipped his pants. De Rossi claims that when she told her agent what happened afterward, she was allegedly "unfazed" by it and said, "Well, I didn't know if he was your type."
De Rossi didn't share any other details about the alleged incident, like when it allegedly took place, what movie she was auditioning for, or who her agent was at that time. But even without that information, her story sounds all too familiar to what so many other women have claimed they've experienced when working with actors or producers, especially when the man in question is in a position of power.
Ellen DeGeneres, de Rossi's wife, quickly took to Twitter herself to share her support, simply tweeting that she was proud of her.
De Rossi isn't the first woman to accuse Seagal of assault. Last week, while visiting Sirius XM radio show Just Jenny, Julianna Margulies shared a claim about Seagal of her own. Margulies alleged that when she was 23, Seagal asked her to have a meeting in his New York hotel room, where he allegedly took the opportunity to show her his gun.
According to Variety, Margulies claimed:
"I got to the hotel around 10:40, and [the casting director] wasn't there. And he was alone and he made sure that I saw his gun, which I had never seen a gun in real life. I got out of there unscathed … I never was raped, and I never was harmed. I don't know how I got out of that hotel room."
She also claimed that he told her, "I'm a healer, I want to massage you," and she was allegedly left to "squirm" her way out of the hotel room.
Margulies also said that because of the alleged incident, she later refused to go to Harvey Weinstein's hotel room unaccompanied when she was allegedly invited. "Of course I didn't get the part," she said on the radio show. Bustle reached out to Weinstein's spokesperson for comment, but did not receive an immediate response.
The list of Seagal accusers doesn't stop there. In an interview with The Hollywood Reporter, former Inside Edition correspondent Lisa Guerrero claimed that Seagal invited her for a private meeting at his home. When she got there, she claims he was wearing a silk robe, and allegedly asked her to perform the scenes she'd prepared for him. She claims that when she left, she felt like she "dodged a bullet."
Actor Rae Dawn Chong also claimed to The Hollywood Reporter that Seagal exposed himself to her during a private, night time audition in his hotel room that allegedly took place around 1989 or 1990 when she was a client with CAA. Her agent at the time, Kevin Huvane, told THR in a statement, "Protecting clients has always been my top priority. I would never knowingly put a client at risk. What Ms. Chong describes having happened sounds horrible, and I have great sympathy for her."
Back in 1998, Jenny McCarthy claimed to Movieline that Seagal asked her to take off her dress during an audition despite the fact that there was no nudity in the movie she was auditioning for. Seagal's spokesperson denied those allegations to The Daily Beast.
Back in 2010, Seagal was sued for alleged sex trafficking. His lawyer denied this allegation in the following statement, according to TMZ:
"The lawsuit filed by Kayden Nguyen against Steven Seagal is a ridiculous and absurd claim by a disgruntled ex-employee who was fired for using illegal narcotics."
This case was later dismissed.
If you or someone you know has been sexually assaulted, call the National Sexual Assault Telephone Hotline at 800-656-HOPE (4673) or visit online.rainn.org.