Post-Makeout Lipstick Is Now A Thing & It's Actually Cuter Than You'd Think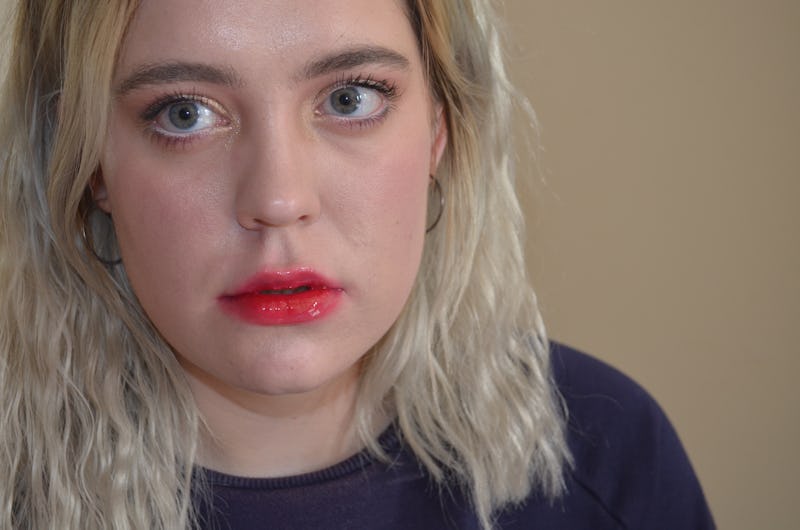 I am a very big fan of weird and wonderful makeup trends, but I constantly face the struggle of choosing between wanting to fully commit to a look, and the discomfort that comes with looking a bit, well, weird. I faced this exact challenge when I saw the "just been making out" inspired lips on the Preen Fall/Winter 2017 runway.
Because both Preen and I are British in persuasion, the look is actually described as "snog lips." Snog is one of the greatest British words, in my opinion, and it basically means "make out intensely." The more you know.
Anyway, the basic gist of this look stems from the vibe of the post-snog. That is to say, slightly swollen, irritated looking lips, possibly sheeny-shiny, and definitely with color overstepping the lip-edge boundary. It works as an imprecise, lip-emphasizing overlined look, minus any need to precision or skill.
That said, the full-blown snog lip look isn't for everyone — but there are some easy, low key ways to pay homage to the trend. Below, I tried "just been snogged" four different ways — from the extremely natural to the just plain extreme.
For context, here are my boring lips before I started messing about with them.
Now, four ways to achieve this very unique look, to varying degrees of intensity.
1. Scrub With A Toothbrush
This is so easy as to barely qualify as a "look," but it is perfect for beginners at "just been snogged" lips, and in fact lip looks in general.
For this look is simply bare lips, scrubbed over top to make them redder and plumper. In away, this is actually the most accurate take on the look, as anyone who has done any snogging will tell you. It's also a great prep step pre-lipstick, as it removes flakes (sorry, but it does) and makes everything smooth and pillowy.
My weapon of choice is a toothbrush. For health reasons, it should probably be a different toothbrush from your tooth one, so you don't end up with a load of skin flakes in your mouth.
2. Plumped Without Color
This is really an extension of the previous look — scrubbed and thus slightly irritated lips with an added plumping factor. I prefer a plumping treatment as opposed to a plumping gloss, because I find them to be more effective.
The best one is the GlamGlow Plumprageous Matte Lip Treatment. It looks like a thin, white serum, but once patted in basically sinks into lips. It does the typical stingy-burny thing of a plumper, but the pain doesn't last too long – and I really notice a lip-size difference with this one as opposed to others.
GlamGlow Plumprageous Matte Lip Treatment, $24, Sephora
3. Tons of Red Tinted Balm
This look is inspired by the typical post-snog move: Applying a lip balm. But one with a red tinge is perfect for emulating the slight irritation inevitable after a make-out session. There are a ton of reddish balms on the market, but I reckon the best one is Glossier's Cherry Balm Dot Com.
Balm Dot Com, $12, Glossier
It's thick and not too shiny in finish, plus on my skin tone tints lips to the perfect shade of "just been snogged" red. It also smells magnificent and lasts a really long time.
4. The Full Preen Monty
This is the proper Preen experience, but toned down just enough for wearing without fear of the consequences. For this, you'll need a dark, reddish liquid lipstick and a clear gloss.
For my red, I chose the Bourjois Rouge Laque in the shade Bloody Berry. The reason was that this is a long-lasting formula that isn't totally matte, meaning it blends better and melds with lips to form a stain, instead of cracking or peeling.
Bourjois Rouge Laque, $9, Feel Unique
First, apply the color only to the center of your mouth, where you lips meet.
Then blend the color outwards, either using a finger or a brush. I recommend blending slightly over the edges of your lips to cement your Preen inspo, but don't add any fresh color there.
One blended,you'll have a wash of red stain, with the most intensity at the center of the mouth. I then like to repeat this process to really build up the central color.
Then blend again.
Blot with a tissue to seal in your hard work.
You can stop here, but Preen finished with a wet look gloss, and thus so did I.
The gloss I like best is the Physicians Formula Needle-Free Lip Plumping Cocktail — it's super shiny and wet look, has that satisfying plumping tingle and lasts really well on the lips.
And there you have it! High fashion made wearable, with the added bonus of making everyone subconsciously think about kissing you.
L-R: GlamGlow Plumprageous, $24, Sephora; Glossier Cherry, $12, Glossier; Bourjois Bloody Berry, $9, Feel Unique; Physician's Formula Plumping Cocktail, $8, Amazon
Think of it like subliminal messaging for your face. Or just think of it as a fun new way to accessorize your lips. Either way, think about it,because I'm predicting now that this will be the new over-lining. Mark my words.