Post Malone's Plane Landed Safely & Here's What He Said About The Scary Situation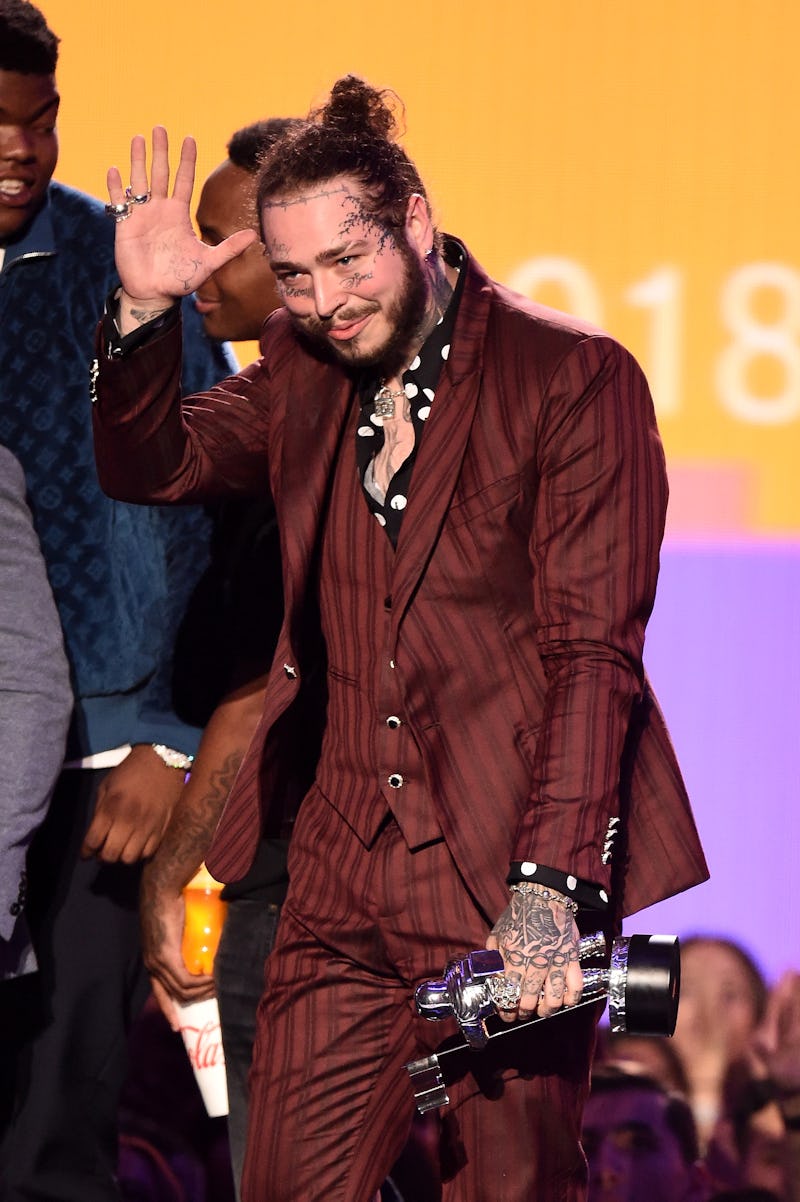 Michael Loccisano/Getty Images Entertainment/Getty Images
After what sounds like a scary ordeal, Post Malone's plane landed safely, the rapper confirmed on Tuesday, Aug. 31. Earlier that day, TMZ reported that Post Malone was on a private plane with 16 other people departing from Teterboro Airport in New Jersey and was headed to London when the plane's tires blew out during takeoff, according to a law enforcement source at Teterboro. TMZ also gave live updates during the entire incident.
Based on Post Malone's tweet, he couldn't be happier to be back on the ground. He wrote,
"i landed guys. thank you for your prayers. can't believe how many people wished death on me on this website. f*ck you. but not today."
TMZ also FaceTimed with the rapper, who won Song of the Year for "Rockstar" at Monday's MTV Video Music Awards, shortly after he landed. The 23-year-old expressed his dislike of flying and admitted he was scared during the horrible experience. He reportedly also told TMZ he is in need of a drink.
TMZ shared the FaceTime video, where Post Malone says,
"Oh, my God, I hate flying in general. I don't even know what to say, man. I'm shook. There was one hell of a team on that aircraft, and we're here, we're here on earth, and I need a beer, and I need some wine, at the same time, mixed together."
In air traffic audio obtained by TMZ, the pilot reportedly expressed that they lost a tire. According to TMZ, a source said air traffic control told the pilot to continue to Massachusetts as a way to burn fuel, which would make for a safer crash landing. Per TMZ, the plane had 3,700 gallons of fuel to burn.
TMZ later reported Post Malone's plane was diverted to a New York airport and would continue to burn fuel until it was safe to land. About an hour later, TMZ reported there were "nine fire trucks, at least 25 personnel and 12 ambulances on standby" waiting for the plane to land. At 3:53 p.m. EST, TMZ reported Post Malone's plane landed safely at Stewart International Airport in New Windsor, New York.
The Associated Press also reported on Tuesday about Post Malone's plane, but it's original report didn't name the rapper as being involved in the incident. As the AP tweeted, "BREAKING: A plane that blew two tires during takeoff at a small New Jersey airport will attempt to make an emergency landing at an airport in Massachusetts."
The AP also confirmed Post Malone's plane made a safe landing a little bit before 4 p.m. EST at the Stewart International Airport. According to the AP, the rapper's fans even gathered outside the New York airport and cheered upon his landing.
Before the plane was diverted from Massachusetts to New York, the AP reported that fans also gathered outside the New England-based airport. One fan, Jessica Keilb, told the publication, "We came down because he had the biggest day of his life yesterday and we wanted to make sure he is safe."
Per the AP, Stewart International Airport has about a 12,000-foot runway, which was "long enough to handle the fat-bodied C-5A Galaxy planes laden with supplies and better for such emergencies." The Federal Aviation Administration also confirmed to the AP 16 people were on board when it left New Jersey, but the FAA didn't confirm whether or not that number included the pilot.
It's good to know the plane landed safely and everyone is fine, including Post Malone.