Postmates Is Majorly Lowering Minimum Order Sizes — Here's How Much You'll Save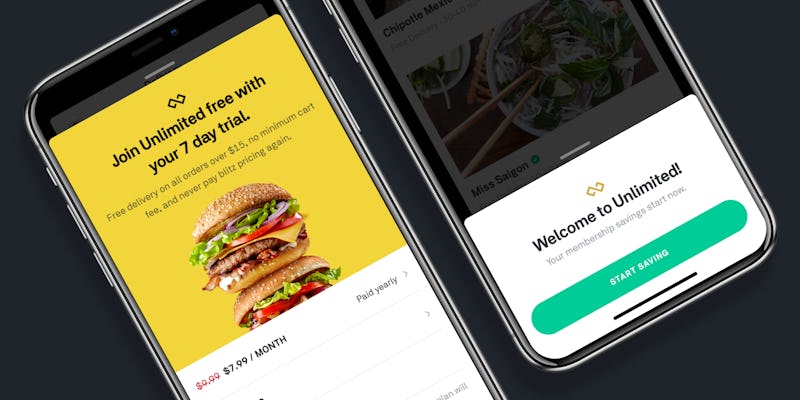 Our cultural relationship status with Postmates is essentially at the level of "codependent." Once you realize you don't have to put on pants to get chips and queso delivered to your doorstep, there's really no turning back. Now, Postmates Unlimited is lowering their minimum order size, meaning more free delivery on more things...and less putting on pants to leave the house.
Starting Thursday, October 4, Postmates is dropping the minimum order size nationwide from $20 to $15 for all Unlimited orders. This means Unlimited members will be able to enjoy that sweet, free delivery more often. That's extra good news for when you're craving something cheap like Shake Shack or just need a couple things (read: pints of Halo top) from the grocery store and don't want to pay the $3.99 delivery fee.
It's also great news for the growing number of people using Postmates for everything from clothes to makeup to electronics. According to a press email from Postmates, more and more members are using Postmates for non-food purchases, having drivers pick up something they need from everywhere from 7-Eleven to the Apple store.
When Postmates said "anything, anytime, anywhere," the world responded with a resounding, "Challenge accepted."
If you haven't yet been converted to the church of Postmates Unlimited, get ready to make room on your subscription shrine right next to where you worship Amazon Prime. Announced last September, Postmates Unlimited is a membership service that provides perks to subscribers for a monthly fee. Unlimited members don't have to pay blitz pricing, don't need to worry about minimum basket fees, and now can get free delivery on any order over $15. For $7.99 a month for an annual membership ($9.99 if you want to commit month-to-month), you can live in the lap of food delivery luxury. That membership feel pays for itself quickly, too. After just two orders, your Unlimited Membership has already paid for itself.
The number of people signing up for Postmates Unlimited doesn't seem to be slowing down any time soon. Postmates Unlimited currently has hundreds of thousands of members, with membership doubling in the last year. If there's one thing the world loves, it's food delivery.
This is just one of a handful of big announcements from Postmates in the last year. This summer, Postmates announced they'd be expanding to 100 more cities in the U.S. Now, people in over 400 cities across the U.S. and Mexico can Postmates to their heart's content. With that expanded reach, Postmates is now accessible to nearly 50 percent of all US households. That expansion happened concurrently with Postmates adding more Chipotle locations as well. If you heard rumblings of "free Chipotle delivery" this summer, that Postmates expansion was to thank. Earlier this year, Postmates also introduced a new partnership with Walmart, allowing users to get grocery delivery from the retail giant.
In addition to affecting fast food chains and big box retailers, the rise in food delivery apps is changing the way restaurants run. In fact, apps like Postmates and Uber Eats have inspired virtual restaurants. Rather than having a physical location, these restaurants only interact with customers via food delivery apps. This future is now and it is wing places that only exist online.
Postmates drivers truly see us at are most vulnerable: hungry, pimple cream-ed up, and unwilling to leave our home for snacks.
This latest Postmates announcement will likely take that relationship to th next level. That couple of bucks Unlimited members will be saving in delivery add up quickly. According to Postmates, this drop will save members over $200 in delivery fees over the course of the year. I'll cheers a Postmates delivered Shake Shack shake to that.