Potbelly Dropped A Massive Turducken Sandwich Complete With Cornbread Stuffing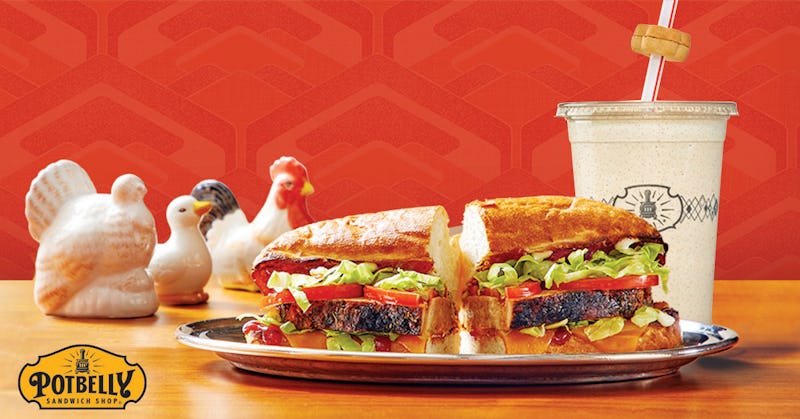 Potbelly
With Thanksgiving a little more than a week away, people across the United States are prepping for everyone's favorite eating holiday by peeling potatoes, stocking up on stuffing, and shoving meats into other meats. Yes, the Turducken cometh! You cannot escape the Turducken. Even Potbelly has a Turducken sandwich if you thought for even a moment you could live your lunch hour in Turducken-less peace.
If you've been able to go this long without crossing paths with Turducken, consider yourself lucky, I suppose. For now, it is only a matter of time. Potbelly's limited-time Turducken sandwich was first made available on Monday, Nov. 13. It is essentially a Thanksgiving feast between two slices of bread: a combination of turkey, duck and chicken toasted with cornbread stuffing and topped with a cranberry-honey sauce, mayo, lettuce, cheddar cheese, tomato and seasoning. "Like all Potbelly sandwiches, the Turducken sandwich can be customized just the way you like it," a press release for the sandwich specifies. You know, just in case you looked at that list of ingredients and when "hmm something's missing."
"This sandwich is exactly as bizarre as it is delicious," said Brandon Rhoten, chief marketing officer of Potbelly. "And if you've never had a whole piece of pumpkin pie blended into a hand-dipped milkshake, you haven't lived. Chef Ryan is a mad scientist and is making us go off our diets with his wonderful creations — he needs to be stopped."
Chef Ryan cannot be stopped and neither can the Turducken!
Let's circle back to the part where CMO Rhoten mentioned a pumpkin pie shake. If putting chicken in ducks in turkeys isn't your thing, perhaps you will fall at the altar of the pumpkin pie shake. According to Potbelly's press release, "The new Pumpkin Pie shake blends a whole slice of real pumpkin pie with hand-dipped vanilla ice cream for a rich, creamy treat." How much pumpkin pie? Oh, just the normal, mathematical measurement of A WHOLE ENTIRE SLICE.
No longer do you have to choose between a milkshake and a slice of pumpkin pie. (You know, that classic philosophical conundrum.) Now, you may treat/torture your body with Potbelly's pumpkin pie shake. The selling point is that it has A FULL SLICE OF PIE IN IT.
The Turducken is available started at $7.75. Both the Turducken sandwich and the pumpkin pie shake are only available for a few weeks, while supplies/our digestive systems last.
The Turducken isn't new here. It's been around at least since the early '00s. The New York Times even profiled the bird stuffed bird stuffed bird in 2002. If you've ever wondered what a Turducken tastes like but fear that one bite may ruin your life, feast your eyes on writer Amanda Hesser's description of the dish:
"A well-prepared turducken is a marvelous treat, a free-form poultry terrine layered with flavorful stuffing and moistened with duck fat. When it's assembled, it looks like a turkey and it roasts like a turkey, but when you go to carve it, you can slice through it like a loaf of bread. In each slice you get a little bit of everything: white meat from the breast, dark meat from the legs, duck, carrots, bits of sausage, bread, herbs, juices and chicken, too."
Nowadays, Turduckens are not hard to come by. This was the Turducken's plan all along. You can buy a Turducken at Whole Foods, through the official TurDucKen website, and even on Amazon. Basically, you can no longer avoid the inevitable: you will cross paths with the Turducken. Fort the Turducken is not just arriving; it is already here and it demands your attention. Godspeed to all of our intestines.