"Pray For Mexico" Memes & Tributes You Can Share To Support Earthquake Victims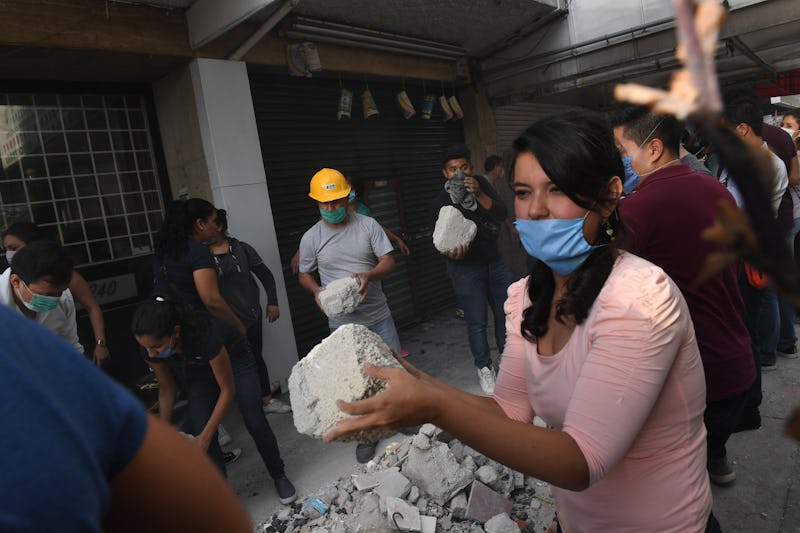 ALFREDO ESTRELLA/AFP/Getty Images
As residents began to digest Tuesday afternoon's 7.1 magnitude earthquake, "Pray for Mexico" tweets took off across the internet. As of Tuesday evening, the seismic event had killed over 100 people. This is the second massive earthquake to hit the country since the beginning of September, leaving residents reeling from the double blow. The event also fell on the 32nd anniversary of an 8.0 earthquake that devastated the same city in 1985. According to CNN, the quake hit shortly after memorial events commemorating the historic tragedy.
The earthquake's epicenter was estimated to be almost 100 miles away from Mexico City, according to The New York Times. Mexican President Enrique Peña Nieto told Foro TV, a CNN-affiliated news station, that over two dozen buildings collapsed in the Mexican capital. Videos reportedly taken in the area show warehouses and other structures rapidly collapsing.
In the immediate aftermath, the "Pray for Mexico" hashtag took off on social media, with sympathizers and victims rallying around ideas of hope and unity. Many mourned the painful timing of the earthquake, which followed not only the earthquake less than two weeks ago, but which also fell in the middle of a series of horrific hurricanes beating down on the Caribbean and Gulf coasts. Politicians, pop stars, and people around the world expressed love and support for the ravaged city.