Precut Melon May Be Contaminated With Salmonella & Here's What You Need To Know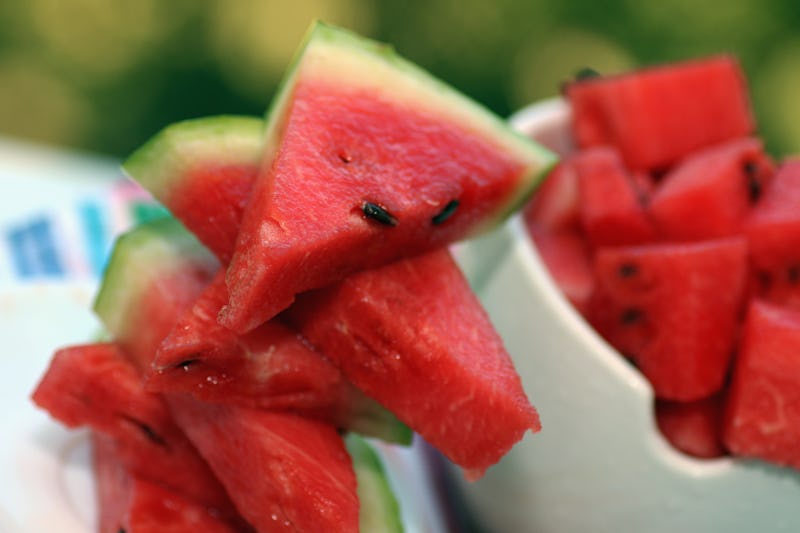 alexkich/Fotolia
If you've bought any precut melon lately, you might want to toss it out ASAP. Precut melon linked to salmonella has resulted in a multi-state recall, according to the Centers for Disease Control and Prevention (CDC). BuzzFeed reports that 60 people are sick with salmonella infections from the contaminated melon, with 31 people hospitalized, though there is a delay in reporting during outbreaks, so it's possible that more people are infected than are currently tallied. The affected fruit includes precut, prepackaged watermelon, honeydew melon, and cantaloupe, in addition to mixed melon, according to the CDC.
Fortunately, no one has died due to the current outbreak, according to the CDC. BuzzFeed also notes that, while most people recover from salmonella infections, young children under age five, adults over the age of 65, and people with compromised immunity are more susceptible to complications, and sometimes require hospitalization. In severe cases, salmonella poisoning can be fatal. The CDC and FDA report that those sick from the contaminated fruit range in age from less than one year, to age 97.
According to Gizmodo, the strain of the bacteria causing the current precut melon outbreak is called Salmonella Adelaide, and symptoms include fever, stomach pain and cramps, and diarrhea. Symptoms usually take about 12 to 72 hours to show up after exposure to the bacteria, and most people recover without treatment, Gizmodo also reports. But some cases can require hospitalization if dehydration becomes severe enough, according to the CDC, and antibiotic treatments are sometimes needed as the infection can spread from the intestines to the bloodstream. The CDC also reports that a small number of people infected with salmonella develop reactive arthritis, or pain in the joints, as a complication of the illness, and symptoms can also include painful urination and eye problems. Most people don't develop these complications, however, and recover within four to seven days without medical treatment.
The precut melon recall is in effect as of June 8, according to the CDC, and the contaminated fruit is linked to the Caito Foods Facility in Indianapolis, Indiana. The CDC reports that the now-recalled precut melon was distributed throughout Georgia, Illinois, Indiana, Kentucky, Michigan, Missouri, North Carolina, and Ohio. The CDC also reports that the recalled melon was packaged in clear, plastic clamshell containers, and sold at Costco, Jay C, Kroger, Payless, Owen's, Sprouts, Trader Joe's, Walgreens, Walmart, and Whole Foods/Amazon, and distributed between April 17 and June 7, 2018, according to the Food and Drug Administration (FDA). Investigators are still determining if the contaminated melon was also shipped to other stores and locations, and in the meantime you can check out a full list of the recalled products here. According to the FDA, Caito Foods has also voluntarily recalled all precut fruit salad mixes containing sliced melon, in order to further reduce the risk of infection.
The list of recalled foods includes sliced watermelon, precut honeydew, sliced cantaloupe and cantaloupe halves, melon mixes, party fruit trays, and fruit salad mixes. The FDA and the CDC recommend that any precut melon or melon mixes be thrown out right away, especially if you don't remember where you bought the fruit in question from. You can also return the now-recalled products for a full refund.
The CDC recommends that if you become sick with salmonella poisoning it's best to check in with your doctor and seek medical care. Your doctor can test for the infection and report your illness to your state health department. The CDC also notes that it's important to remain well hydrated with salmonella infections, and while the infection will most likely clear up on its own within a week or so, it's important to see your doctor to confirm your diagnosis.