Everything You Need To Know About Roy Moore's Senate Race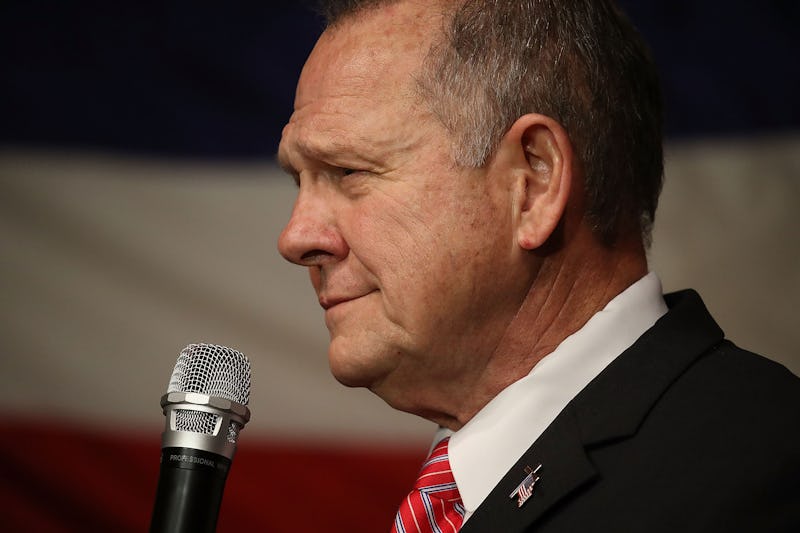 Joe Raedle/Getty Images News/Getty Images
We're just one day away from the special Senate election in Alabama, and polling suggests that Republican Roy Moore is the slight favorite to defeat Doug Jones, his Democratic opponent. But that's by no means assured, and those who've been watching the race have a number of predictions about how the Alabama Senate election will unfold when voters head to the polls on Tuesday.
This off-year election is the result of President Trump's decision to pluck Jeff Sessions out of the Senate and make him Attorney General. It's an especially important race: Republicans control only 52 seats in the Senate — it gives them a majority, but also very little room for error on controversial votes. Congress will soon be casting a final vote on the GOP's tax reform bill, and it's entirely possible that the legislation could pass or fail by a single vote.
The Alabama race drew increased national attention last month after Moore, a former judge who had been twice disciplined by a state ethics panel, was accused of initiating sexual contact with several underage girls. Moore has vehemently denied those allegations, and enjoys the support of Trump and the Republican National Committee; the organization resumed its financial support for Moore after briefly cutting it off earlier in the race.
We won't know the results until Tuesday night, but in the meantime, here are some predictions as to how it might turn out.
The Polls
Polling in Alabama has been volatile, but the most recent numbers indicate that Moore is on track to win. As of this writing, he leads Jones by an average of 3.8 points, according to RealClearPolitics — not a huge lead, but a lead nonetheless. Jones took the lead over Moore in several polls in the immediate wake of the sexual misconduct allegations; however, Moore has since recovered, and leads Jones in eight of the last 12 polls taken since Thanksgiving; of the four other polls, one had Moore and Jones tied.
That said, some experts have cautioned against putting too much faith in Alabama's polling — but more on that later.
The Betting Markets
Those betting money on the outcome of the Alabama Senate race are largely betting on Moore to win. Over at PredictIt, bettors are giving Moore a 78 percent chance of becoming Alabama's next senator; the website Election Betting Odds has Moore at 66.3 percent.
The Statisticians
Although Moore leads in the polls, those who analyze polls for a living have warned that in this particular race, public opinion surveys might not be terribly reliable.
Alabama normally votes Republican by such wide margins that statewide polling isn't necessary; as a result, the state hasn't developed a very strong polling infrastructure. There aren't many pollsters surveying Alabama in the first place, and of those that are, some are using questionable methods: One poll only contacted voters with landlines, for instance, effectively excluding nearly half of the state's adult population from the survey. Only one pollster in the state meets FiveThirtyEight's "gold standard" for polling — and it shows Jones in the lead. It's notoriously difficult to predict turnout in off-year elections, which further complicates polls' reliability, and Senate polling in general simply isn't very predictive of winners.
The week before the election, Harry Enten at FiveThirtyEight wrote that "even though Moore is a favorite, Democrat Doug Jones is just a normal polling error away from winning" the race. He also noted that betting markets are giving Moore roughly the same chance of winning as they gave Hillary Clinton on the eve of the 2016 election.
The Pundits
Among pundits who've registered an opinion on the race, most appear to be of the opinion that Moore will win. Writing at Fox News, conservative blogger Erick Erickson predicts that Alabama voters will have forgotten about the allegations against Moore by the time they head to the polls, while Jennifer Wright at Harper's Bazaar thinks that Jones' support for abortion rights will ultimately doom him in a deep red state like Alabama. Over at The Root, Panama Jackson predicts that Moore will win simply because "Southerners HATE being told what to do by elitist Northerners."
However, there are some outliers. Ed Kilgore at New York thinks that Moore's skeletal campaign apparatus could hurt him at the polls on Election Day, while the Associated Press cited Moore's sub-par performance in previous statewide elections and ultimately concluded, on the Saturday before the race, that it was too close to call.
In totality, most predictions point to a Republican victory on Tuesday — but by no means is it a foregone conclusion.