President Trump Claimed Polls Are 'Fake News'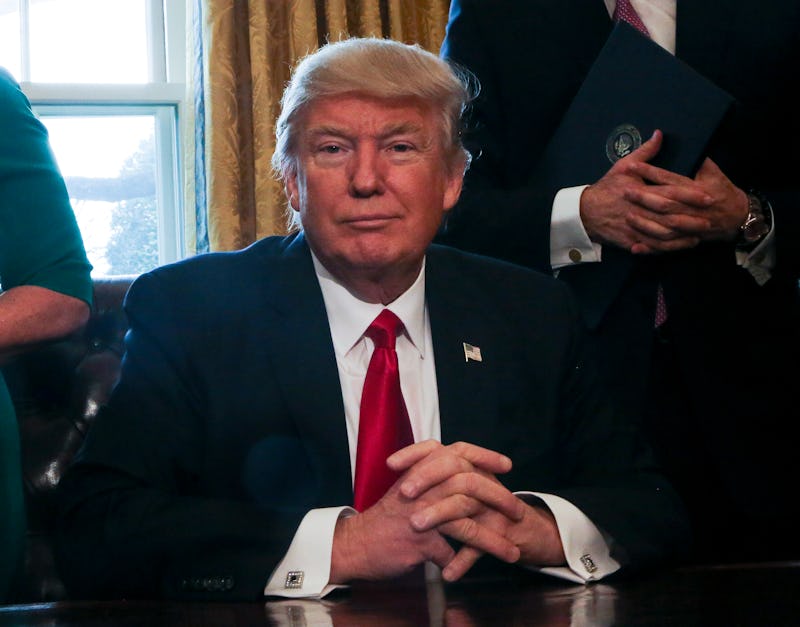 Pool/Getty Images News/Getty Images
Up early Monday morning and already on Twitter, President Donald Trump attacked polls once again, calling negative polls "fake news" and accusing the "FAKE NEWS media" of lying. How does he know this? His own "accumulation of data." Well, whatever sources of data Trump's using, it contradicts polling that shows him to have the lowest approval rating of any newly elected president in polling history. A majority — 53 percent — disapprove of Trump's job so far.
"Any negative polls are fake news, just like the CNN, ABC, NBC polls in the election. Sorry, people want border security and extreme vetting," Trump first sent out on Twitter at 7:01 a.m. ET. Six minutes later he followed up with, "I call my own shots, largely based on an accumulation of data, and everyone knows it. Some FAKE NEWS media, in order to marginalize, lies!"
Trump must have read some less-than-stellar polling numbers in his morning briefing — or, you know, he saw it on Fox News. Likely given his references to "border security and extreme vetting," he is speaking about the CNN/ORC poll released on Friday. The poll found that 60 percent of Americans are opposed to building a wall along the Southern border with Mexico and 53 percent oppose his travel and refugee bans.
Another unflattering portrayal of the Trump administration's first weeks came in the form of a New York Times article that highlights the errors Trump and his team have made in pushing forward quickly with so many executive actions, particularly around the travel and refugee ban, which has been stayed.
According to the portrayal, Trump himself was at first doubtful about any negative news coverage, but began to believe it after days of negative headlines — unless these latest tweets mean he has changed his mind again. According to a close friend quoted in the article, Trump would normally consider things like polling important.
"I think, in his mind, the success of this is going to be the poll numbers," Chris Ruddy, chief executive of Newsmax Media told the Times. "If they continue to be weak or go lower, then somebody's going to have to bear some responsibility for that."
That corroborates a report from RealClearPolitics on Trump's love of polling. It quotes White House Press Secretary Sean Spicer. "We show him stuff. We give him news of the day every day, and if there are polls that come out, we'll include them," Spicer told RealClearPolitics. He said sometimes Trump even has polling info to share with the communications team because the president "consumes news like no other."
This is not the first time that Trump has attacked his approval ratings. He did the same thing earlier in January when polls showed just 40 percent approved of his handling of the transition. "The same people who did the phony election polls, and were so wrong, are now doing approval-rating polls. They are rigged just like before," Trump tweeted on Jan. 17.
Perhaps the latest approval numbers are rock bottom. The Times piece pointed to some changes within the White House following fallout from the travel and refugee bans — particularly on communication procedures — that are designed to improve future policy roll-outs. Trump's Chief-of-Staff Reince Priebus even instituted a 10-point checklist.
Evidently, Trump's tweets are exempt.