Trump Framed The Map Of His Electoral College Win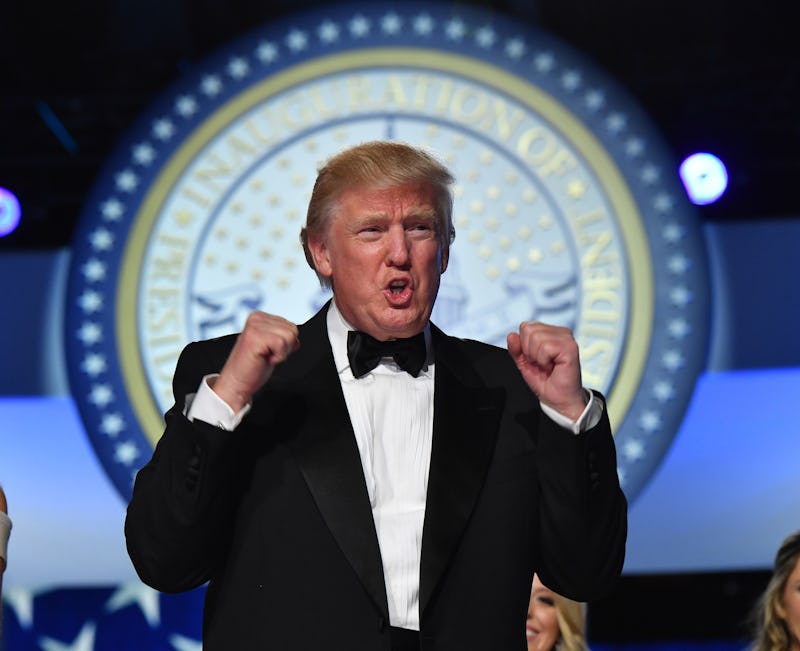 Pool/Getty Images News/Getty Images
Who's to say what is and isn't art? As the abstract works of artists like Marcel Duchamp and Kazimir Malevich have shown, art — like beauty — is in the eye of the beholder. Now, however, it's President Donald Trump who is further testing the boundaries of what is and isn't art. President Trump seems to have hung a framed map of his 2016 Electoral College win in the White House's West Wing, according to a report from One America News Network. But who's to say the red-and-blue graphic Trump seems to obsess over won't become the next great masterpiece?
One America News Network's Trey Yingst spotted a framed map of Trump's Electoral College victory being carried through the White House Thursday. According to Yingst, the map was taken "to be hung somewhere in the West Wing."
While weird and, one might argue, even shallow, it's not altogether surprising that Trump wants this particular map to be enlarged and framed for display in the West Wing. Trump has long appeared to be particularly obsessed with this graphic, which some have criticized as failing to accurately depict the vote in relation to population density.
In late April, Trump reportedly interrupted an interview centered around his first 100 days in office to distribute copies of the county-by-county 2016 Electoral College map to the three Reuters reporters with whom he was speaking. "Here, you can take that, that's the final map of the numbers," Trump reportedly said. "It's pretty good, right? The red is obviously us."
Around that same time, Philip Rucker, the White House bureau chief for the Washington Post, told MSNBC's Chris Hayes that Trump had given him a copy of the map as well and asked that it be run on the front page. Rucker also claimed Trump had asked him if he was impressed by the map. "I think he was sort of playing there, but it speaks to the pride that he has in that map," Rucker said.
Since November, Trump has repeatedly touted his Electoral College win, falsely claiming it was "the biggest" since Ronald Reagan. However, the numbers show otherwise. While Trump snagged the presidency with 304 electoral votes, former President Barack Obama won the 2012 election with 332 electoral votes and the 2008 election with 365 votes. In 1996, former President Bill Clinton nabbed 379 electoral votes. In 1992, he won with 370 votes. Former President George H.W. Bush's victory in 1988, however, tops them all with 426 electoral votes. When confronted with the real numbers, Trump claimed he "was given that information" regarding the claim his win was the biggest and that he'd "seen that information around."
In an ironic twist, One America News Network's report on the framed Electoral College map came the same day Trump was expected to sign an executive order establishing the "Presidential Commission on Election Integrity," which will be tasked with investigating alleged voter fraud. During the 2016 election, Trump repeatedly made unfounded claims of widespread voter fraud "rigging" the system against him.
It was unclear Thursday where exactly the framed map of Trump's electoral victory was being taken and whether it would become a permanent part of Trump's White House decor.