President Trump Never Once Acknowledged LGBT Pride Month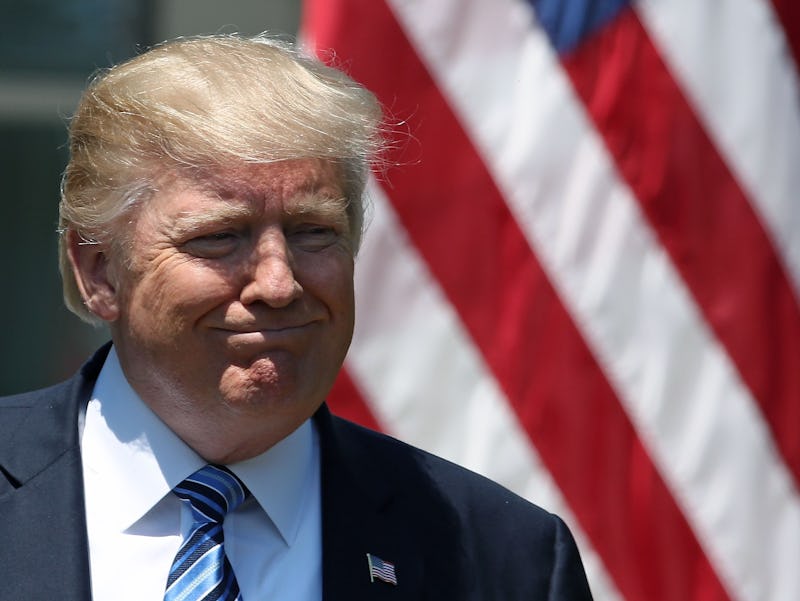 Mark Wilson/Getty Images News/Getty Images
For eight years, the Obama administration established itself as the most LGBTQ-friendly White House in American history. Although former President Barack Obama publicly opposed same-sex marriage during his first presidential run, he flipped to supporting it late in his first term, and also pushed for the military to allow LGBTQ soldiers to serve openly. That feeling of an LGBTQ-friendly federal government has not been continued by President Donald Trump, however. In fact, Trump did not recognize Pride month this June, the first time since the start of Obama's first term that the occasion went entirely unacknowledged by the White House.
Pride month comes around every June, and for eight years it was marked by official statements and proclamations from the Obama administration, including the firing-up of rainbow-colored lights on the White House grounds. Under Trump, however, the month came and went with nary a word from the administration.
There were quite a few other proclamations Trump made about the month of June, to be clear, but none of them involved the LGBTQ Pride festivities happening in cities and towns throughout the country. Rather, Trump officially declared June as the following:
National Homeownership Month
African-American Music Appreciation Month
National Ocean Month
Great Outdoors Month
Throughout the early stages of the 2016 presidential campaign, Trump generated some press for being an unusually LGBTQ-friendly Republican, though that perception was based mainly on some casual remarks he made, not in any kind of concrete policy.
The perception was dampened somewhat when he picked former Indiana Gov. Mike Pence to serve as his vice president, given some of Pence's longstanding anti-LGBTQ views and policy proposals. In 2006, while serving in the House of Representatives, Pence claimed that same-sex marriage and relationships would lead to a "societal collapse," and has long opposed extending LGBTQ Americans protections from workplace discrimination.
Since the pair took office, they've done more than just talk, too. In February, the administration rolled back protections for transgender students implemented by the Obama administration, an act which earned them widespread criticism from LGBTQ activists and advocacy groups. In short, the fact that the White House basically ignored Pride month altogether may be startling as compared to recent years, but given what's transpired at the policy level, it's not a total surprise.
Obama wasn't actually the first president to acknowledge June as Pride month. Former President Bill Clinton did so back in 1999 for the 40th anniversary of the Stonewall Riots, a historic flashpoint that sparked the broader LGBTQ civil rights movement. It remains to be seen whether this was a momentary oversight in the first year of the Trump administration ― whether the tradition will be picked back up again next year ― or whether it'll be on a more extended hiatus.