Trump Won't Attend The Correspondents Dinner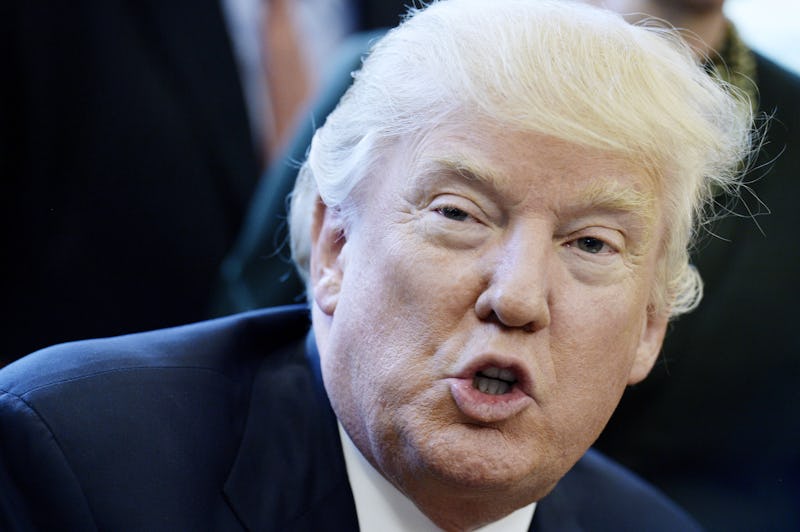 Pool/Getty Images News/Getty Images
Well, that seems to settle that. According to a tweet he sent out on Saturday afternoon, President Trump won't attend the White House Correspondents Dinner this year. He hasn't yet stated a reason for the decision, although you could certainly take a few guesses at why a president facing such poor favorability ratings so early in his first year wouldn't relish the idea of attending the media/political shindig.
The annual White House Correspondents Dinner is typically attended by the sitting president, a tradition that dates back as far as the Harding administration, and heavily involves comedy routines and send-ups of both the administration and the commander-in-chief. The president also gets to dish a few jokes of their own, however, although judging by the only other public example of Trump cracking jokes in a formal setting ― at the Al Smith dinner in the closing days of the campaign last year ― he may be sparing the country some cringe-inducing duds by staying away.
The announcement came on the heels of some explicitly anti-media comments by President Trump at the Conservative Political Action Conference (CPAC) one day prior, as well as Press Secretary Sean Spicer excluding a number of major news outlets from his press gaggle.
It's also possible that Trump is getting out ahead of an awkward situation by pulling out of the annual dinner now, because there's no guarantee it would have proceeded as usual in recent years past. In the aftermath of Spicer's controversial move, the Associated Press and TIME both refused to attend the gaggle, in a show of press freedom solidarity. If there were more affronts or challenges to the press in the days to come, there's no guarantee that outlets wouldn't have started withdrawing from the dinner in protest. If there's anything Trump probably wouldn't want, it'd be the sight of a sparsely-attended ballroom for his first dinner going out over the national airwaves.
In any case, this answers one question that was probably on many people's minds, even thought it pales in comparison to the increasingly massive, hugely consequential controversies embroiling the administration: will you have to see Trump in a tuxedo again this calendar year? As it stands now, the answer looks like a no, and neither will Trump subject himself to being the butt of any public jokes. And of course, if you're not a fan of the insular, insider-y chumminess of the dinner, you might feel like the president has done everyone a massive favor.