Here Are 11 Things The Government Spends *Less* Money On Than Trump's Vacations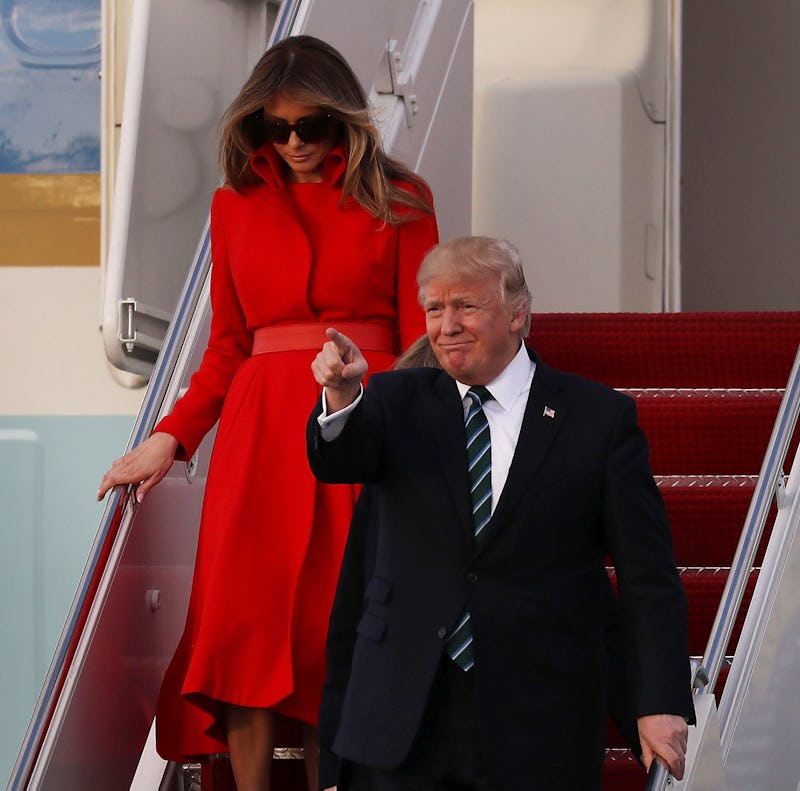 Joe Raedle/Getty Images News/Getty Images
Of the many things for which President Donald Trump is now known, one is his frequent trips to Florida resort Mar-a-Lago and various Trump golf clubs. Some of the president's opponents have criticized these excursions because they're funded by taxpayer money. Every president goes on holidays, but it's worth taking a look at how much Trump's vacations cost in relation to other things the government spends money on.
The public has a legal right to know how much a president's vacations cost. Under the Freedom of Information Act (FOIA), people can ask the government to disclosure federal records unless doing so would threaten national security or otherwise expose necessarily confidential information. Unfortunately, the existence of FOIA doesn't mean it's easy to get up-to-date information on how much the president is spending on travel: FOIA requests take time to process, and doing the calculations afterward can be complicated.
The latest wide-ranging estimate of Trump's travel costs came in January from the government watchdog Judicial Watch (JW), and it included his expenses for "political and leisure travel" ("political travel" includes campaign rallies but not trips made exclusively for official White House business, like his trips to meet with foreign leaders) from his inauguration until Oct. 1, 2017. That's a little over eight months, or two-thirds of a year. JW's estimate for this timeframe was $13.53 million dollars.
Of course, ending at the start of October — over a year ago — doesn't give us a very complete picture. It's not entirely clear how much has Trump been spending since then. He's gone on 10 trips to Mar-a-Lago, for each of which JW estimates that Secret Service protections and Air Force One travel together cost around $1 million (JW says that doesn't include all expenses). The costs for his Air Force One trips to his New Jersey golf club come in at over $40,000 each, per JW, and he's gone on seven of those since Oct. 1.
The Mar-a-Lago and New Jersey trips together add $10.28 million to JW's figure, bringing Trump's total to a whopping $23.81 million. That number doesn't take into consideration his other trips or the additional expenses he incurs when he travels — much better estimates will come out over time.
Still, let's generously work with the $23.81 million figure for now. Here are 11 things the federal government spends money on that cost less than Trump's vacations.
Resettling Syrian Refugees (Since The Start Of 2017)
According to data from the State Department's Refugee Processing Center generated by Bustle on Aug. 24, the United States had only accepted 3,051 Syrian refugees since the beginning of the 2017 calendar year (for comparison, it took 15,479 in 2016, according to NPR).
A February study from the Federation for American Immigration Reform found that the United States spent $545 million on processing and resettling refugees in 2016, and because 96,823 refugees were taken in that year (according to data from the UN Refugee Agency), that's about $5,629 per person. According to that estimate, the United States has probably spent about $17.2 million on the basic costs of processing and resettling Syrian refugees since the start of 2017. That doesn't include longer-term resettlement costs, like assistance through welfare and housing programs.
The Mueller Probe
In June, after Trump tweeted a complaint about the cost of the Mueller investigation, a Washington Post analysis noted that the expense paled in comparison to just the cost of his trips to Mar-a-Lago. As of then, the probe had cost around $16.7 million.
Research About Gun Violence (For Over A Decade)
According to a study published last year in JAMA Network, the government spent $22 million on research about the causes of gun violence between 2004 and 2015, making gun violence the second-least funded of the top 20 causes of death in the United States. Blame for the disparity falls to the 1996 Dickey Amendment, which prevents the Centers for Disease Control and Prevention from using its funds to "advocate or promote gun control." The CDC interprets the rule as a prohibition on any research whatsoever that could be used to argue for gun control — though it's possible that an update in March's federal appropriations bill could change that.
Every 2017 Public Programming Grant From The National Endowment For The Humanities
According to the agency website, the National Endowment for the Humanities dealt out dozens of public programming awards in 2017, the largest of which was $2.5 million to the Mid-America Arts Alliance for a program that brings scaled-down versions of history, art, and culture exhibits to underserved areas. Other grants went to programs at the National Museum of Mexican Art and the NY Center for Urban Folk Culture, for example.
Green Climate Fund
The federal government's 2018 budget appropriates exactly $0 to the Green Climate Fund, an international effort to help developing countries find ways to mitigate climate change. In 2014, the United States promised that it would contribute up to $3 billion to the fund, and it's only done $1 billion of that so far. Trump criticized the GCF when he pulled out of the Paris Climate Agreement, calling it a "scheme to redistribute wealth out of the United States."
A Program To Renovate Buildings On Historically Black College & University Campuses
According to a proposed 2019 budget from the U.S. Education Department, the government is spending $20.3 million on its HBCU Capital Financing Program this year, which supports "the construction, reconstruction, and renovation of academic facilities" at historically black colleges and universities.
Aid To Argentina
Argentina is in the middle of a burgeoning economic crisis and recently acquired a $50 billion loan from the IMF to help. The United States gives aid to most countries around the world, but it hasn't promised all that much to Argentina this year. According to a Department of State database, the government is donating $500,000 to Argentina in 2018. It could be argued that the United States is beholden to give more aid because Argentina's current troubles have roots in crises that America helped perpetuate in the '70s.
The Mental Health First Aid Program
In March, the federal government's omnibus spending bill committed to spending nearly $20 million on the Mental Health First Aid program, which trains people how to recognize and respond to signs of substance abuse and mental illness in others.
The Helen Keller Center
The government is giving $10.3 million to the Helen Keller National Center for Deaf-Blind Youths and Adults this year, per the U.S. Education Department's proposed 2019 budget. HKNC is the only center that provides vocational and rehabilitation services to the deaf-blind in the United States, according to HealthyHearing.com.
A Teen Pregnancy Prevention Program In Baltimore
The Baltimore health department and the nonprofit Healthy Teen Network are getting $8.5 million in grant money for education programs meant to combat teen pregnancy in Baltimore (one of their current projects is creating an app that provides sex ed in English and Spanish). The Trump administration tried to retract the grant's funding earlier this year, but a federal judge blocked the action.
Obama's Vacations, Probably
According to JW, the cost of Obama's vacations throughout his eight years in office totaled nearly $100 million, which averages out to $12.5 million a year. If Obama incurred those costs at a linear rate, he would have spent about $19.79 million by August of 2010 (i.e. his first 19 months in office). The conservative estimate of Trump's travel expenses over the same time frame exceeds that by four million.
The federal government's budget for the 2019 fiscal year is $4.407 trillion, according to The Balance. Trump's travel expenses are the equivalent of a drop in that unfathomable bucket, but they still matter.