Pret's Legendary Christmas Sandwich Has FINALLY Hit Shelves & I Am So-Ho-Ho Ready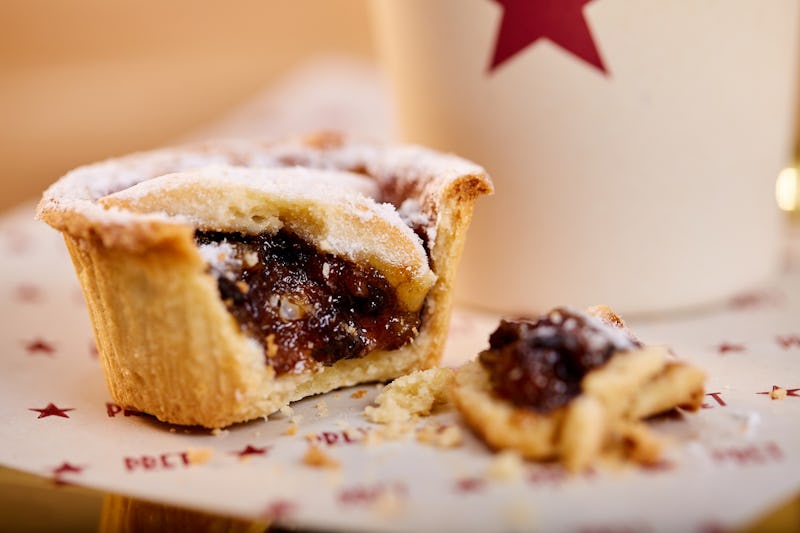 Pret A Manger
You'd think that by high street standards, Christmas actually starts in November. Whether it's to make you feel excited for the festive cheer or slightly anxious about gift shopping, Christmas certainly doesn't just last for one day anymore. And if you're longing for that warm, cosy festive feeling, Pret A Manger's 2018 Christmas menu will give you plenty of holiday cheer with a selection of sandwiches, baguettes, hot drinks, and treats. It's beginning to taste a lot like Christmas, you could say.
Since there's more than a month left until the big day, you'll have plenty of time to taste each and every one of these glorious creations, and maybe even try some things you'd never think of pairing together. I mean, which genius came up with pairing Pret's classic latte with crème brûlèe?
And don't fret if you're vegetarian or vegan, as Pret have plenty of varieties that will cater to you this Christmas, and will have you feeling as jolly as everything else available on the menu.
So, what exactly do you have to choose from? Well, there are three new sandwiches (Pret's Christmas Lunch, Pret's Veggie Christmas Lunch, Very Merry Christmas Lunch), three baguettes (Pret's Christmas Lunch, Brie, Pistachio, and Cranberry, Wiltshire Cured Ham and Wensleydale), Pret's Festive Winter Salad, four sweet treats (Pret's Mince Pie, Mince Pie Cookie, Melvin, Pret's Melting Winter Snowman, Christmas Tiffin), and four hot drinks (Crème Brûlée Latte, Gingerbread Latte, Mint Hot Chocolate, Orange Hot Chocolate). Tis the season to savour up on everything that'll get those taste buds prepared for sugar, spice, and everything nice.
With all that out the way, what is the perfect Pret Christmas meal? Well, if I had to choose one item from each section, it would go a little something like this.
Pret's Christmas Lunch is an obvious go to, as it has all the seasonal ingredients you'd expect from slices of free-range turkey, herby pork stuffing, and of course a port and orange cranberry sauce. If I had to choose a baguette, I'd totally go for the Brie, Pistachio & Cranberry option, because I literally have no limit for my consumption of brie.
For my sweet treat, I'd have to go for poor Melvin, Pret's Melting Gingerbread Snowman. As cute as he is, he looks delectable as hell and he has a marshmallow for a head. What more could you want. And obviously, I'd have the Crème Brûlèe Latte as my hot drink of choice, because I still can't get over that being an actual thing.
If you're as hungry as I am now, you'll be even more inclined to dine at Pret this Christmas thanks to the cause they're supporting.
As part of the Rising Stars programme that was founded in 2008, "every Christmas sandwich and baguette sold this year will donate 50p to the Pret Foundation Trust (PFT) to help break the cycle of homelessness," as stated in a press release sent to Bustle UK.
"The Rising Stars programme takes on 50 ex-homeless people each year and provides them with a job which includes training in Pret shops, as well as one-to-one counselling, weekly chat groups and creative art sessions."
If that wasn't enough, the graduates of the programme will go on to "become fully fledge Team Members with a permanent contract." Now I don't know about you, but I think that's as close as you're going to get to feeling true Christmas spirit.
It is the time of giving after all, and what better way to do so than savouring some Christmas delights to aid those in desperate need, especially at this time of year.