Primark's Pride Collection Is All You'll Need This Summer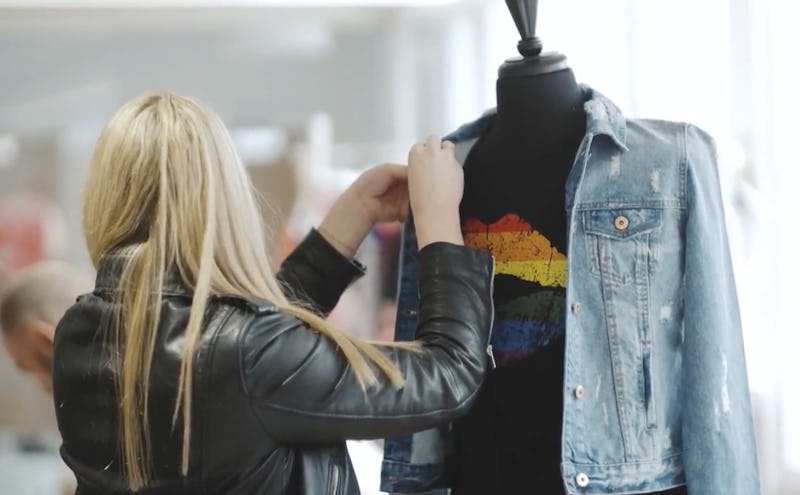 Primark
The fashion industry has always been a trailblazer in standing with the LGBT community, and there's no sign of that changing any time soon. Teaming up with British charity Stonewall, Primark's Pride collection is the latest collection to show its support. The affordable retailer has released more than 20 rainbow-filled designs, including underwear, swimwear, and of course everyone's favourite slogan tees.
But it's not just your wardrobe that is set to get colourful. Primark has also released a limited edition make-up set featuring eight bold face paints in shades of red, blue, and yellow. The brand is also actually catering for specific Pride events, splashing the name of each major city on a line of rainbow T-shirts.
In the name of transparency, the high street brand has given a glimpse into the thinking and processes behind the collection. A video published on Primark's YouTube channel shows off the entire range, which includes everything from minimal heart-shaped embroidery to loud and proud sequins. Prices start from £2 with the most expensive item costing a mere £7.
Primark buyer Glen Scott said he has been attending Pride events in the UK for almost 20 years. On the store's blog, he explained why the collection is so important:
"From the start, authenticity has been key; we wanted to create a collection that's true to how people want to dress for Pride, but it also had to be practical and fit for purpose (which is why there are so many great, functional accessories in the range). It's important to support the more local Prides, to show there are LGBT communities everywhere — not just in the big cities."
Primark appears to have learnt from its previous mistakes. Last year, it faced a serious backlash after its Pride collection failed to donate any money to LGBT charities. When one customer called out the brand, Primark said a percentage from further collections would be donated, and it's great to see they've stuck to their word.
Thanks to its partnership with Stonewall, 20 percent of the proceeds from the entire Pride collection will go directly to the organisation. Set up in 1989, Stonewall has fostered a sense of community in cities and towns around the world. It aims to kick down any remaining barriers and works with more than 700 global organisations to remove the last traces of homophobia and transphobia. The collection is now available in select stores.
Primark isn't the first brand to stand up for the rights of the LGBT community this year. In February, former Burberry designer Christopher Bailey dedicated his last show to the LGBT community. Unveiling a rainbow twist to the British powerhouse's iconic check, he also stated that the brand would be donating some profits to three LGBTQ+ charities; The Albert Kennedy Trust, which helps homeless LGBT youth, US-based The Trevor Project which works to prevent suicide in the community, and The International, Lesbian, Gay, Bisexual, Trans and Intersex Association, which brings together LGBT groups from all around the world.
In a statement, the former creative director — who will officially be leaving Burberry at the end of 2018 after a 17-year tenure — said:
"My final collection here at Burberry is dedicated to — and in support of — some of the best and brightest organisations supporting LGBTQ+ youth around the world. There has never been a more important time to say that in our diversity lies our strength, and our creativity."
Seeing as most people can't afford to spend hundreds of pounds on Pride gear (no matter how good the intention), it seems like Primark's collection might be the best way forward.
Pride events will run throughout the summer across the UK. To find your nearest one, visit Stonewall's website.