Primark's New Super Affordable Skincare Range Is Approved By This Beauty Expert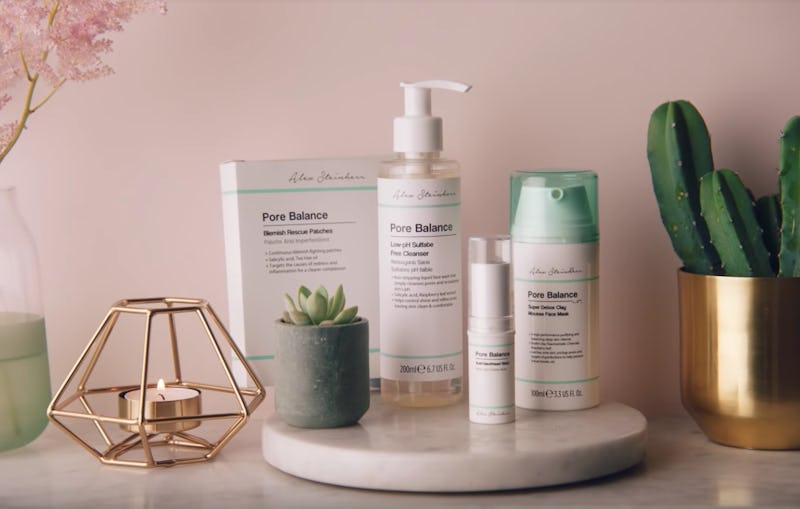 Primark/YouTube
It's common to think of good skincare as anything that costs a fortune. But one high street store is trying to change that. Primark's new skincare range with Alex Steinherr sees the affordable brand team up with beauty editor and influencer for an expert-approved collection. Comprising 20 core products, it's one of the only skincare lines that offers quality for an extremely low price.
A former beauty director of Glamour and now Instagram influencer with 173,000 followers, Steinherr has 15 years of experience in the industry. "I have dedicated my career to sharing the best quality skincare I could find," she wrote on Instagram. "I'm extremely passionate that everyone deserves beautiful skin which is why I've often been disheartened by some of the cheaper alternatives on the market."
She has been working with Primark on the modern skincare range for two years and has split her budget-friendly line into five easy-to-understand categories. (And everything is priced between £3 and £5. Hard to believe but it's true.)
Pore Balance is one of the range's most impressive product lines. Aimed at anyone suffering from breakouts, it cleanses the skin gently, rather than irritating it with harsh ingredients. There's a cleanser, mousse mask, blackhead remover, and blemish rescue patches which can be worn under make-up as soon as you feel an unsightly spot coming up.
Pollution Solution is ideal for anyone working in a city. With your skin falling prey to pollutants in the air and general dirt from, well, everywhere, these products will give your face a nice deep cleanse. Consisting of exfoliating pads, a dewy face mask, and oil-free gel hydrator, your skin will probably have never felt so clean. Steinherr has also added a primer to the category, ensuring smooth make-up application.
The third part of the range is called Maximum Moisture and is designed for all skin types. Steinherr and Primark's beauty team have developed a quick and easy micellar cleansing gel, hydrating sheet masks, and a serum that can be precisely applied to tiny dry areas around the nose, eyes, and mouth.
Next up is Plump & Glow. As Steinherr explains in a video, she is all about glow but prefers to achieve it with skincare rather than a heavy face of make-up. Every item in this particular range is multi-purpose. Think a two-in-one cleanser and moisturiser, a sheet mask mixed with serum, and a hydrating and plumping lip gloss.
The last part of the line is called Sleep Spa. As you may have guessed, it's designed to be used at night and is ideal for those who, like me, can't be bothered to spend half an hour cleansing their skin. Products include a nourishing cleanser that transforms from an oil to a milky-like substance when used with water, an overnight face mask that doesn't require any removal in the morning, and overnight eye and lip masks to boost hydration.
Everything in the Alex Steinherr x Primark collection is cruelty-free and suitable for vegans. Available in select stores from October 8, it also boasts no fragrance, no parabens, no essential oils, and no sulphates. Basically you won't find anything that serves to irritate sensitive skin.
The line is proof that good skincare needn't come at an eye-watering price. I can't believe I'm writing this but beauty world, perhaps it's time you took some tips from Primark and stopped pricing the average person out of the industry.