Prince Charles' Nickname For Meghan Markle Is Definitely The Last Thing You'd Ever Guess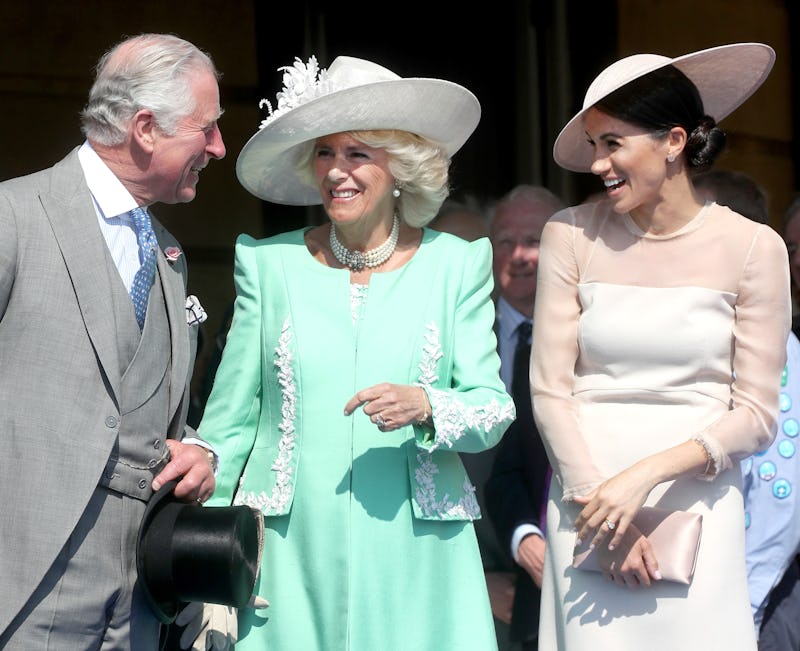 Chris Jackson/Getty Images Entertainment/Getty Images
Meghan Markle is fitting right in with the royal family. In fact, she's such a part of the fold that she even has a new nickname from one particular family member. According to the The Scottish Mail on Sunday, Prince Charles has a nickname for Meghan Markle and it might just be one of the most interesting things you'll hear all day — in the very best way.
Apparently, the Prince's moniker for the Duchess of Sussex is taken straight out of the periodic table of elements. Yes, seriously. The publication reported that Charles calls Markle "Tungsten." Why? There's actually a very good reason behind the nickname. A source told The Scottish Mail on Sunday, "Prince Charles admires Meghan for her strength and the backbone she gives Harry, who needs a tungsten-type figure in his life as he can be a bit of a softy," the source continued, "It's become a term of endearment."
So, "Tungsten" definitely isn't your everyday term of endearment. However, it kind of fits perfectly the more you think about it. It exemplifies strength, like Charles reportedly noted, and is a very unique nickname. Seeing as though the Duchess herself is an especially strong and amazing person, the "Tungsten" moniker really does fit.
This nickname report is yet another big sign that things are going smoothly for Markle and her new royal family. Prior to this report, it was apparent that she would be more than welcomed into Prince Harry's family. During their engagement interview with BBC News in November 2017, the former actor discussed how kind her then-fiancé's family had been. She said, "The family has been great, and over the past year and a half we've just had a really nice time getting to know them." Markle continued to say that they have been "progressively helping me feel a part of not just the institution but also part of the family, which has been really, really special."
According to a previous report from the Daily Mail, the Duchess of Sussex already seems to have a really good relationship with her father-in-law. She has such a good relationship with Charles that she's even reportedly been incredibly helpful in repairing her husband's, and Prince William's, relationship with him. A source told the publication, "Meghan met Charles and was bowled over by his charm," and continued, "She told Harry he was wonderful: welcoming, warm, hard-working kind and stable."
In turn, Charles reportedly said of Harry's then-intended, which mirrors his reported feelings from The Scottish Mail on Sunday, "She is so intelligent and so nice. She makes Harry happy. We could not like her more.'" They also reported that the former Suits star urged Harry to "appreciate him and bond more." The Daily Mail noted that it seems to be working, as Harry and Charles' relationship has supposedly improved, all thanks to Markle.
The pair's positive relationship was also on full display during her wedding day on May 19. In one of the greatest public displays of his support for his daughter-in-law, Charles walked her partway down the aisle during the occasion. The future King took over the role after it was revealed that Markle's father, Thomas Markle, would be unable to attend the ceremony. Shortly after it was revealed, Kensington Palace released a statement which detailed that the bride had asked Harry's father to do the honor. It was simply a lovely way to have Charles welcome her into the royal family and was also a great sign that the two would have their own special bond in the years to come.
Now, thanks to the The Scottish Mail on Sunday's report, it does seem like Markle (or "Tungsten") and Charles have a very positive relationship.