Prince Harry Fixed Meghan Markle's Hair After A Gust Of Wind & The Moment Was Kind Of Adorable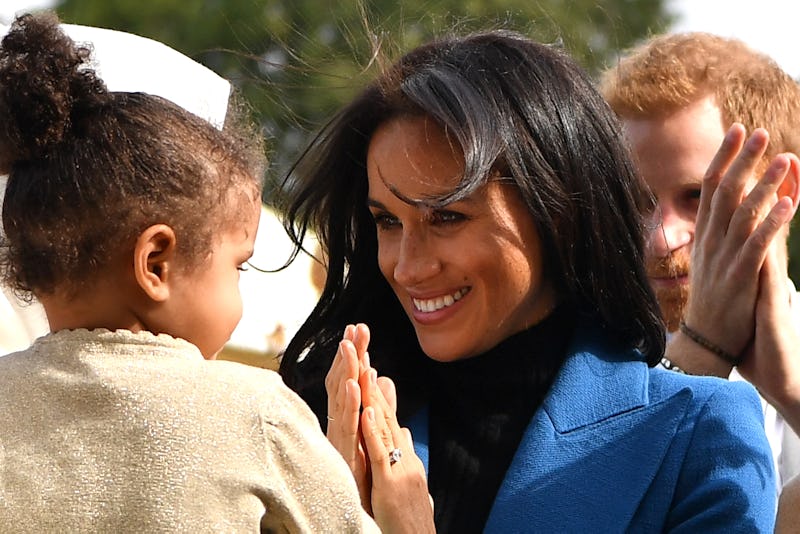 WPA Pool/Getty Images Entertainment/Getty Images
Just because the royals will one day be mentioned inside the pages of history books doesn't mean that they're not normal and "everyday" like the rest of us. For example, when the wind blows, partners help each other smooth their hair down, whether they're blue blooded or not. Prince Harry patted Meghan Markle's hair down after a gust of wind mussed it during an event at Kensington Palace, proving that monarchs are just like us. Sort of.
Markle hosted her first Kensington Palace event today, where she hosted a lunch in honor of her new charity cookbook, Together: Our Community Cookbook. The idea for the cookbook started when the Duchess visited a small community kitchen last January that was helping to feed victims of the massive Grenfell Tower fire, which was a devastating fire that broke out in a block of flats in West London, leaving 72 dead and hundreds homeless. A group of women decided to convert the Al Manaar Muslim Cultural Heritage Centre into a kitchen where they could cook for their neighbors and help take care of them during such a difficult time.
The group of women turned into the Hubb Community Kitchen, and when Markle came to visit them and see their efforts, she was inspired by what they were doing and decided on the spot that they would create a cookbook together to help fundraise for their cause. This event was the months-long project coming together.
And as the Duchess of Sussex mingled with the guests, gave her first public speech as a member of the royal family, and helped create recipes from the cookbook, Prince Harry was standing on the sidelines, being supportive. While everyone loves a helpful partner, there was one small moment in particular during the event that made the two royals seem just like us (i.e. normal.) At one point, when the Duchess was mingling with her guests outside, a gust of wind blew in and messed up her hair. Harry, who was standing next to her, quickly patted her hair back into place, doing damage control against the elements. It was one of those "gotta help my wife" moments, and for a minute the two felt like any other newlywed couple that had each others' backs.
Except that they're standing on the grounds of a palace, which also happens to be their home.
During Markle's speech, she mentioned how the cookbook was a "tremendous labor of love." The Duchess personally wrote the foreword for the book, and the cookbook features recipes from the community who was affected by the fires.
"The kitchen buzzes with women of all ages; women who have lived and seen life; laughing, chatting, sharing a cup of tea and a story, while children play on the floor or are rocked to sleep in their strollers," she wrote in the foreward. "I immediately felt connected to this community kitchen: it is a place for women to laugh, grieve, cry and cook together. Melding cultural identities under a shared roof, it creates a space to feel a sense of normalcy—in its simplest form, the universal need to connect, nurture and communicate through food, through crisis or joy—something we can all relate to."
All the proceeds will go directly to the kitchen with the plans to refurbish it and get it running seven days a week for two years. As far as first events go, this was a beautiful one.