Prince Harry Just Revealed He Wants A Baby Girl & The Moment Will Melt Your Heart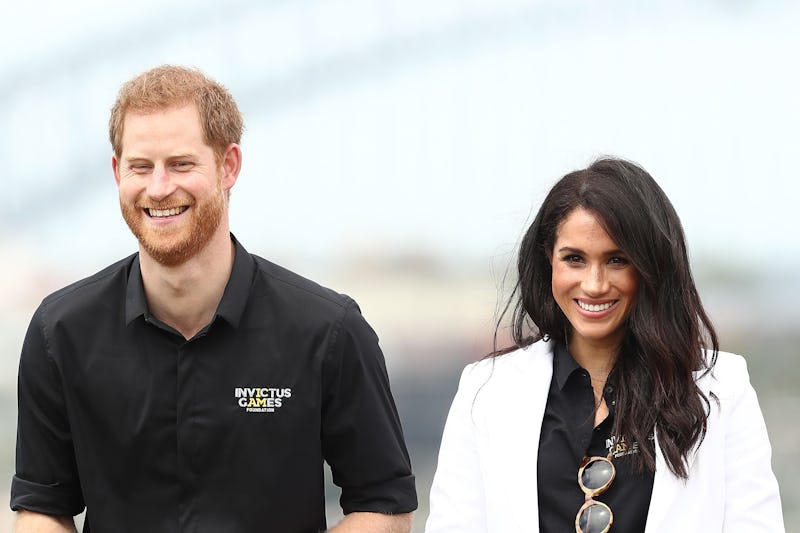 Mark Metcalfe/Getty Images Entertainment/Getty Images
Fans likely won't know whether the next royal baby is a boy or girl until it actually gets here, but the world does know that Prince Harry has a preference. Fans posted a video of Prince Harry saying he's hoping for a baby girl with Meghan Markle during a cycling event at the Invictus Games in Sydney on Sunday.
The fan posted the video to Instagram, capturing the moment that the red-haired prince admitted he wanted a daughter. In the Instagram fan account, as Harry is walking by, a fan says to Harry, 34, that she hopes their baby is a girl. The Duke of Sussex turns around, and calls out, "So do I!" as he continues to stroll down the bike path.
And that's not the only indication that a little princess is on Harry's mind. The couple toured Australia last week, hanging out in Melbourne on Friday, when Harry seemed to express preference for a baby girl's name. According to Sunday Express, a UK news outlet, when Harry and Meghan met a fan with a child named Harriet, Harry apparently said, "That's a great name."
The Duke and Duchess of Sussex shared the news of the royal baby, due in the spring, shortly after landing in Australia on Monday and have excitedly talked about their baby joy throughout the tour.
"First of all, thank you for the welcome you have given Meghan and I over the last few days," Harry said to the opening ceremony crowd at the Sydney Opera House for the Invictus Games, according to People. "I have been so proud to be able to introduce my wife to you and we have been so happy to be able to celebrate the personal joy of our newest addition with you all."
The news of the royal baby came just hours after Meghan, 37, and Harry, 34, landed in Sydney as part of a 16-day tour which will also include New Zealand, Fiji and Tonga, according to CNN. The two were welcomed on the first day of their Australian tour with an official ceremony at Admiralty House in Sydney. And they were given adorable gifts ahead of their baby's arrival: a pair of baby Ugg boots and a kangaroo doll (complete with an accompanying joey).
While journalists haven't had much luck asking the royal couple about the future baby, some curious children were able to get an answer when they hung out with the Duke and Duchess. The UK's Press Association revealed that while they were in Melbourne, Harry and Meghan rode a local tram taking several students to school. As they rode the public transit, a 12-year-old boy named Charlie Wolf was able to ask the question fans wanted to know: what they would name their child. Meghan responded, noting that it was still early, Entertainment Tonight reported.
"We've been given a long list of names from everyone, we're going to sit down and have a look at them," said Meghan.
According to Entertainment Tonight, Kensington Palace confirmed that Meghan passed her 12-week mark of pregnancy and is in "good health." It's great news for fans who are already eager to see the royal couple's first child.