The Reason Prince Harry Didn't Save Diana's Engagement Ring For Meghan Markle Will Make You SOB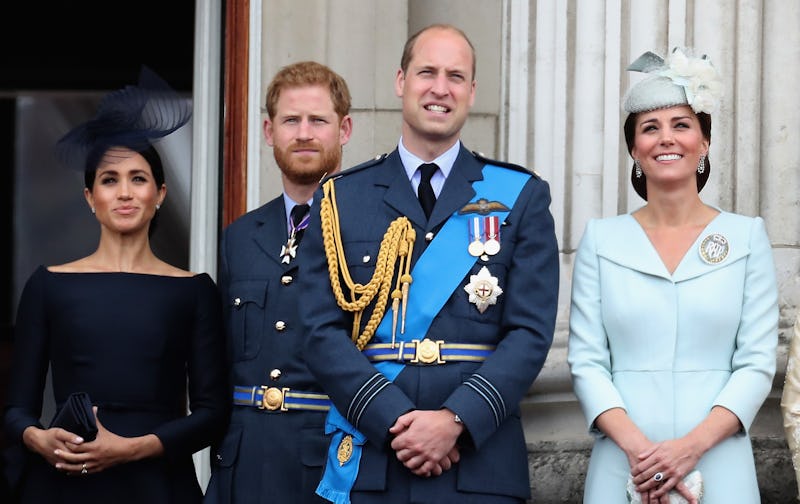 Chris Jackson/Getty Images Entertainment/Getty Images
From Meghan Markle picking out wedding crowns with the queen to Kate Middleton's nonchalant Zara buys, stories of the royal family never ceases to amaze the masses. This time it's the two princes who shared their late mother's jewelry that will have you reaching for a tissue, this recollection is so sweet. Try not to stain your shirt with mascara, girl.
After Princess Diana left her mark on the world in the late 90s, her sons William and Harry made picks of her jewelry to keep close to them. Although Harry chose his mother's engagement ring, he'd decided to forward it to his older brother instead of keeping it for himself to bestow on his own American-born bride.
In the Amazon Prime documentary "The Diana Story", it was revealed by Diana's butler Paul Burrell, who was there during the young princes' jewelry selection, that the boys picked out two very different pieces from their mother's personal safekeepings.
"I'd like mummy's Cartier watch, the one that Grandpa Spencer gave to her for her 21st birthday," Burrell recollects William saying. Burrell explained that Harry, on the other hand, took his mother's engagement ring for a reason so cute, even you'll want to leave your own jewelry behind for the next generation.
"I remember when I held mummy's hand when I was a small boy and that ring always hurt me because it was so big," Harry told Burrell at the time. That's a pretty fitting response for a young boy who claimed the ring of all rings as his favorite.
But being that William was the oldest and would wed Kate first, Burrell explained that it was Harry's idea to give up such a significant ring in his mother's lifetime.
According to Burrell, Harry told William, "Wouldn't it be fitting if she had mummy's ring? Then one day that ring will be sat on the throne of England."
Do you feel the love? Are you crying yet? Because even the Lawrence brothers can't compete with this level of brotherly love.
Just in case your memory is a little fuzzy, Prince William and Catherine Middleton got engaged on October 20 back in 2010, but the engagement wasn't announced until November of that same year. The official wedding, which was dubbed a public holiday, took place at Westminster Abbey on April 29, 2011. And thanks to Harry and his quick thinking from ages ago, who knows what kind of ring would have been sported on Kate's ring finger.
It seems as though the notion of sharing is caring rings throughout the entire royal clan as Princess Diana was known for her philanthropic missions. Although there's a new generation of royals on the way, selflessness obviously runs in the family.