The Way Harry & Meghan Will Include The Public In Their Wedding Sounds Just Like A Disney Movie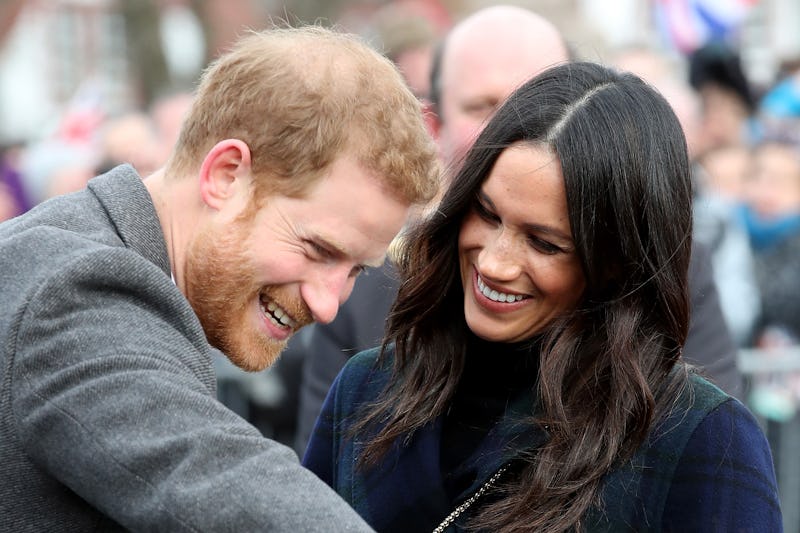 Chris Jackson/Getty Images Entertainment/Getty Images
The 2018 British royal wedding just became even more exciting. Kensington Palace announced Friday that Meghan Markle and Prince Harry have invited the public to attend their May 19 wedding at St. George's Chapel on the grounds of Windsor Castle. There will be a total of 2,640 individuals receiving invitations.
"Prince Harry and Ms. Meghan Markle have said they want their Wedding Day to be shaped so as to allow members of the public to feel part of the celebrations too," the palace's statement began. "This wedding, like all weddings, will be a moment of fun and joy that will reflect the characters and values of the Bride and Groom."
For Markle and Harry, it's all about including the public and ensuring there is a sense of community on their special day. Not only will the public partake in the carriage procession, but Kensington Palace confirmed that the royal couple want members of the public, who, of course, aren't attending the actual wedding and reception as guests, to be involved in a big way by watching the arrival of both Markle and Harry and their wedding guests. The reason invitations are necessary is because these particular people will be invited inside the castle grounds compared to the rest of the public, who will have to wait outside for Markle and Harry's carriage procession.
There is a specific process in determining who will participate in the historic wedding. According to Kensington Palace, "1,200 members of the public from every corner of the United Kingdom will be nominated to attend by nine regional Lord Lieutenant offices." This sounds like something straight out of a Disney movie, right? Cinderella and Prince Charming probably did the same thing. Markle and Harry want these 1,200 members to be selected from a "broad range of backgrounds and ages". They have also requested young individuals demonstrating "strong leadership and those who have served their communities" to be invited.
The press release also states that "200 people from a range of charities and organizations" supported by Harry and Markle will be invited, in addition to 100 students from two local schools, The Royal School, Great Park, Windsor and St. George's School, Windsor Castle. Furthermore, 610 Windsor Castle community members, including both residents of Windsor Castle and members of St. George's Chapel community, and 530 members of The Royal Households and Crown Estate will be invited.
Again, for those who don't score an invitation onto the actual grounds of Windsor Castle, they will still be able to join in on the celebration by watching the carriage procession. As confirmed by palace officials on Feb. 12, "At 1 p.m. the couple, now married, will undertake a Carriage Procession from St George's Chapel through Windsor Town returning to Windsor Castle along the Long Walk." The statement continued, "They hope this short journey will provide an opportunity for more people to come together around Windsor and to enjoy the atmosphere of this special day."
As for what time the wedding begins, according to Kensington Palace, the service is set to start at 7 a.m. ET (12 p.m. U.K. time) and the carriage procession will depart at 8 a.m. ET (1 p.m. U.K. time).
There's no denying their wedding is going to be thrilling, just like Prince William and Kate Middleton's was. A royal wedding is always a grand affair and the fact that Markle and Harry are inviting 2,640 members of the public inside the castle walls, well, there are going to be a lot of people celebrating. To give you a better estimate, the Metropolitan Police reported in 2011 about 1 million people showed up on the streets of London for William and Middleton's wedding.
Who knows if Markle and Harry's wedding will see as many individuals in support of them on May 19, but chances are a lot people will join in on the wedding festivities either by watching it on TV (if it's televised) or in person.