Prince Harry & Meghan Markle Just Got Engaged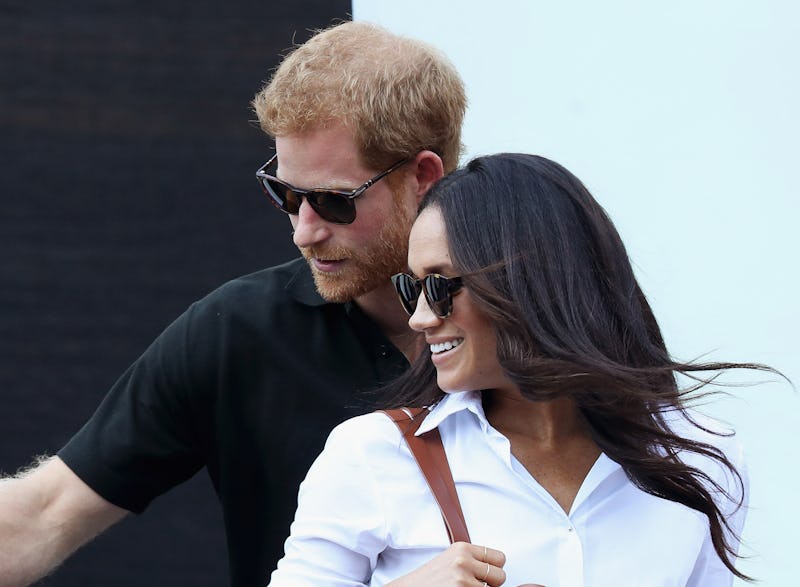 Chris Jackson/Getty Images Entertainment/Getty Images
The British royal family let the world in on a secret on Monday: Prince Harry and Meghan Markle will marry. Markle is an American actress and Harry is fifth in line to the throne. The two have been engaged for about a month now, but only the family, including Queen Elizabeth, were told before the news was made public. Harry also "sought and received" the blessing of Markle's parents, an announcement of the engagement read.
The wedding will take place in Spring 2018, and the two plan to live at Nottingham Cottage at Kensington Palace in London. The official word came from Clarence House, Charles the Prince of Wales and his wife Camilla Duchess of Cornwall's official residence. It noted that Charles was "delighted to announce the engagement." "Further details about the wedding day will be announced in due course," it continued.
The happy couple have not spoken publicly yet. They're set to appear at a photo call at Kensington Palace later Monday afternoon, and they will be interviewed for a TV broadcast set to air Monday evening UK time. This will be a big first for the couple, Harry and Meghan, a first taste of public life as royals. Once they tie the not, she will become known as Her Royal Highness, Princess Henry of Wales (but not Princess Meghan — you have to be born into the royal family for that honor).
Meanwhile another announcement from Markle's family was shared by Kensington Palace, the account that covers official social media for Prince Harry, as well as Prince William and Kate:
We are incredibly happy for Meghan and Harry. Our daughter has always been a kind and loving person. To see her union with Harry, who shares the same qualities, is a source of great joy for us as parents. We wish them a lifetime of happiness and are very excited for their future together.
That same Twitter account shared well wishes from older brother William and and Kate, crediting their official titles of Duke and Duchess of Cambridge. "We are very excited for Harry and Meghan. It has been wonderful getting to know Meghan and to see how happy she and Harry are together," the royal couple said in the statement.
Queen Elizabeth's Twitter account also shared her best wishes. The @RoyalFamily Twitter wrote, "The Queen and The Duke of Edinburgh are delighted for the couple and wish them every happiness."
The original announcement was uploaded to Twitter, and all the instant comments and statements were as well. It seems even the royal family is keeping up with technology to fulfill the desires of the social media generation. The @RoyalFamily, @KensingtonRoyal, and @ClarenceHouse accounts spent the morning retweeting each other, showing a coordination of excitement and delight for the couple's announcement — at least among their social media teams.
Harry and Markle have been dating since July of 2016, but they just appeared together publicly for the first time in September at the Invictus Games, an international sporting event for injured soldiers that was held in Toronto. Harry first organized the tournament in 2014 to help soldiers rehabilitate.
But despite the limited public appearances, Markle has been covered heavily in British tabloids, to the point that Prince Harry's communications secretary released a statement in 2016 about the "harassment currently being experienced by Meghan Markle and her family." Harry asked that the press "pause and reflect" before doing any more damage. That was his first public acknowledgement of their relationship. The statement continued:
It is not right that a few months into a relationship with him that Ms. Markle should be subjected to such a storm. He knows commentators will say this is 'the price she has to pay' and that 'this is all part of the game'. He strongly disagrees. This is not a game - it is her life and his.
It's unclear whether the announcement of engagement will more help or hurt the situation with the tabloids. But Markle hasn't completely shut out the press regarding their relationship. "We're two people who are really happy and in love," she told Vanity Fair in September.