Prince Harry & Meghan Markle Just Picked A Florist For The Royal Wedding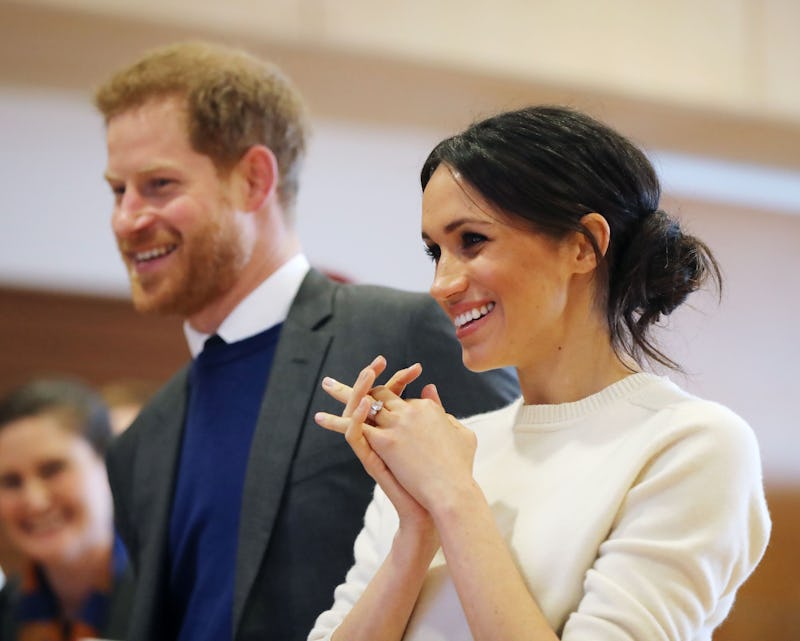 Pool/Getty Images Entertainment/Getty Images
It's officially Spring, which means Royal Wedding will be here so soon. On Sunday, April 1, Kensington Palace announced that Prince Harry and Meghan Markle picked a wedding florist, and in a break with tradition, they chose to work with high-fashion florist Philippa Craddock. Craddock is a fair-trade artist who has worked with major brands like Hermes, Dior, Alexander McQueen, and British Vogue, and she will be sure to create impressive and eco-friendly arrangements for the wedding day. In a press release issued by Kensington Palace on Sunday, it was revealed that Craddock was set to design for the event and would use mostly local flowers and foliage to produce arrangements for the wedding.
On Twitter, Kensington Palace also revealed some select details about what would go into the wedding styles. "The floral displays in St George's Chapel will be created using locally sourced foliage, much of which will be taken from the gardens and parkland of The Crown Estate and Windsor Great Park," the posts read. "Where possible, Philippa will use flowers and plants that are in season and blooming naturally in May, including branches of beech, birch and hornbeam, as well as white garden roses, peonies and foxgloves."
Craddock's background is in predominately in fashion and while she's created arrangements for Kensington Palace before, she's still an unconventional choice for a Royal Wedding. According to Vanity Fair, Kate Middleton and Prince William's wedding used Shane Connelly, the florist picked by Prince Charles. Markle and Prince Harry also reportedly met with the Queen in to discuss the floral arrangements, and the matriarch offered the services of the palace staff. The soon-to-be married couple instead opted to work with Craddock, which likely allowed for flower-enthusiast Markle to have a bigger role in the designs.
"Meghan has been very hands on with all elements of the wedding, but especially the flowers," an anonymous source told VF. "She seemed to have a pretty clear idea of what she wanted then. It was lots of spring time whites and pastels and very romantic flowers. I would say her vision was very fashionable and fairy tale if you know what I mean."
On the wedding section of Craddock's website, she promises to work with the clients to personalize the flowers. "We aim to make the whole process relaxed and fun, designing and creating your flowers to ensure they are a true reflection of you as a couple," she wrote. "Whether you are dreaming of an outdoor botanical romance, a secret garden in a palace or a marquee abundantly dressed in ethereal whites or country brights, we will make it happen."
The site also boasts an eco-conscious mission, noting that the company only uses seasonal flowers from local growers and never uses non-biodegradable products in arrangements. Craddock even donates to Floral Angels after an event, an organization that restyles old arrangements into bouquets for charities to distribute.
The environmentalist mission of Philippa's business was likely a draw for the socially-minded Markle and Prince Harry. The Kensington Palace Twitter offered some insight into how the royal arrangements would be kept eco-friendly, writing: "Royal Parks will supply some pollinator-friendly plants from their wildflower meadows that will be incorporated into the floral designs. These plants provide a great habitat for bees & help to nurture and sustain entire ecosystems by promoting a healthy & biodiverse environment."
On Intagram, Craddock shared her own excitement about working with the Royal couple. "I am thrilled to share with you that we have been asked by Prince Harry and Ms Meghan Markle to create their wedding flowers in May," she wrote. "I am loving working with them, it is an incredible privilege, and the designs will be a true reflection of them as a couple, with sustainability at the forefront."
The florist is just the latest announcement about the royal wedding from Kensington Palace. In late March, the couple revealed that more than 250 members of the Armed Forces would contribute to the ceremony. This will have special meaning for Prince Harry, who did two tours in Afghanistan as part of the forces. The palace also revealed that 600 invitations to the wedding had been issued, and that the service would be at St. George's Hall followed by a reception for 200 guests at the Frogmore House.
The day is so close for Markle and Prince Harry, but it looks like they are on top of the wedding deets. These eco-minded floral arrangements will be perfect for the Royal couple, who both commit much of their time to social and environmental causes. It's going to be a beautiful wedding, and if we're lucky, there will be more big details revealed about the event before the big day.