This Is What Prince Harry & Meghan Markle's Body Language At The Royal Wedding Means, According To Experts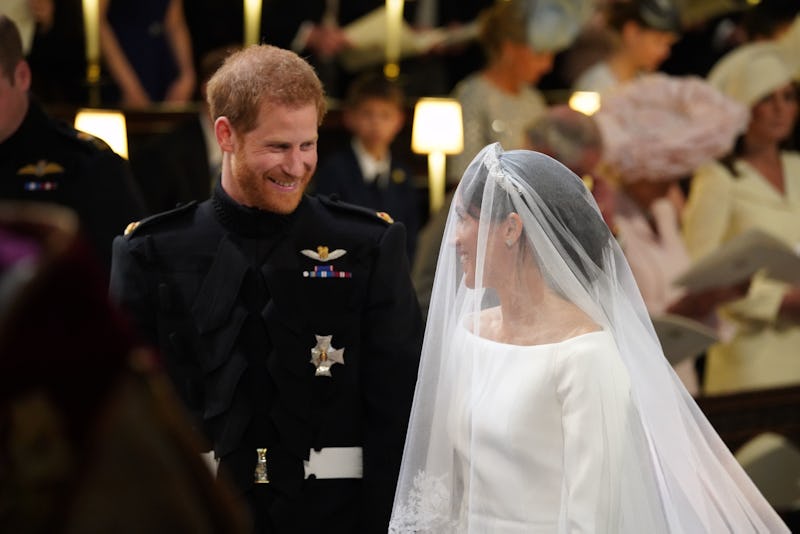 WPA Pool/Getty Images Entertainment/Getty Images
The royal newlyweds have never been shy about expressing their affection for each other in public, and Prince Harry and Meghan Markle's body language at the royal wedding is just as full of meaning as their body language throughout their courtship. For example, leaning in when you're around someone you love is a non-verbal way lovers unconsciously express their feelings for one another, according to the website Love Bondings. There's no denying that there's a lot of leaning between these two. The way Markle and Prince Harry look at one another is also a telltale sign that their love runs deep.
"[Markle] may have been the first royal bride to bathe her groom in beautiful, undiluted eye contact throughout his vows," body language expert Judi James told Express UK. If the royal wedding gave you all the feels, and you teared up while watching Markle and Prince Harry exchange their vows, this is because their love and devotion is manifesting externally through their body language. You can literally see it in their eyes, and the feeling is contagious.
"Eyes can never lie; they always depict what you feel and for whom. Your eyes will always want to see that special someone, when in a group of friends or otherwise," Love Bondings explained. "Making eye contact is a common thing that people do when in love." If you didn't wake up in time to watch the wedding of the century, and you want to experience all of the love, the royal family posted the entire affair on YouTube.
It's been clear from the start that Markle and Prince Harry both harbor immense love and respect for each other. "When people are getting on well either as friends, colleagues or as romantic partners, we see a naturally occurring process called matching and mirroring," body language expert Darren Stanton told the Independent UK. "It's when two or more people match each other's postures, gestures and behaviors. The pair are very much in this state a lot of the time indicating genuine deep rapport between the two."
One of the reasons the love-starved public is so gaga over Markle and Prince Harry is because their public displays of love are a departure from behavior historically exhibited by royal couples. "I have covered almost every public engagement she and Harry have done so far and I have never seen a royal couple so tactile. They're always holding hands or he's pushing her hair back or putting his arm around her waist — it's quite lovely to see," Sun photographer Albert Edwards wrote for the newspaper. "It's a huge contrast to Harry's parents Charles and Diana."
During a time in history when the world seems nothing short of a dumpster fire, Markle and Prince Harry's fairytale love story is proof that happily ever after might actually exist, and it's everything we need right now.
"Overall, it's clear they are very much in love and have mutual and utter respect for each other," Stanton said. And, while most body language experts commenting on the royal wedding noted that Prince Harry seemed anxious, they agreed that it was anxiety brought on by excitement and happiness, and his body language revealed his true feelings for Markle.
Self-help expert Dr. Pam Spurr told the Daily Star UK that Prince Harry's fixed gaze on Markle demonstrated that she is the only one for him. Dr. Spurr also noted that Markle viewing Prince Harry from under her eyelashes shows love and signals feelings of desire, and she explained that the royal couple's mirroring behavior is a sign of their synchrony and natural flow. Whatever the future holds for Markle and Prince Harry, there's no doubt that these two are in love on their wedding day, which bodes well for them achieving their happily ever after. Stop — I'm not crying, you're crying. OK, I'm crying too. Because, love.