Harry & Meghan's Body Language Says They Wanted To Skip Their Last Royal Event. Can You Blame Them?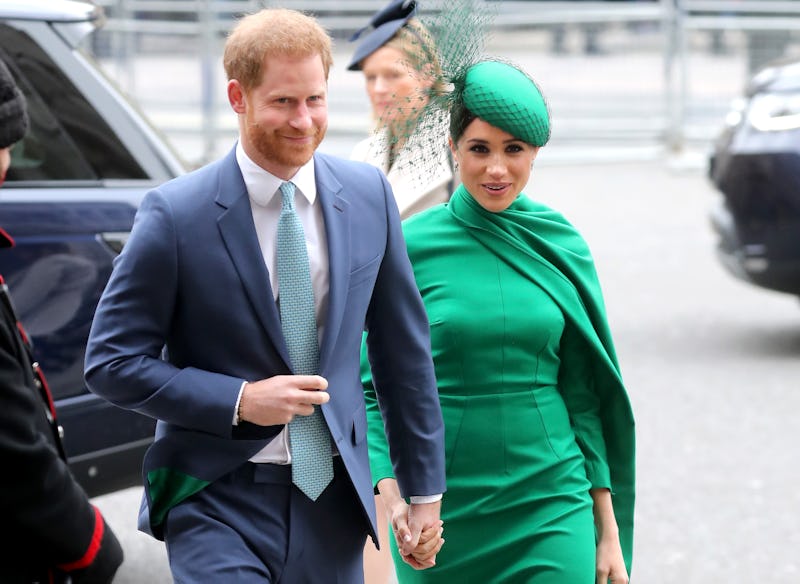 Chris Jackson/Chris Jackson Collection/Getty Images
Some personal news — since announcing that they're stepping back from their royal duties, Prince Harry and Meghan Markle have remained a united front, seemingly bonded together stronger than ever. Exhibit A: Prince Harry and Meghan Markle's body language at their last royal appearance on March 9 at Westminster Abbey for the Commonwealth Day service.
Key members of the Royal Family gathered together in Westminster Abbey, from Queen Elizabeth II to Prince William and Kate Middleton, to celebrate. If you've been following all the Royal Family drama, you may recall that this annual public event wasn't just Harry and Meghan's final appearance as senior royals. In fact, the Commonwealth Day service was also the first outing the two have attended with Prince William and Kate Middleton since announcing their departure (although they won't officially stop using their HRH titles or receiving royal money until March 31). Since Megan and Harry weren't working the event as royals, the two were ushered to their seats instead of waiting for the Queen's arrival with the rest relatives. Awkward!
Bustle asked two body language experts to analyze three pictures from the event, and provide a little more insight into how the couple has been holding up since moving out of grandma's house
.