Prince Harry & Meghan Markle's First Royal Tour Has Been Confirmed & It Sounds Amazing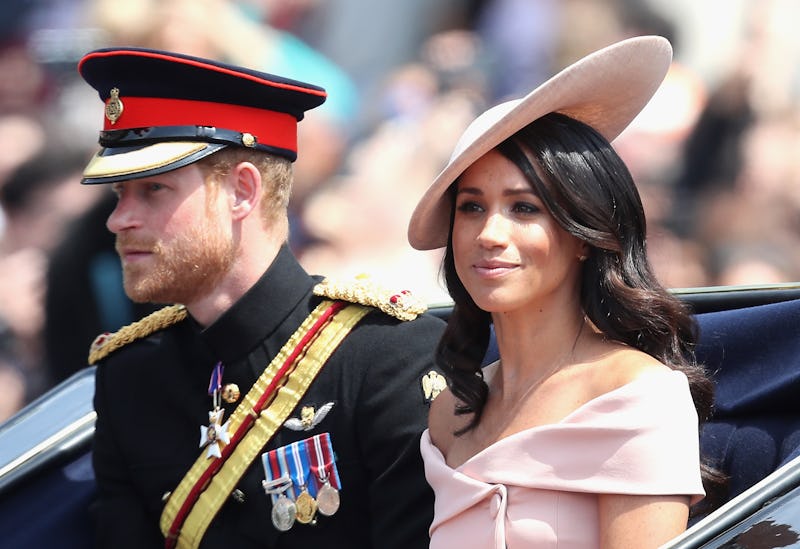 Chris Jackson/Chris Jackson Collection/Getty Images
Get ready, world, because the Duke and Duchess of Sussex are ready to go globetrotting. According to Kensington Palace, Prince Harry and Meghan Markle's first royal tour will take place in autumn. The palace's announcement confirmed the much-speculated on location of their official overseas excursion.
As Kensington Palace revealed on Twitter on June 10, Harry and Markle will go to Australia, New Zealand, Fiji, and the Kingdom of Tonga during their trip. They also said that the tour would coincide with the 2018 Invictus Games that will be located in Sydney, Australia. It's actually no surprise that the royal pair will head to the land down under later this year, as there have already been multiple reports about their international visit.
Back in April, reporter Omid Scobie tweeted that Markle confirmed the couple's upcoming trip to Australia, as Town & Country noted. The Duchess reportedly told an Invictus Games hopeful (during her and Harry's trip to Bath to see the U.K. team trials) that she was "really looking forward to being there with Harry."
So, the Duke and Duchess of Sussex were bound to head to Australia, at the very least, because of the Prince's connection to the Invictus Games. He launched the games back in 2014 in London, according to the royal family's website. The event, which Harry launched after he completed his own tours of service in Afghanistan, sees wounded servicemen and women compete in Olympic-style events. The international competition takes place in a different country during every year it takes place, with former games taking place in London and Orlando, Florida.
The 2017 Invictus Games took place in Toronto, Canada. The games were particularly special because it served as Harry and Markle's first official public outing together. So, considering the Duke's involvement in the games, it was pretty much a given that they would head to Australia, and some surrounding countries, during the fall.
While Kensington Palace did not reveal an official date for their tour, the date of the Invictus Games is a great indicator of when you should expect to see them heading overseas. According to the official website for the event, it will take place in Sydney from October 20-27. Since their tour will fall on the occasion of the games, per the palace, you'll be able to see the Duke and Duchess of Sussex head to Australia, New Zealand, Fiji, and the Kingdom of Tonga sometime in October.
Their tour will obviously super special because it will be their first official overseas one together. But, there also might be another special aspect of their trip, all thanks to Markle's Suits past. According to an article from The Mirror published on May 26, there could be a Suits reunion in store for the former actor when she heads to Australia with her husband. The publication that the royal couple have been invited to stay with Gabriel Macht, her former co-star, and his wife Jacinda Barrett in their Queensland, Australia-based house.
The report also details that Macht invited another Suits co-star, Sarah Rafferty, and her husband, Santtu Seppälä, to stay in the residence around the same time. It definitely sounds like there could be some fun times ahead for the newlyweds as they head around the globe for their upcoming engagement.
It's great that Kensington Palace has finally confirmed where the Duke and Duchess of Sussex will head to on their first official international engagement as a married couple. Since this tour is a little ways away, royal watchers will just have to wait patiently for what will undoubtedly be a fun and glamorous trip for Harry and Markle.