Prince Harry's Friend Had LOTS Of Praise For Meghan's Commitment To Humanitarian Work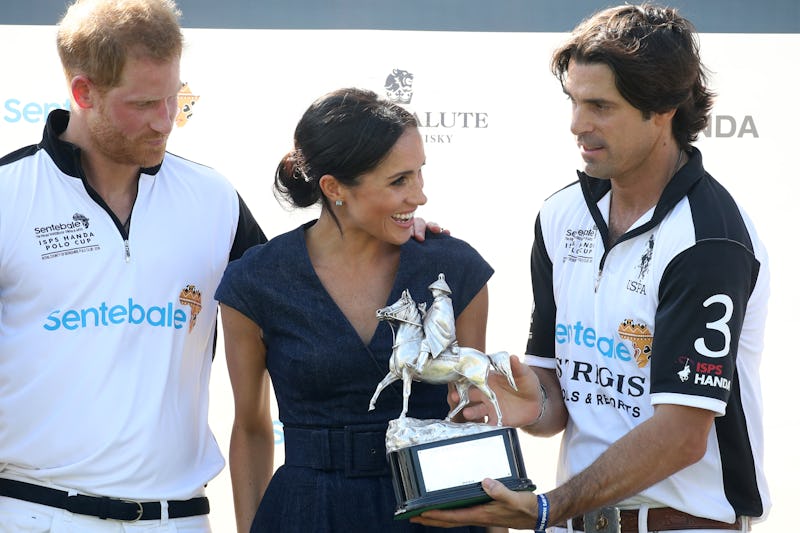 Chris Jackson/Getty Images Entertainment/Getty Images
No one supports Prince Harry like Prince Harry's friends support Prince Harry. In fact, Prince Harry's friend Nacho Figueras' comments on Meghan Markle will make you wish you had a Nacho Figueras of your own. The professional polo player and Ralph Lauren model — because of course he is — officially weighed in on the Duke and Duchess of Sussex's relationship via Instagram. You'll be looking at him with giant, heart-shaped anime eyes in no time.
After a photo of Figueras more or less third-wheeling Prince Harry and Meghan Markle went viral, the polo player went on Instagram to elaborate on the moment. Fortunately, he had nothing but kind words for the pair. Kind, loving, adorable, precious words.
Figueras posted a picture of himself accepting a trophy from the Duchess of Sussex at the Sentebale ISPS Handa Polo Cup and added the following caption:
"This girl really rocks. The more I know you the more I am convinced that you both found each other to change the world. Let's push the envelope!! Let's make the world a better place. 🙌🙌"
Swoon. Believe it or not, that's not all he had to say on the subject. Figueras, a longtime friend of Prince Harry's — and his polo teammate in the match — also spoke to People magazine about the newest member of the royal family.
Here's how Figueras described the Duchess of Sussex to People:
"She's lovely, she's wonderful. I'm very happy for her, for Harry. They're both lucky to have found each other and have this new chapter of their life."
The magazine also asked the polo player if he thought the couple were enjoying their honeymoon period, to which he responded, "I think so. They seem very, very happy." He mentioned that Duchess Meghan has been learning about polo since she and Prince Harry first got together, and that she even took in the most recent game with Figueras' wife.
Yes: Before you fall too much in love with Figueras, it's important to know that the athlete, model, and humanitarian is happily married to a photographer, and they have four children together. Sorry about that. But maybe he has younger siblings that are still available?
In addition to joking about his third wheel status next to the Duke and Duchess of Sussex, Figueras took the opportunity to have a charitable opportunity go viral as well. He explained that the polo match helped raise $1.3 million for Sentebale, an organization founded by Prince Harry that helps children "affected by HIV/AIDs in southern Africa".
Figueras wrote that, "Sentebale currently reaches nearly 4,000 young people a year with our unique program of psychosocial support, so they can live long, happy, healthy lives." Not that the two have to compete, but that's a way better use of a photo going viral than just plugging a SoundCloud account. People reports that Figueras is also an ambassador for the charity.
In case you're really into the sport of polo now — and no one would blame you for it — Figueras primarily plays in Argentina and the United States. He is often referred to as the "David Beckham of Polo", and now he is the David Beckham of your heart.