Prince Harry Already Has A Contender For The Future Royal Baby's Name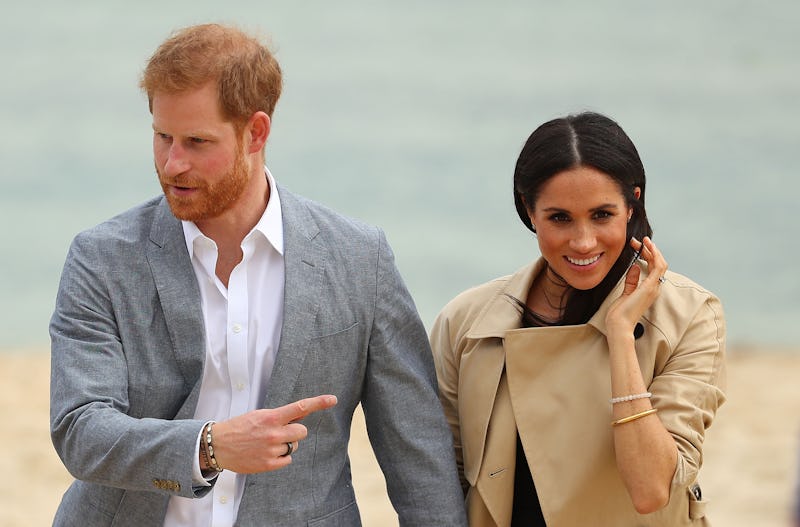 Scott Barbour/Getty Images Entertainment/Getty Images
Meghan Markle just announced her pregnancy, so, of course, the main thing anyone wants to know is what she and Prince Harry are definitely naming their baby who they still have months to prepare for and who they might not even know the sex of yet. Surely, Meghan Markle and Prince Harry have decided on a baby name — firmly and enthusiastically — and will soon announce it to the curious public. It's the least they could do.
In reality, that's far from the case. But it's still fun to ponder baby name options and look for any tidbit of information that comes out. The latest? The baby could be named Harriet. GASP!
Markle and Harry are currently on tour in Australia, and are meeting a ton of people every day. As reported by the Mirror, while they were in Melbourne, they met a woman in the crowd named Jessica Bonaddido, and her five-month-old baby, Harriet. According to the Mirror, after meeting the Duke and Duchess, Bonaddido said, "As soon as I introduced my daughter to Harry he said, 'That's a great name.' Maybe they will choose it for their own child, which would be fun."
Before anyone gets all riled up, Harry likes the name because it is so similar to his own, and also a big part of his job is to meet people and say witty and charming things. So, this was more a "Ha! That baby's name is like mine! Get it?" than a "This will definitely be my first girl's moniker. Thank you for your contribution."
Bonaddido continued, "Meghan was right behind him and was playfully tickling her toes and said how sweet it was that I'd brought her out today." Presumably she means Harriet's toes and that is just some odd phrasing, but it's just another piece of evidence that the Harry and Meghan Go To Australia and Do Cute Things Tour is going wonderfully. (Also, be sure to check out the picture of Harriet — she has a shiny crown headband!)
Markle and Harry also commented on baby names while on a tram ride in Melbourne with some local kids. According to CNN, when they were asked by 12-year-old Charlie Wolf what they want to name their little one, Wolf said Markle responded, "We've been given a long list of names from everyone, we're going to sit down and have a look at them." (Who's "everyone", Meghan??) People reports that another 12-year-old, Ella Burns, said Markle told her, "She said that she hadn't thought of one as it was still quite early."
Fans of the Duke and Duchess of Sussex will likely hear the baby's name for the first time a few days after he or she is born, if recent royal history is anything to go by. (It's definitely something to go by.) Even though the baby isn't due until spring, betting sites have already placed odds on certain names. On Ladbrokes, for example, the top names are Victoria, Albert, Arthur, Phillip (spelled with two Ls, which may be a typo), Alice, and Diana. And Harriet even makes the list with the odds placed at 33/1. As a point of comparison Victoria has 8/1 odds. Still, it's far above Brexit, which is 500/1. Not bad, Harriet.