Prince William Teased Kate Middleton About Her Outfit Because He's The Fashion Critic We Need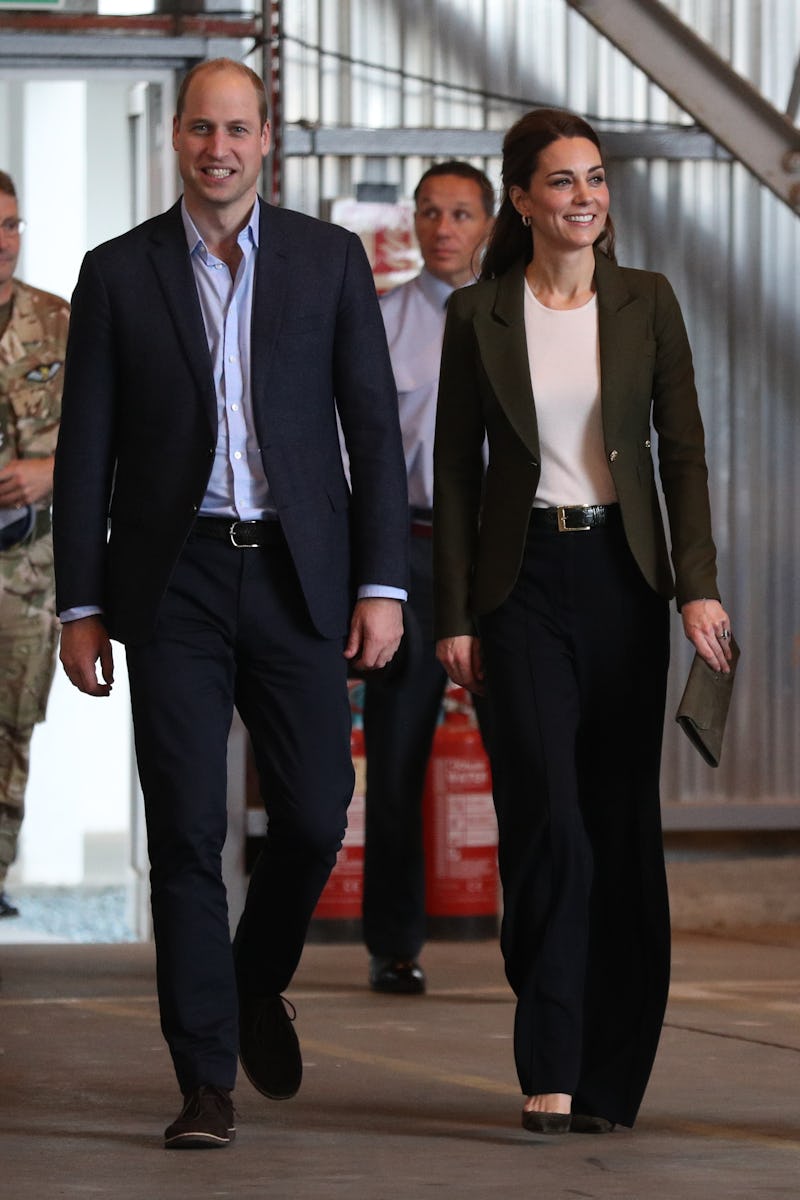 WPA Pool/Getty Images Entertainment/Getty Images
Prince William has jokes for days and it's all in good fun — as it should be. At a recent event while visiting with members of the military, Prince William made a joke about Kate Middleton's outfit. It was a not-often-seen and outward display of his cheeky and British sense of humor and perhaps even a backhanded compliment of his wife's signature and classic style.
Here's how it all went down.
While posing for a photo opp in front of a decorated, green Christmas tree, the future King of England said, "My wife's camouflaged against the tree," referring to her army green blazer. The implication was that she blended in with or resembled the Christmas tree. Middleton's response was a shared chuckle with her humorous hubby. His playful joke elicited giggles from the assembled crowd, too.
But even while wearing something in the same color family as the tree, Middleton looked smashing. As per usual.
Middleton wore the long, fitted blazer open and paired with a white top, wide-legged and high-waisted black pants, an olive green envelope clutch, and heels.
This overall exchange was low key and harmless, but it showed us that the royals are real people, too. They laugh and joke at each other's expense, which can keep the mood light when in the middle of what amounts to their work day. Just like the rest of us.
Here's the full look. Where's the Christmas tree? See what we did there?
This funny video will give you all the festive feels.
We often see William and Kate performing their royal duties in public but they don't usually display much emotion while doing so. They don't pack on PDA like Prince Harry and Meghan. But this was a fun and new way to see how the royal couple is IRL.
Middleton was the picture of grace, class, and sartorial sophistication, which is usually how it goes with her wardrobe.
She looked polished and pretty while performing her royal tasks, with her chocolate locks swept off her face.
If you just about fell in love with Kate's army green topper, which was by Canadian brand Smythe and comes with an $850 price tag, you can grab a similar version for a super affordable price. The boyfriend version below is way stylish and will go with tons of items already in your closet. You can dress it up or down. Kate the Great wore hers with tailored pieces.
Love Kate's voluminous pants, which were by Jigsaw and cost approximately $166? You can grab an inexpensive pair for yourself, as well.
It was refreshing to get a glimpse of William and Kate sharing a joke while doing their thing in the public eye. It was a complete and total "Awww!" moment. However, there could be some further reaching fashion implications. The innocent joke being covered in the media called additional attention to Middleton's winning look. It wouldn't be a shock if this ensemble is copied through the winter. The Kate Middleton Effect is also a real and actual thing.