Prince William & Kate Middleton Announce A Third Child Is On The Way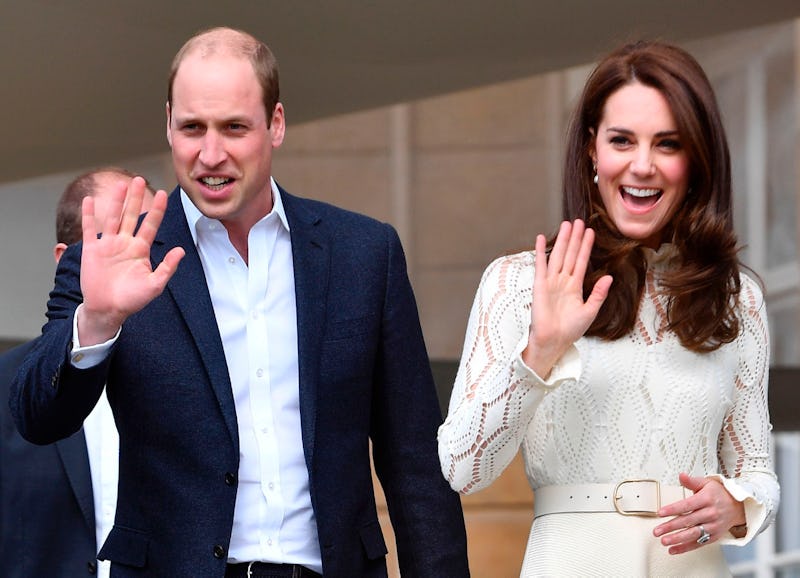 AFP/AFP/Getty Images
The United Kingdom's Duke and Duchess of Cambridge, Prince William and Kate, are expecting their third child, according to a press release shared today by Kensington Palace. The Queen and members of both families are reportedly "delighted" by the news.
The press release also noted that Kate is unfortunately again suffering from Hyperemesis Gravidarum, which is the severe morning sickness that she similarly endured during her previous pregnancies with Prince George and Princess Charlotte. The release also reported that, as a result of the condition, the Duchess of Cambridge will be skipping out on her planned appearance at the Hornsey Road Children's Centre in London today.
The statement did not note Kate's due date, though it did report that she is being cared for at Kensington Palace.
Once born, the child will be fifth in line to the throne, taking the place currently held by Prince Harry, Prince William's brother. As it stands, the royal line of succession recognizes Queen Elizabeth II as the sovereign and her son, Prince Charles, as the heir apparent. Prince William is next in line to the throne after Prince Charles, followed by his children from eldest to youngest.
If the couple's third child is a boy, his birth will mark the first time in which male primogeniture removal rules are invoked, meaning that the Cambridge children's ages, not their genders, will determine throne succession — with second-born Princess Charlotte superseding her hypothetical younger brother. This change was made in 2015 to ensure that royal sons no longer have precedence over royal daughters when it comes to determining succession.
The news about Kate's pregnancy comes as another one of her children, Prince George, is getting ready for a big life milestone — the first day of school, something about which the media has widely reported.
Four-year-old Prince George will be commencing his academic career on Thursday at Thomas' Battersea, a private, co-educational day school in London. As Kensington Palace noted last week, both Prince William and Kate will accompany George to drop him off on his first day.
According to Sky News, the royal family has also experienced even further changes and milestones recently. Prince William recently retired from his job as a helicopter pilot with the East Anglian Air Ambulance in order to take on royal duties full time. Moreover, the family also just relocated their home base to Kensington Palace, after having been primarily based at Anmer Hall in Norfolk since they married in 2011.
Overall, it is clear that 2017 certainly constitutes of year of big changes and excitement for the Duke and Duchess of Cambridge. Many members of the public are likely looking forward to witnessing these changes alongside the royal family, particularly when it comes to welcoming the much-celebrated third royal baby.