Prince William & Prince Harry Took Over 300 Radio Stations For A Cause Close To Their Hearts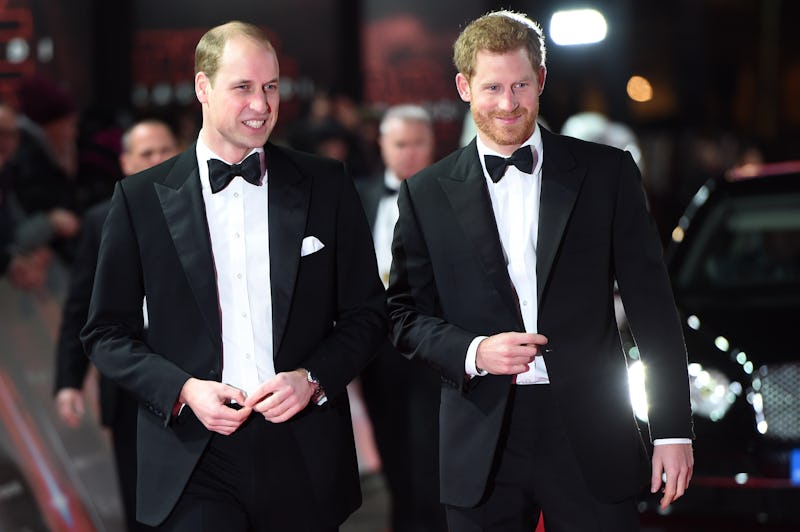 WPA Pool/Getty Images Entertainment/Getty Images
Early on May 15, radio listeners in the United Kingdom were greeted with a message from two very famous brothers. As Kensington Palace revealed, Prince William and Prince Harry took over radio stations all over the UK for a Mental Health Minute. This exciting movement is part of their Heads Together campaign, which is a cause that's close to both of their hearts.
While some might have expected to hear some Ariana Grande or Drake tunes on May 15, they actually got to hear the two princes, at least for a minute. And it was all for an incredibly important cause. In a video shared by Kensington Palace, William and Harry — along with Lady Gaga, Dame Judi Dench, track and field athlete Dame Jessica Ennis-Hill, and actor David Harewood — talked about the importance of discussing one's mental health. In order to spread this message, the Heads Together campaign broadcasted their Mental Health Minute across over 300 radio stations simultaneously in the country, which was a first, according to the Head's Together website.
The broadcast reached over 1 million listeners, who heard the royals' meaningful message regarding mental health. "Just starting a conversation on mental health could make all the difference. When you talk about something, you have less reason to fear it," William says in the short clip. Harry then says, "If you do have the courage to speak about it, you really can make things better." They really couldn't have said it better.
This latest movement is just one of the many incredible acts that Harry and William have taken with their Heads Together initiative. The two have been heavily involved with their campaign, as it's one that hits close to home for them.
Heads Together was launched on May 16, 2016 by Prince Harry and the Duke and Duchess of Cambridge, as the campaign's website notes. The main goal of Heads Together is to normalize the conversation around mental health issues so that people will feel comfortable seeking out help for their own wellbeing. In April 2017, their movement was chosen as the charity of the year for Virgin Money London Marathon, which served to highlight the importance of their cause even more.
The royals have released numerous videos since the launch of their campaign in which they've gotten fairly personal not only about how much this all means to them but about their own struggles. In April 2017, William teamed up with Lady Gaga (a winning collaboration if there ever was one) in order to discuss Heads Together. Gaga related that she admired the the campaign and the conversation that it's started.
"It's time that everyone speaks up and feels really normal about mental health; it's the same as physical health," the prince said in the video with Gaga, which mirrored his comments in the Mental Health Minute clip. The singer echoed his statement and said, "We have to make the strongest, most relentless attempt we can to normalize mental health."
William, Harry, and Kate Middleton got even more personal during a roundtable discussion that they had together relating to mental health. The princes related that they don't talk about their late mother, Princess Diana, all that much because it's quite painful to bring up those memories. But, just by being involved in the Heads Together campaign, they've realized that, even if the conversation might be hard, it's important to talk about those particularly difficult times. William said,
"You have to prioritize your mental health [after hard experiences]. You have to say to yourself at some point, because it's very easy to run away from it... someone has to be brave enough to take the lead and be brave enough to force that conversation."
The royal highnesses are clearly very passionate about mental health issues and changing the conversation around them. And their new Mental Health Minute movement was just one of the many amazing ways that they're making a positive difference when it comes to this matter.