This Interview Proves Eugenie & Beatrice Have The Sweetest Sisterly Bond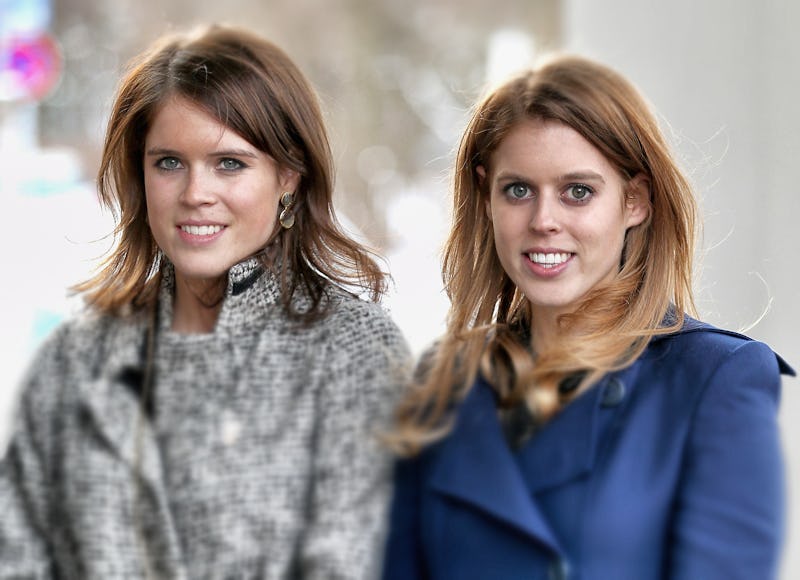 Chris Jackson/Getty Images Entertainment/Getty Images
A strong bond between siblings can be a beautiful thing, especially when it's just two of you against the world. In the September issue of Vogue, Princess Beatrice and Princess Eugenie's close-knit relationship was made centre stage. Describing themselves as being "exceptionally close," the sisters admitted in the interview to "occasionally feeling overwhelmed". However, they explained that they lean on each other to cope — a part of their relationship, I imagine, that will be utilised as Eugenie plans her wedding to Jack Brooksbank, which is taking place this October.
Let's face it, planning a wedding is stressful enough, but doing so knowing that the whole world will be watching must be very daunting. However, Eugenie seems admiringly unstressed about the whole thing. "It's very nerve-wracking because you want it to be perfect but then you realise that you're going to be with the person that you love forever and nothing else really matters," she told the magazine.
While the sisters are super close, that's not to say they don't have their off days. During the interview, the pair admitted they do argue — however, it doesn't sound like their fallouts are anything to worry about. According to the royal siblings, the biggest row they've ever had was over a pair of trainers. "We have the same size feet and both of us had identical pairs," Beatrice explained. "One pair got trashed and the other sister may have swapped them."
So, why are the sisters speaking out now? Well, bride-to-be Eugenie's big day is partly the reason, but actually, it's mainly because the princesses feel like it is "the right time" to open up about their lives as working women in their twenties, but who also happen to be part of the British royal family.
"It's hard to navigate situations like these because there is no precedent, there is no protocol," Beatrice explains. "We are young women trying to build careers and have personal lives, and we're also princesses doing all of this in the public eye."
That's the difference between Eugenie and Beatrice, and their cousins Prince Harry and Prince William — the sisters "technically aren't working royals," according to Town & Country. Although they are often seen together at royal events, they "don't receive money or police protection through the royal family." They instead have full-time careers, and are "supported financially by their father."
This is why Eugenie has a personal Instagram account, one where she can share intimate throwbacks to her childhood shared with Beatrice, including this gem:
Thanks to their parents — Prince Andrew and Sarah Ferguson — Eugenie and Beatrice appear to be grounded through a normal upbringing. Well, as normal as you can get for being eighth and ninth in line to the throne. "Mummy, Bea, and I call ourselves 'the Tripod' — they are my best friends in the world," Eugenie revealed in an interview with The Telegraph.
She also mentions how her and Beatrice's relationship is like any other siblings — a unique bond that can't be broken: "We get on fantastically well, perhaps because we do and think different things [...] like all sisters, we have silly arguments about unimportant stuff, but we do love each other to death."
In that case, it comes as no surprise that Eugenie has asked Beatrice to be by her side when she gets married later this year as her maid of honour.
In another rare and candid 2016 interview with Harpers Bazaar, Eugenie shared a day in her life, where she concludes her day by explaining what she can't live without: "My family. That sounds cheesy, but I really can't. Especially my mum. I wouldn't be able to make tough decisions without her.
"And my sister. My mum always says that we're the only ones who know exactly what's going on in each other's lives."
Whilst I'm not a member of the royal family, I can totally relate. I have a younger brother who's been my partner in crime since 1999. Only having one sibling is a strange experience, but a unique one none the less; you're the only two people to share the same experiences within your family unit.
Although some sibling relationships can be strained, your brother or sister can become your confidant and your best friend. In my case — and seemingly Beatrice and Eugenie's — that's the reality of having just the one sibling; a close-knit bond for life.