Princess Eugenie's Romantic Hat Is Here To Remind Everyone That Royal Wedding Season Ain't Over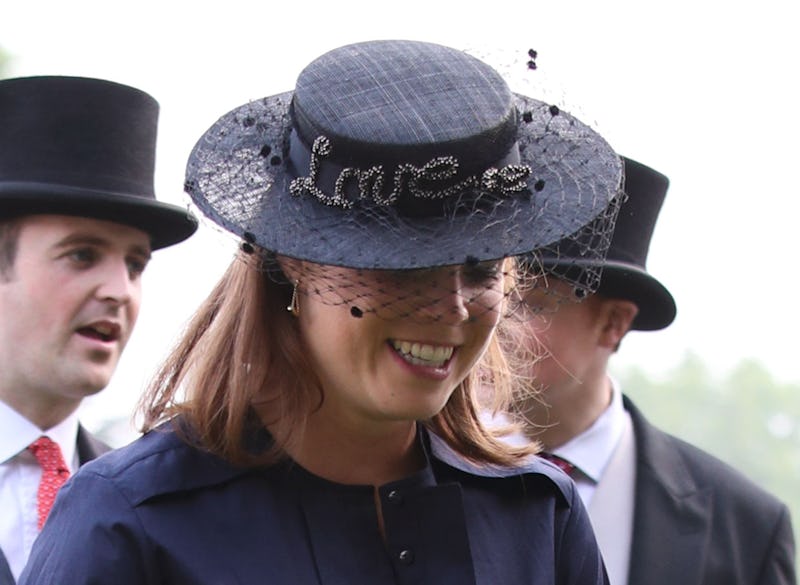 WPA Pool/ Getty
The royal wedding might be over, but the season is far from finished. As People Style found, Princess Eugenie wore a "love" hat to a garden party at the Buckingham Palace. Is this a reminder that her wedding is coming up? Probably. If nothing else, the fashion moment proves that there is a whole lot of love to go around the family — sartorially and IRL.
The women of the royal family know how to make a fashion statement. From Queen Elizabeth's lime-colored suits to Meghan Markle's, well, entire closet, there's always something to look at. But this time it was Princess Eugenie stepping out into the fashion spotlight. She wore a navy blue hat and matching colored dress to Queen Eliabeth's garden party and decided to spread a little love with her accessories — literally.
Princess Eugenie's hat actually says "love" on it in script lettering. The word is on top of the band and seems to be what is holding on the netting and baubles. This is monochrome at its' finest, my friends. Because nothing says, "hey, I know you're over the royal wedding, but don't forget about mine" than a hat like that.
It looks like Markle isn't the only one that knows how to make a style statement in the royal family.
In case you've been so caught up with Prince Harry and Markle's wedding that you missed some royal news, allow me to catch you up. Princess Eugenie, aka the daughter of Prince Andrew, is set to marry Jack Brooksbank on Oct. 12, 2018. She has been dating Brooksbank for seven years, according to The Sun.
The pair will marry in St. George's Chapel, Windsor Castle. If that sounds familiar, it's because you just watched Prince Harry and Markle get married there on May 19. According to People Style, there is no competition among the two though.
"It is complete love, and there is room for all of them," a friend tells the publication.
Don't believe the friend? Then let Princess Eugenie's hat speak for itself. There is plenty of love to go around, and the accessory proves it. Of course, she doesn't need an accessory to show how much love she has for her fiancé, but the subtle clues are always really fun to watch. Markle proved that with all of her subtle wedding accessory nods to her new family, and now Princess Eugenie is too.
According to numerous publications, Princess Eugenie and Brooksbank got engaged in early May 2018. They weren't eating roasted chicken when it happened, but the story still sounds pretty darn romantic.
"The lake was so beautiful. The light was just a special light I had never seen. I actually said, 'This is an incredible moment,' and then he popped the question, which was really surprising even though we have been together seven years," People Style reports.
Quirky accessories aren't the only thing that Markle and Princess Eugenie have in common. They both wore a pretty unique outfit for their official engagement photos. The princess wore an embroidered flower dress for her special moment. According to InStyle, the dress was a cool $5,000 and from the brand Erdem. It's not the first time she's worn the dress, either.
Let's just get this out of the way. The ring was absolutely stunning too. Because I know you were wondering. The gorgeous ring features a massive pink sapphire with diamonds all around it. As Good Housekeeping reported, it looks eerily similar to her mom's ring as well. Because these royals really know how to play in to tradition.
There is a whole lot of love floating around the royal family and their closets. Here's to hoping that the trend never dies.