Princess Eugenie's Wedding Dress & Designer Was A TOTAL Surprise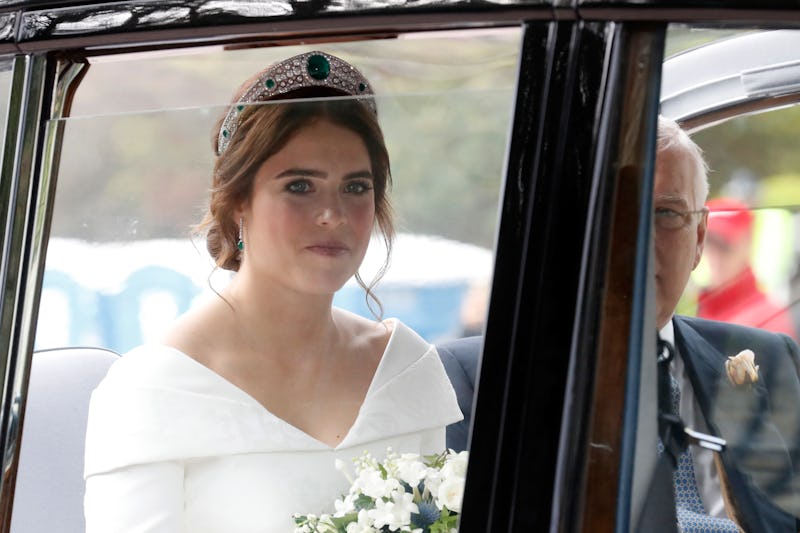 Chris Jackson/Getty Images Entertainment/Getty Images
When you're a bride there is, for better or worse, a lot of focus on your outfit. And when you're a member of the royal family, and not just any member but a princess, that focus is only going to be all the more intense. So to Princess Eugenie's wedding dress, and the question on any self-respecting fashion fan's lips on the day of a royal wedding. Who designed the dress and what was it like?
Eugenie wore a Peter Pilotto-designed dress, complete with a low back, V-neck, and long train. And while Princess Eugenie looked stunning in the A-line gown, the designer of the gown was actually quite unexpected.
In the build up to Princess Eugenie and her now-husband Jack Brooksbank's big day, the names predicted to design the bride's dress were mainly modern British fashion brands, as Eugenie previously told Vogue UK she'd opted for a designer based in the UK. She explained that deciding who would create the dress was surprisingly easy. "I'm not telling anyone who is making it, but I can say it is a British-based designer. [The dress] is the one thing that I was really decisive about," she told the publication. "As soon as we announced the wedding, I knew the designer, and the look, straight away. I never thought I'd be the one who knew exactly what I like, but I've been pretty on top of it."
Stella McCartney (considered a great match for Eugenie's environmental credentials, as the wedding is entirely plastic-free) and Erdem, whose designs Eugenie has worn on several occasions including in her official engagement photographs, were both frontrunners in the build-up to the nuptials.
Another name in the mix was London Brand Ralph & Russo — one of Meghan Markle's faves, and the designer of her sister Beatrice's outfit for the wedding. And pictures of Eugenie's sister and maid-of-honour Princess Beatrice picking up an intriguing-looking brown box from their Mayfair store a few days before the ceremony only added fuel to speculation that they might have designed the bride's dress, or at least had a hand in a high profile outfit. However, in the end Peter Pilotto won out, surprising many who predicted other UK designers.
Aside from one notable foray into headline-grabbing head-gear at Prince William and Kate Middleton's wedding in 2011, Princess Eugenie's style is like most royals' — classic and understated. So her dress was expected to follow suit and it certainly did, with its classic silhouette and style.
There was some debate over whether, like Kate Middleton and Meghan Markle, Princess Eugenie would have a second dress for the evening reception. For the second dress, only time will tell, but in the meantime, fashion experts will have fun for some time talking about this huge royal fashion moment.
Second dress or no second dress royal fashion fans will have another set of outfits to enjoy as Princess Eugenie and Brooksbank's celebrations continue on Saturday, when the pair will host a festival complete with fairground and afternoon tea. How very British.