Princess Eugenie's Royal Wedding Ring Exchange Was SO Tense For This One Reason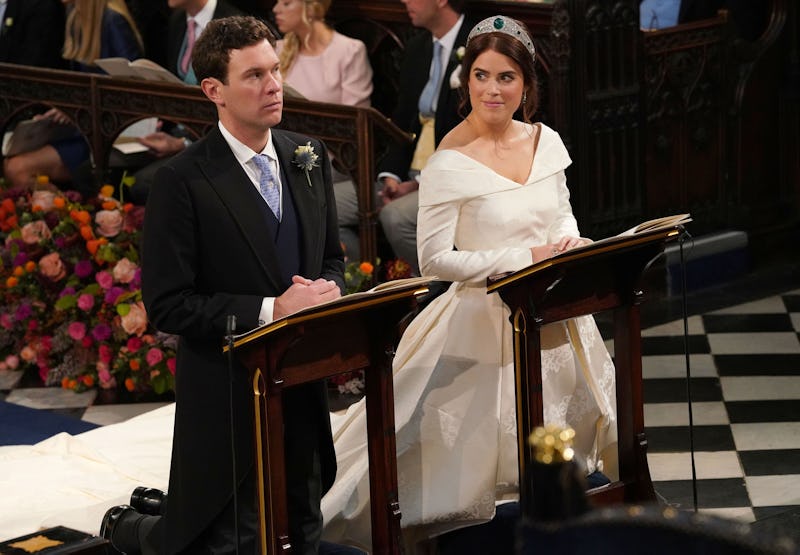 WPA Pool/Getty Images Entertainment/Getty Images
Princess Eugenie and Jack Brooksbank's wedding was absolutely beautiful. Countless people watched across the world as the couple became husband and wife on Oct. 12 at St. George's Chapel in Windsor Castle, including me — and the ceremony was stunning. However, that's not to say there weren't any glitches on the big day. In fact, at one point, Princess Eugenie's wedding ring got stuck on her finger. But although the moment could have potentially been pretty awkward, it was actually rather sweet.
When the moment came for Brooksbank to place Eugenie's wedding ring on, it suddenly got stuck. As much as he tried, he couldn't slide the band past her knuckle. As he struggled in front of the congregation, his best man, Thomas Brooksbank, who is also the groom's brother, could be seen letting slip a giggle in the background. Eugenie then attempted to help her new husband put the ring in its correct place, but rather awkwardly, she wasn't able to slide the ring any further down her finger either.
Although the moment could have potentially caused a bit of upset, to be honest, the couple looked so happy to be getting married that it didn't appear to bother them. Instead, as they went on to take their vows, they looked at each other and smiled, showing the world that they are not just husband and wife, but best friends too.
Later on in the ceremony, when Eugenie's sister Princess Beatrice, who was the maid of honour, gave her speech, the cameras panned back to the bride. The footage revealed that she had finally managed to slide the ring onto her finger after all. However, the moment didn't escape the attention of those watching the wedding at home. Afterwards, Twitter was filled with messages and posts from people commenting on what happened and sharing video clips. You can watch the moment here:
IMHO, despite this minor hiccup, the wedding was beautiful and flawless. Yes, this was a teeny blip, but the way the couple handled it was so sweet and shows how strong their relationship is.
Eugenie and Brooksbank actually go way back. They first met back eight years ago in 2010 at a friend's house in Switzerland while on a skiing holiday. During an interview with Eamonn Holmes and Ruth Langsford on ITV, the princess revealed, "it was love at first sight."
When Brooksbank first saw Eugenie, he admitted he was mesmerised. It didn't take long for her to notice him looking in her direction, and when they locked eyes for the first time, the groom explained they "sort of just starred at each other."
Moments later, he plucked up the courage to go and talk to the princess — and the rest was history. Eugenie added: "He came over and shook my hand, and I was all butterflies and nervous. I think I rang my mum that night and was like, 'I met a guy called Jack.' And that was it. That was how it all started."
Eight years on, the couple are now officially husband and wife, complete with wedding rings correctly placed on their fingers. I'm not sure about you, but I loved every second of their wedding, and hope they a happy life together.