Princess Mary Of Denmark Said A Tarot Card Reader Predicted Her Future With UNCANNY Detail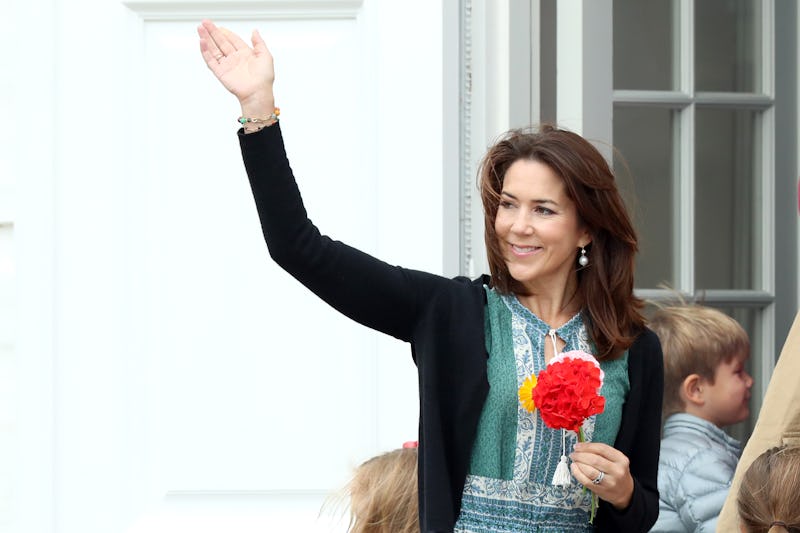 Luca V. Teuchmann/Getty Images Entertainment/Getty Images
A royal wedding is always tinged with magic, but the story behind the marriage of Denmark's Crown Prince Frederik to an Australian woman truly reads like a fairy tale. It has everything: a beloved prince, a beautiful princess from a far-off land, and maybe even a bit of prophecy. You see, Crown Princess Mary believes her future was predicted by a tarot card reader long before she met the man she would eventually marry. Score one for fate.
For those who don't follow the goings-on across the pond, the love story between Denmark's successor couple is guaranteed to give you the same warm, fluttery feels as any Hollywood romantic comedy. Advertising executive Mary Donaldson, 28 years old at the time, met the Crown Prince Frederik at a bar in the heart of Sydney during the 2000 Olympics. According to Hello magazine, she had no idea he was royalty at first; he merely shook her hand and introduced himself as "Fred." It wasn't until later that someone pulled her aside to tell her she had just met Danish royalty.
As it turned out, the Australian everywoman and Danish crown prince got along swimmingly. Over the next few years, they flew back and forth between their respective countries to see each other until she got a job in Copenhagen. They announced their engagement in the fall of 2003 and were married in a lavish ceremony six months later.
It's the kind of story nobody ought to have been able to predict, but according to Princess Mary, a psychic in Australia was able to do just that. In a new biography of her husband, Under the Bar, she told the author that she visited a tarot card reader in a local flea market not long before the Sydney Olympics.
According to People, the reader told the future princess that she would soon meet a foreign man and leave the advertising job she had just accepted. After that, she would become famous and move to Europe.
At first, the soon-to-be Princess Mary took it with a grain of salt. "So I left there and thought, 'Well yes, that was a lot of fun, but nothing more,'" she told the author of Under the Bar. "But I've always been interested in the spiritual. In mystery and fate."
To be fair, the reading was exactly the kind of rosy outlook provided by many tarot card readers. After all, nobody wants to hear a psychic tell them they're going be stuck in a menial job until they retire and settle for anyone less than the love of their life. In the future princess's case, though, the prediction turned out to be true on virtually every count. She left her new job, met a Danish man, and moved to Europe. As for the fame, you're reading a news article about her right now, aren't you?
Denmark's Crown Prince and Princess are among the most famous European royalty, along with the UK's Prince William and the Duchess of Cambridge, Kate Middleton. In fact, the two couples are often held up as examples of modern royalty: young, relatively open-minded men and women who move with the times. Parallels are often drawn specifically between Kate Middleton and Princess Mary, neither of whom were nobles before marrying into the royal family. (It doesn't hurt that they bear a strong resemblance to each other.)
So was the story of Denmark's favorite royal couple written in the stars? Princess Mary doesn't appear to have discounted the possibility, and her husband is similarly enamored of the idea of destiny. According to People, he has said he believes in fate, although he added "no one should read anything about me and my future."
No matter what you believe, one thing is certain: The tale of the Danish Crown Prince and Princess is one for the ages.