Even Priyanka Chopra's Dog Is Celebrating Her Wedding To Nick Jonas On Instagram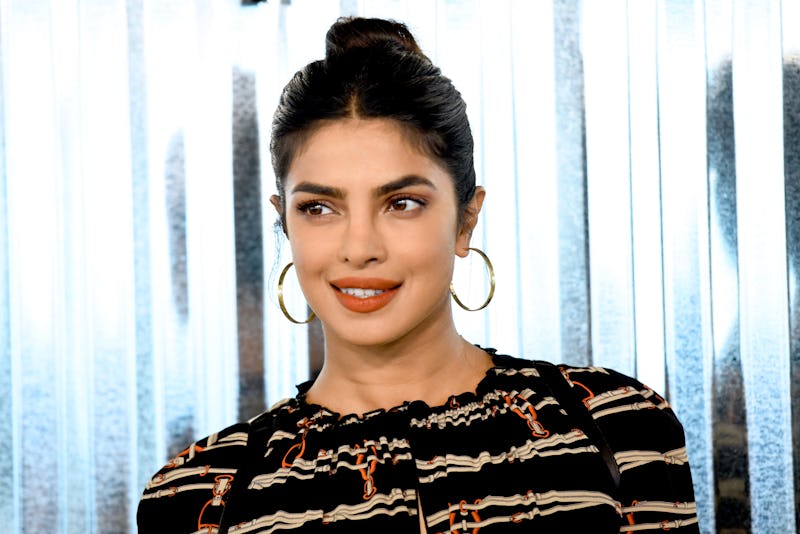 Jared Siskin/Getty Images Entertainment/Getty Images
Aren't pets just the best? They love you unconditionally, they're endlessly loyal, and they'll even take the time to dedicate Instagram posts to you on special occasions. Priyanka Chopra's dog posted about her wedding with Nick Jonas on Dec. 4, and wow — that pup's hashtag game is strong.
Diana the dog, aka @diariesofdiana on Instagram, leads a pretty charmed life. She's been on magazine covers, made TV appearances, and now has not just one, but *two* famous parents. "Yaaay! We are all a family," Diana captioned a photo of Chopra and Jonas at their recent wedding. "I woof mommy and daddy a lifetime of happiness," she added, alongside hashtags like, "#WoofingInJoy," "#PriNickTheFuture," and "#Nickyanka," among others.
Just so we're all on the same page here, "woof" means "wish," right? "#WoofingInJoy," however, is akin to like, weeping in joy? Or shouting in joy? And then "#PriNickTheFuture" translates to something along the lines of "predict the future"? Does that sound correct? OK, moving on.
The first photo Diana shared showed Chopra and Jonas in a loving embrace during their Hindu ceremony on Dec. 2. The bride wore a stunningly detailed bright red sari, and the groom wore a gold, traditional Indian kurta complete with a fancy matching turban.
Diana posted a photo from the couple's Christian service as well, which was officiated by Jonas' pastor father, Kevin Jonas Sr., People reported. The bride wore an intricately embroidered white Ralph Lauren gown, and the groom wore a suit by Ralph Lauren as well. "Here's to a lifetime of love and friendship ... to my mommy and daddy," the pup captioned the snap. "Cheers to these 'paw-some' people."
So, we're all clear on the translation for "paw-some" being "awesome," yeah? Cool. In addition to trying to make fetch, er, #PriNickTheFuture happen, Diana also added some new hashtags to the second photo, including, "#MyHeartIsFull," and "#WeAreFamily."
In speaking to People about their big day, Chopra told the publication,
"It was all tears. All tears. I could not hold it in. I think I was nervous and scared. But as soon as the curtains opened, and I saw his face it was just like everything settled and I knew I was making the best decision of my life."
Jonas, for his part, had some heartfelt words about his wedding, too, telling People,
"[The] emotions were running high during the ceremonies, I think especially during the Western wedding for me. You know you think your whole life about that moment. Honestly, I could not have imagined it would be as perfect as it was. It was highly emotional."
Aww. How cute are those two? Er, wait — how cute are those three? You certainly can't forget their adorable dog-child, Diana. After all, she dedicated two full Instagram posts to her mom and new dad. That's like, kind of a big deal when you're a super famous pup with a super curated social media page. All the congrats to the *paw-some* little family.