Priyanka Chopra Wore Head-To-Toe Lavender To The Royal Wedding & Her Hat Is SO Good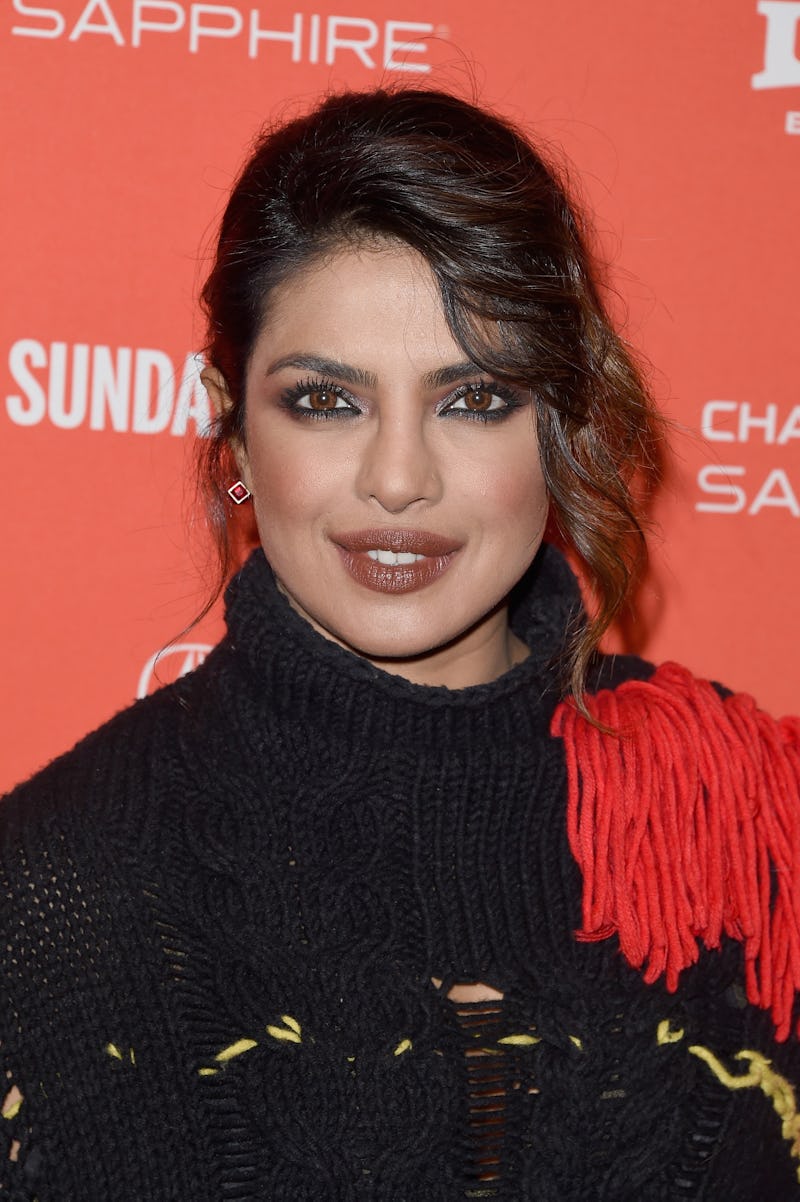 Jason Merritt/Getty Images Entertainment/Getty Images
There was a whole lot of one-colored looks at the royal wedding, but there was one guest that completely nailed the trend. Priyanka Chopra wore a monochrome lavender outfit to the royal wedding, but it's the hat that made the look. A lot of time went into choosing the perfect accessories, according to Chopra's social media. It looks like it was time well spent, because she nailed the fascinator.
It was no surprise that Chopra was going to wear a hat to the royal wedding. After all, it is a staple for every woman at the event, but this knocked it out of the park fashion-wise. Unlike some women that wore teeny tiny sculpture-like hats on their heads, Chopra opted for a more traditional-looking hat. The asymmetrical lavender design covered her entire head, but had lace on the edges that looked almost windswept.
According to People Magazine, Chopra was openly stressed out about wearing a small hat to the royal wedding. She said on Watch What Happens Live that she didn't even know what a fascinator was at first.
"I haven't even been fitted yet. I have an idea [what it's going to be]," she revealed to Cohen during the After Show. "I'm more stressed out about a small hat. How do those things stay [on]?"
According to her social media, Chopra quickly learned about fascinators after her hat fitting. Because when someone goes to the royal wedding, that is apparently a thing. She captioned her photo pf the hat shop with "Ohhhh, now I get it !!" Clearly she was not kidding, because the lilac-colored has was stunning.
As far as the rest of the outfit, she stuck with the same color trend. The star wore a structured, button-front dress that was classic and timeless all at the same time. At first glance, it looks like she's wearing the classic suit-inspired dress. The more you look at it, the more details you see though.
One side of the button-up top has been folded down. There's also a large 3D detail on the shoulder that makes the look seem more character life than your typical daytime look. The outfit has a personality of its own, but it Chopra that really brings the look to life. Add in her over-sized earrings and clutch and you have the definition of how to monochrome like a royal.
According to multiple sources, Chopra and Markle has known each other for a while. The two have gushed about each other in interviews since they met in 2016, and see to be quite close friends.
"Priyanka is unbelievable," Markle has told India West in 2016. "She has become a really good friend. ELLE Magazine in the U.S. hosted a dinner celebrating Women in TV, and we met that night — turns out that she really likes Suits."
You can tell exactly how close they are to each other by how much thought was put into the outfit as well. Chopra got to London early in the week to make sure that everything was in place. Like mentioned above, she also made sure to go to hat fittings before the event. That's the thing about fashion. You can use it as a way to show exactly how much you care.
That and, you know, millions of eyes being on you while you walk into a wedding will also have the same effect. That's a whole lot of sartorial pressure.
There were a whole lot of outfits at the 600 person wedding, but Chopra's was definitely one of the top on the list. Beside Markle herself, who takes the cake and everything else up for grabs for sartorial praise.