Princess Charlotte Brought Her A Game To The Latest Royal Tour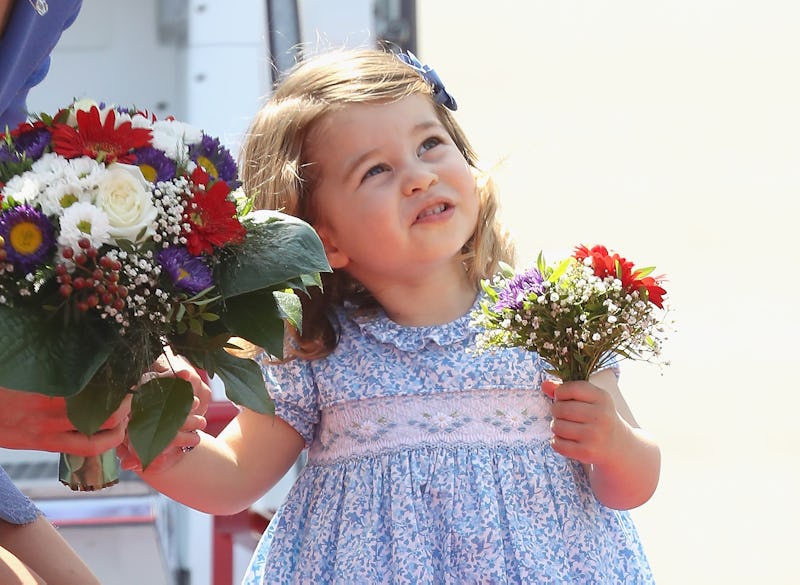 Chris Jackson/Getty Images Entertainment/Getty Images
With royalty comes great responsibility, and that is a truth that Kate Middleton cannot escape... and neither can her children. Royal tours are just part of the deal, and this month, Middleton, Prince William, George, and Charlotte spent five days on tour visiting Poland and Germany, greeting diplomats, and visiting landmarks. And obviously, Charlotte and George were the stars of the show — with plenty of photographic evidence to prove it.
They might still be very young, but now that George is three (he turns four on Saturday!) and Charlotte is two, their personalities are really starting to come out, and it's very clear that Charlotte might just be a bit more cut out for the royal life than George is — well, she seems to be enjoying it more, anyway, especially after this last trip. Where George is famous for his scowls, Charlotte just glows, as if she was born to do this, which she kind of was.
OK, OK, so she might have had a meltdown on the final day (according to the photos, anyway) but she's a toddler and that's pretty typical. Plus, to be totally fair, she did wait to have it until her family was literally boarding the plan to head back home to London, and if you've ever been around a two-year-old, you know that's impressive.
The proof that Charlotte is ready to take the crown goes far beyond how identical she looks to her great-grandmother, the Queen — it's also clear in the photos that came out of their tour over the past week.
She Commands The Royal Jet Like A Champ
She may not have wanted to leave, but she doesn't look shy about boarding a private plane one bit. This is a girl who knows luxury when she sees it, and she's probably been having a blast getting to fly... especially without being bothered by her fellow babies crying.
She Gives A Mean Diplomatic Handshake
George is just kind of impatiently waiting for everyone to be done, but Charlotte knows when duty calls, you have to answer. Look at that tiny little handshake! Two years of experience and she's already a pro.
She Can Appreciate A Good Bouquet Of Flowers
What's cuter here: The tiny Charlotte-sized bouquet or the fact that she knows that when someone gifts you flowers, you have to smell them?
She Was Super Pumped To Meet New People
Nobody gazes out of their plane window at their adoring fans below if they aren't truly excited to meet them. That quality will serve Charlotte for years to come.
She Was So Happy When She Got Off The Plane
That is the smile of a girl who is completely in her element, right?
Not Once Did She Look Like This
OK, maybe she did towards the end a little bit... And it's not that I blame George, of course. I would be far more like him than Charlotte — just so done.
Or This
Tsk, Tsk
And Best Of All, She Even Looks Like The Most Royal Tot Ever
Don't worry, royal family — if there are ever any diplomatic emergencies, just get Charlotte on the case. Who could resist that adorable face, anyway?