Prosecco Flavored Nail Polish Is Now A Thing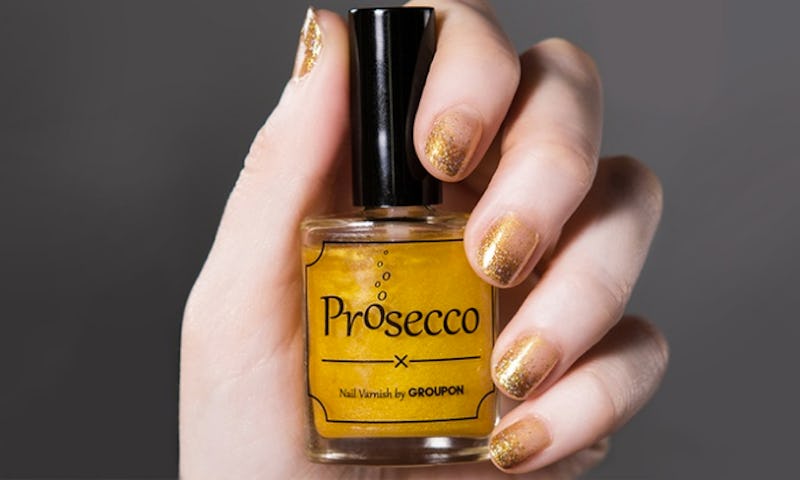 GroupOn
Wine-lovers, listen up, because the most recent beauty launch will blow your mind. Groupon created a Prosecco flavored nail polish. Yes, you read that correctly. The beauty world seems to be torn on how they feel about the new item, but this could just change how you think of nail polish once and for all.
Have you ever been painting your nails and thought, wow, this color looks good enough to eat? Probably not, but you will now. There's been pumpkin spice scented and odorless nail polish, but now thanks to Groupon, you now might be tempted eat your nail polish. While, according to the website, you still shouldn't drink this nail polish out of the bottle, is is supposedly edible.
According to Groupon, this beauty items was created with some very special women in mind. "To help celebrate Mother's Day we've created the world's first edible prosecco flavoured nail polish, 'Prosecco Polish'," the Groupon website says. "Combining our love for manicures and prosecco, this nail varnish is made with real prosecco and smells and tastes just like the real thing."
The nail polish isn't available to buy just yet. You can enter Groupon's giveaway to be one of the first to get your hands on the item. All you have to do is head to the page and click "buy" to enter the giveaway. Bustle reached out to Groupon to get more information on the launch.
In case you were wondering, the nail polish doesn't contain alcohol. Groupon isn't your typical beauty retailer, so this came as a surprise. There's no telling what other beauty company has in the works.
People aren't sure how to feel about the edible polish though. While some are excited to test the new product, others think that it's a little too much. Here are some of the best reactions, so you can decide for yourself which team you're on.
Very good point.
Don't drink it!
Someone's still not sure what to think.
Hmm...
This is one beauty product that you're just going t have to try and see for yourself!