Prosecutors Pieced Together 16 Pages Of Shredded Documents Seized From Trump's Lawyer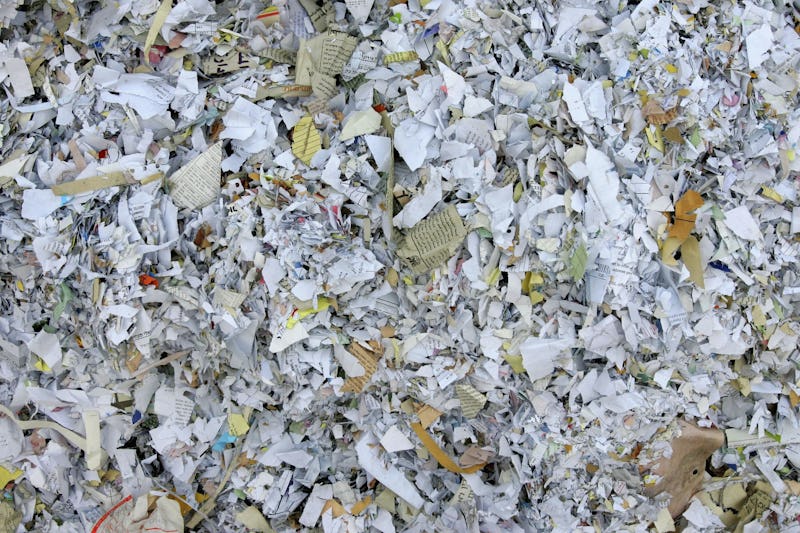 David Silverman/Getty Images News/Getty Images
Federal prosecutors in New York are eager to learn as much as they can about the business dealings of President Donald Trump's longtime personal attorney. So eager, in fact, that prosecutors reassembled shredded documents recovered from Michael Cohen's office, according to an update provided to the court Friday.
Federal prosecutors have painstakingly reconstructed the contents of a shredding machine seized April 9 when FBI agents raided Cohen's office, home, and hotel room, according to the U.S. Attorney's Office for the Southern District of New York. News of prosecutors successful efforts to reassemble Cohen's shredded documents came Friday in an update submitted to the judge presiding over a review of the objections Cohen, Trump, and the Trump campaign made regarding prosecutors examining materials seized in the FBI's raid.
"As also previously noted, the contents of a shredding machine were seized," prosecutors noted in a letter — obtained by Politico — updating U.S. District Court Judge Kimba Wood of their progress. "The reconstructed documents were produced today, and are approximately 16 pages long."
The update also noted that prosecutors had managed to electronically extract "731 pages of messages, including call logs" related to "encrypted messaging applications, such as WhatsApp and Signal" from phones seized in the raid. Prosectors said that although two BlackBerries had been seized in the raid, they had only managed to extract data — approximately 315 megabytes worth — from one. The letter noted prosecutors were "still in the process of attempting to extract data from the second BlackBerry."
Prosecutors did not reveal in their update to Judge Wood what the content of the shredded documents were or whether they related to Cohen's professional or personal life.
In April, shortly after FBI agents obtained a search warrant allowing them to raid a number of properties associated with Cohen, it was revealed that Trump's longtime attorney had been under criminal investigation for months. The revelation came as attorneys for both Cohen and Trump filed a motion to stop prosecutors from being able to use some of the business records, emails, and other documents seized during the FBI's raid, arguing they were protected under attorney-client privilege.
In response to the motion, the U.S. Attorney's Office for the Southern District of New York said in a filing that the search warrant authorizing the raids had been granted by a federal judge to allow prosecutors to gather evidence as Cohen "is under criminal investigation." Prosecutors noted in their court filing that their investigation was focused on Cohen's "own business dealings" and not necessarily his professional work.
It was later revealed that Cohen was under federal investigation for potential bank fraud, wire fraud, and violations of campaign finance law related to a "hush money" payment he'd made to an adult film star prior to the 2016 election. Cohen has admitted to paying Stormy Daniels, whose legal name is Stephanie Clifford, $130,000 to keep quiet about an alleged extramarital affair she had with Trump in 2006. Records pertaining to Daniel's "hush money" payment were among the documents and other materials seized by the FBI from Cohen's office, home, and hotel, the New York Times has reported.
Michael Avenatti, the lawyer representing Daniels in her defamation lawsuit against Cohen, said Friday that federal prosecutors' successful reconstruction of Cohen's shredded documents could prove to be trouble for both President Trump and his longtime attorney. "The second and third bullets could pose a huge problem for Mr. Cohen and ultimately Mr. Trump," Avenatti wrote in a tweet published Friday. Avernatti went on to say that the third bullet point, which related to prosecutors' efforts to extract data and encrypted messages from Cohen's phones, could be especially troublesome. "So much for encryption protection!"