"Protect Mueller" Tweets Show People Won't Tolerate Trump Messing With The Russia Probe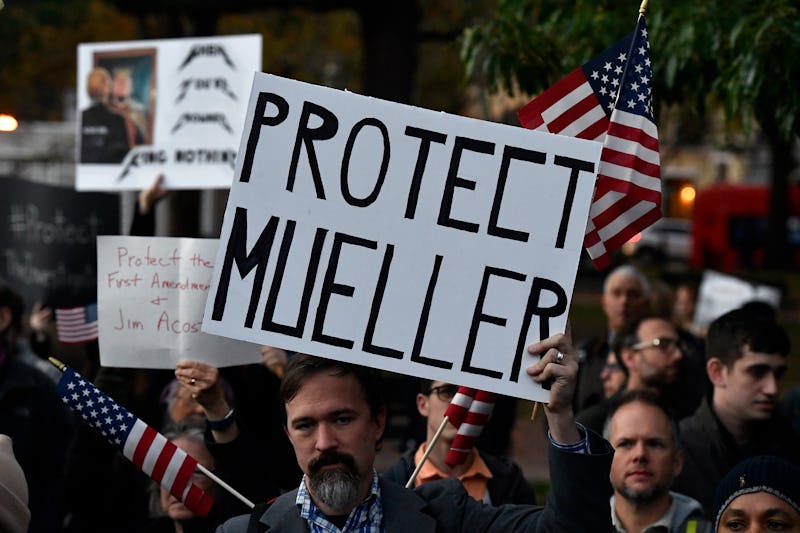 Larry French/Getty Images Entertainment/Getty Images
With Jeff Sessions' recent resignation as Attorney General, the fate of Robert Mueller's Russia investigation is now in question. Following Sessions' resignation, Matthew Whitaker was placed in command; Whitaker has made several comments in the past denouncing the probe. As a result, the American people stepped out in public protest in over 900 hundred rallies across the country on Thursday, commemorating the movement with "Protect Mueller" tweets along the way.
The rallies were organized by MoveOn.org under the website titled Nobody Is Above the Law. MoveOn defines itself as an organization that mobilizes political activism and is "committed to an inclusive and progressive future." Meanwhile, the Nobody Is Above the Law site's mission statement reads in part, "Whitaker has publicly outlined strategies to stifle the investigation and cannot be allowed to remain in charge of it. The Nobody Is Above the Law network demands that Whitaker immediately commit not to assume supervision of the investigation."
Many believe that Mueller's probe has fallen under apparent jeopardy now that Trump has the ability to appoint someone to replace Sessions permanently. Even if Trump keeps Whitaker as a permanent replacement (which is unlikely but entirely possible), the probe is at risk: Whitaker penned an op-ed for CNN in 2017 that detailed all of the ways in which he thought the Russia probe was "going too far," and even suggested that it would be reasonable to starve it of funding as a means to end it. In another instance, he described the probe as "ridiculous" and "a little fishy" while speaking on a radio show, per CNN.
From politicians to lawmakers to everyday citizens, here are some of the tweets people are writing to push back against the threat to the Russia probe, and to commemorate the power of their protests: