Protestors Wearing 'Handmaid's Tale' Outfits Confront Mike Pence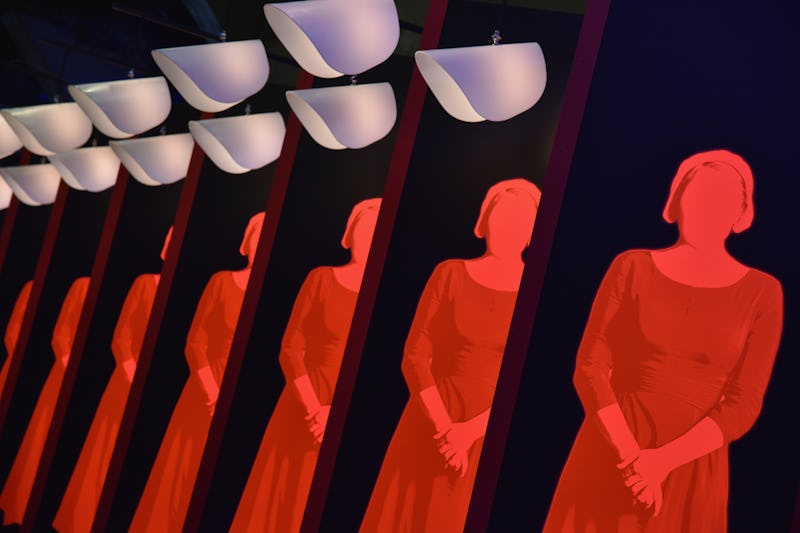 Bryan Bedder/Getty Images Entertainment/Getty Images
On Friday, a group of roughly 100 protestors wearing Handmaid's Tale costumes greeted Mike Pence in Colorado Springs as he made his way into the building where he was set to deliver a speech for Focus on the Family, a Christian organization dedicated to promoting hardline conservative values.
The Handmaid's Tale, a dystopian novel by Margaret Atwood, depicts a United States run by a theocracy that strips women of their reproductive rights and forces fertile women from the lower social class to bear children on behalf of those in the highest class; handmaids are forced to wear red robes and white "wings" — a type of bonnet — on their heads.
Ryan Barry, the board chair of Unite Colorado, one of the groups that organized the protest, said that demonstrators donning the Handmaid's Tale outfit was a statement against the values held by Pence and Focus on the Family.
"It's a way of showing that Focus on the Family and Mike Pence stand for very restrictive, 'traditional' gender roles, opposition to choice for women and anti-LGBTQ positions," Barry told The Denver Post, adding that not all protestors donned the Handmaid's outfit. "This is the way they see Focus, this backwards organization that's promoting stuff that's far beyond what most of us would consider applicable for modern society."
Protestors in Colorado Springs held signs that read "Stop targeting women's health care" and "Abort Mike Pence." According to ABC News, one read, "The Handmaid's Tale is not an instruction manual. It's a WARNING!"
One of the protestors, Nancy Stilwagen, characterized the vice president's support for Focus on the Family as hypocritical. "This organization believes being gay is a sin and that it's possible to convert people from being gay to straight — it's ridiculous," she said to KRDO. "So many people say we don't want Sharia Law in this country. People are pushing it. It's just not Islamic law. It's Christian law."
Focus on the Family firmly opposes abortion, same-sex relationships, divorce, and sex outside of marriage. According to its website, the group describes sexuality as "a glorious gift from God to be offered back to Him either in marriage for procreation, union, and mutual delight or in celibacy for undivided devotion to Christ." Visitors of the Focus on the Family website are prompted to donate to "rebuild at-risk marriages" by a banner at the top of every page.
Vice President Pence is well-known for endorsing these beliefs and incorporating them into his personal life. In March, aWashington Post profile of his wife, Karen Pence, sparked fervent debate about gender roles by revealing 2002 statements the vice president made to The Hill claiming he never remains in a room alone with a woman or attends events where alcohol is served unless his wife is present. The piece further reported that he frequently gets guidance from his wife regarding socially conservative laws he approves.
Friday marked the 40-year anniversary of the conservative organization's activities. According to The Denver Post, Pence dedicated much of his speech at the Focus on the Family event to defending religious freedom, showing support for the "pro-life" movement, and praising President Trump for nominating Neil Gorsuch to the Supreme Court and continuing his efforts to fulfill his promise to defund Planned Parenthood.