Members Of A Right-Wing Group Reportedly Weren't Arrested After Attacking Protestors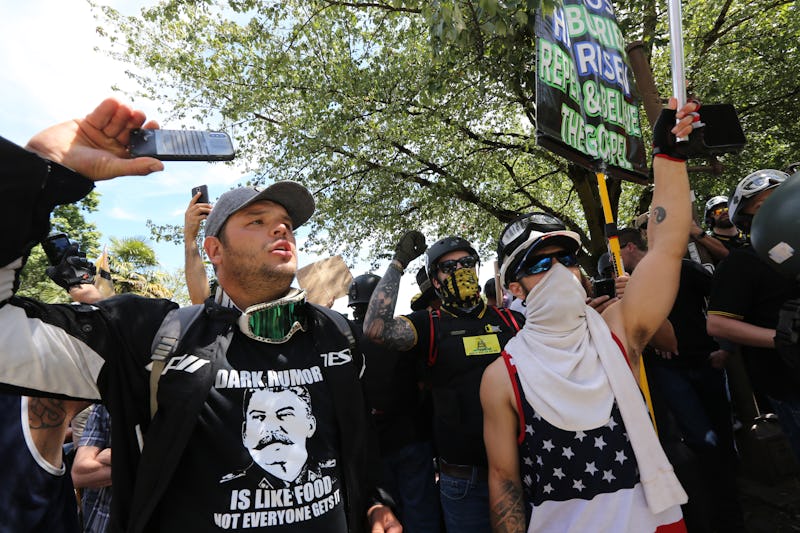 Karen Ducey/Getty Images News/Getty Images
Members of a far-right organization that has been characterized by the Southern Poverty Law Center as a hate group allegedly beat up two or three protesters on Friday, BuzzFeed News reported. The "Proud Boys" are a far-right men's group whose members refer to themselves as "Western chauvinists." Following the violent encounter, which took place after a Republican event in New York City, BuzzFeed News reported that the Proud Boys were not arrested, but the protesters were.
The incident took place outside the Metropolitan Republican Club in Manhattan, following a speech from Proud Boys leader Gavin McInnes. Video footage of the encounter shows more than a dozen members of the group either beating up protesters or screaming slurs at them. The New York Police Department confirmed to Bustle that its officers were on the scene at the time of the attack, and that three people were arrested and charged with assault. However, BuzzFeed News reported that none of those arrested were Proud Boys members.
"The NYPD is also currently reviewing additional video and other evidence from events last night to determine if other crimes were committed and, if so, identify those perpetrators and make further arrests as warranted," the NYPD told Bustle in a statement. "There is no tolerance for violence anywhere in New York City, and the NYPD will do everything in its power to ensure public safety."
Police told The New York Times that the Metropolitan Republican Club had been vandalized with anarchist symbols hours ahead of McInnes' appearance there on Friday.
"Last night the Metropolitan Republican Club was vandalized by the leftist hate group Antifa, who also left a note promising 'this is just the beginning' and threatening more violence," the club posted on Facebook.
McInnes, who is also a co-founder of Vice Magazine, had his Twitter account suspended earlier this year, along with that of the Proud Boys. However, BuzzFeed News reported that McInnes was not present for Friday night's attack, having been escorted out of the Metropolitan Republican Club earlier with a samurai sword in hand. During his appearance at this club, McInnes used the sword to reenact the assassination of Japanese socialist leader Inejiro Asanuma, who was killed in 1960 by a young, far-right nationalist.
Shay Horse, a Brooklyn photojournalist who witnessed Friday night's attack, told BuzzFeed News that the incident took place after police escorted Proud Boys and other event attendees out of the club.
"There was a big group of like 30 of them, and they came out grunting …trying to hype each other up," Horse told BuzzFeed News, adding that police did not make the event attendees disperse after walking them to the corner.
"It was just a pummeling — it wasn't really a fight, because the three people never really got a chance to even stand up," Horse added, describing the attack.
The NYPD told Bustle that a statement that "police officers from the 19th Precinct and the Strategic Response Group were assigned to a protest" elsewhere in Manhattan, and that there were "no incidents at that location." Later on, however, the NYPD said that "several police officers leaving the event observed an assault happening blocks away at 84th Street and 3rd Avenue" and "immediately engaged the group." The NYPD did not identify the attackers or victims to Bustle, however, and reportedly ignored emails from BuzzFeed News asking why Proud Boys members were not arrested.