'ASOUE' Gives The Baudelaires A New Home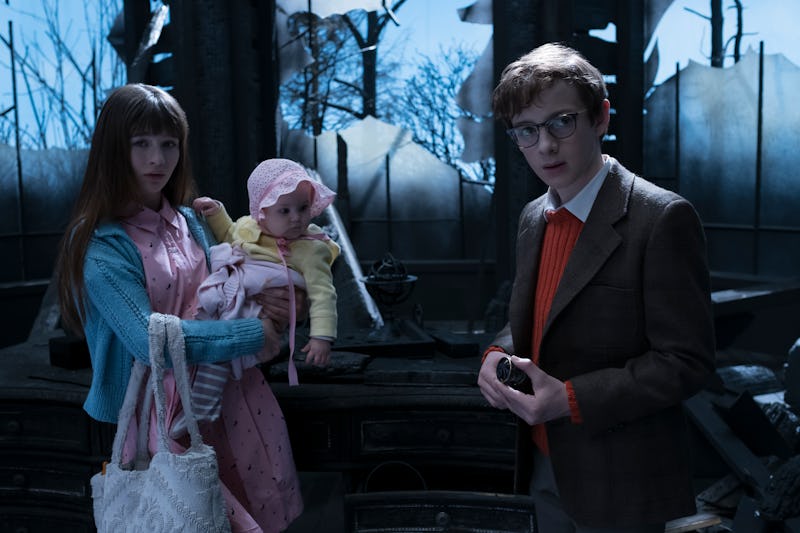 Joe Lederer/Netflix Joe Lederer/Netflix
As far as orphans go, Violet, Klaus, and Sunny Baudelaire in Netflix's A Series of Unfortunate Events (an adaptation of the popular children's book series) are exceptionally unlucky. Count Olaf and his henchmen are hellbent on stealing their family's fortune, and he's lurking everywhere as the trio is passed from one sinister or hapless guardian to the next throughout Season 1. Spoilers for the ASOUE finale ahead. As the finale comes to a close, Mr. Poe drops the siblings off at their new home, which will presumably be the setting for Season 2 — so what is Prufrock Prepratory School on A Series of Unfortunate Events?
The boarding school looks decidedly grim — Mr. Poe remarks that the architect who built the school must have been "severely depressed," and I'm going to have to agree with him there. Violet somberly tells her brother, "we're on our own" and it certainly appears so. But, it looks like they're about to meet the Quagmire kids — the pair is shown sitting on a bench behind the triplets, holding the other half of the spyglass. Viewers will have to wait for Season 2 to see more of Prufrock Prep and the Quagmire family, but we need only look to the books for some information about the school and what may be in store for the Baudelaires during their stay.
Spoiler alert: The Baudelaire's bad luck will continue at Prufrock. Case in point — in the books, they were forced to live in "Orphan Shack," a crab-and-fungus-infested living space. And, of course, they haven't escaped Count Olaf at all — thanks to his never-ending supply of disguises, he'll continue to torment them. If the series follows the books, he'll appear as their gym teacher Coach Genghis. (Either way, he'll definitely keep stalking the Baudelaires until he gets his hands on their fortune.) If that wasn't bad enough, they'll be bullied by their classmates and poor Sunny will be forced to make staples for the school's evil Vice Principal Nero.
Although, if the series returns for Season 2, it would likely open at Prufrock, the Baudelaire's time there will be short-lived. Vice Principal Nero plots to expel them and, despite the Quaqmire kids' attemps to help their new friends, Violet, Klaus, and Sunny are sent away to live with yet another new pair of guardians, Jerome and Esmé Squalor. But, their time at Prufrock is critical to the plot because it unites them with the Quagmires. Olaf also has his sinister sights on these orphans, and there's strength in numbers — so Season 2 will bring viewers an exciting alliance between the Baudelaires and the Quagmires.
Still, I'm really not looking forward to seeing that "Orphan Shack" onscreen. Haven't these children suffered enough? This is A Series of Unfortunate Events so, of course, the answer is no.