This Primer & Mascara Combo Literally Doubles The Length Of My Eyelashes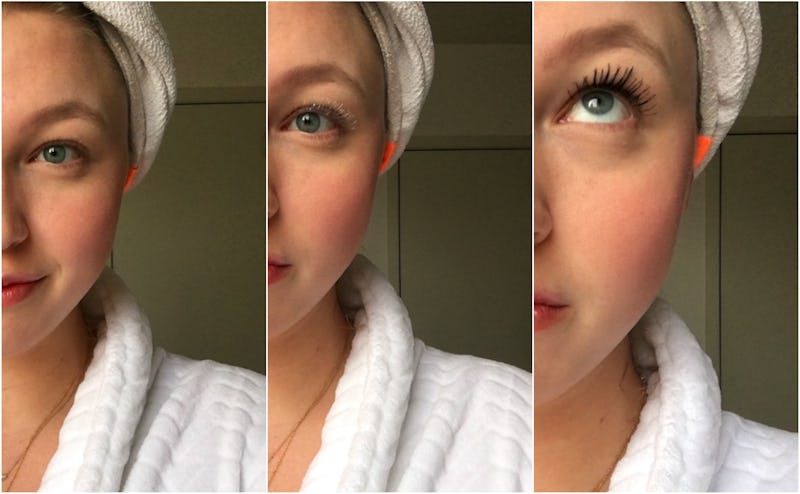 Courtesy Olivia Muenter
Even as someone who loves beauty, I was never been particularly passionate about finding the perfect mascara. And then I got lash extensions for the first time. While I enjoy the long, full lashes that lash extensions provide, I always found myself just a little annoyed with at least some aspect of them — the process of getting them, the panic of watching them fall out one by one, the money associated with getting them refilled. Still, though, when all the lash extensions would inevitably fall out, I was left with feeling utterly disappointed with my own, natural lashes. And constantly in search of the perfect mascara. After many months of trial and error, by total chance I have finally discovered a winning combination of mascara and lash primer. And it is a revelation.
In general, lash primer adds tiny, microscopic fibers to your lashes that lengthens and bulks them up a little — giving the appearance of longer, fuller lashes. Specifically, PUR's lash primer uses a "'magnetic' polymer matrix [that] wraps a positively charged elastic veil around each lash to instantly lift, separate, and define for long-lasting performance."
I should start by saying that I've tried my fair share of lash primers, and each time I am not surprised at all when I am disappointed by the results. So when I first tried out PUR Cosmetics' Fully Charged Lash Primer, and discovered that basically added a whole other lash-length to my lashes, I was shocked. And very excited. The primer essentially works to add fibers to your natural lash line and prep them for mascara by making them longer and thicker than they are in actuality.
Me with no primer or mascara on versus with primer on right lashes.
The primer, which goes on white, instantly lengthens your lashes. It's noticeable immediately, which is oddly satisfying — you don't have to wait to see results. Above you can see what my right lashes look like before and after the primer. Like I said, it's a game-changer.
Me with primer + mascara on right lashes, and nothing on the left.
After primer, I layer on my go-to mascara, Thrive Causmetics' Liquid Lash Extensions — which, to be honest, is pretty damn good without the primer, too. The combination, however, is truly remarkable.
Combined, the primer adds thickness and fullness to my lashes, while the Thrive Causmetics mascara amps it up even more. I've used this primer with other mascaras, and it still works super well, but something about the super thin bristles on Thrive's mascara wand really work well with the PUR primer. It's a match made in lash heaven.
The primer also helps my mascara stay on all day long — no flaking off, no smearing, no smudging, which is something I've always had a problem with in the past.
Liquid Lash Extensions, $24, Thrive Causmetics | PUR Cosmetics Fully Charged Lash Primer, $20, Ulta
The end product is something that feels just as good and dramatic as lash extensions while looking even more natural. Another bonus? Unlike actual lash extensions, using your own primer and mascara allows you to adjust your look to suit the rest of your makeup look. If I want a more dramatic eye, I put on two or three coats of the primer plus three to five coats of mascara on each eye. Plus, it makes it super simple to add more mascara to the outer corners — great for creating a natural-looking cat eye with just your lashes.
Me wearing the lash primer + mascara on the right lashes and just mascara on the left lashes.
While together, the mascaras are almost $50, this is nothing compared to the price of lash extensions — plus, these tubes are bound to last you at least three months, whereas lash extensions have to be refilled about every month or so. In my book, there's no comparison. Plus, it avoids that whole having your eyes taped shut for 2 hours thing. Need I say more?