This 'My Little Pony: The Movie' Makeup Collection Will Make You Seriously Nostalgic For Your Childhood — EXCLUSIVE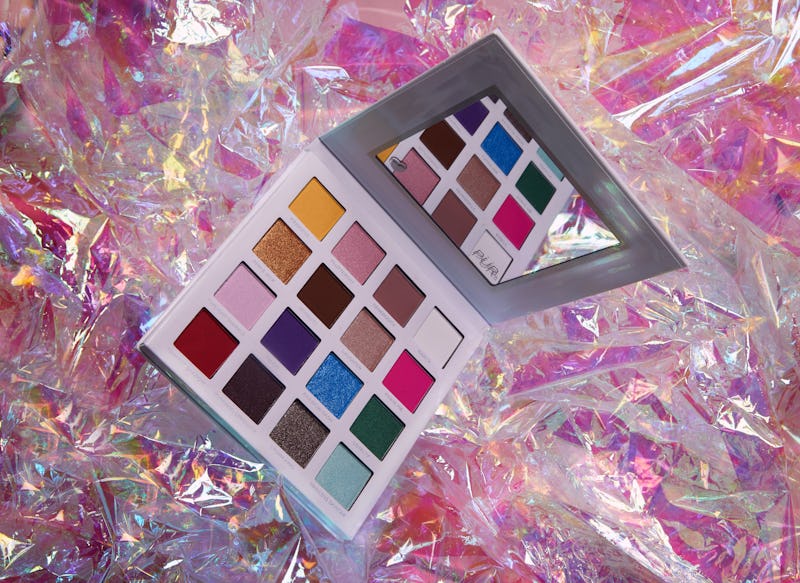 Courtesy PUR
Move over unicorns, because there's a new animal trend in town. In honor of the soon-to-come film, PUR is teaming up with My Little Pony: The Movie to create the makeup collection of your dreams. I'm talking bright colors, sparkles, and even tools to come with it. The best part is that you don't have much longer to wait. Here's everything you need to know about the launch, so you don't miss a single thing.
The next biggest trend in makeup has officially arrived. From bright colors to mega-glow, the PUR x My Little Pony: The Movie makeup collection gives you every trend that you've been loving lately plus some. The four-product line might be small, but it is mighty. Making all your makeup dreams come true, the collection includes a 16-shade eyeshadow palette, six shimmery lip glosses, and three stick highlighters. As if that wasn't already enough, the brand also created a six-piece brush set and bag to go with it.
PUR x My Little Pony: The Movie Collection Eyeshadow Palette, $29, Pur Cosmetics
Whether you're a fan of color or looking to embrace your inner Pinkie Pie, this collection has something for you. It tackles the highlight trend with three different cheek shine shades and even offers glosses for the bold and subtle lip lovers out there. Bottom line: the collection is magical.
As amazing as all of the products are, the palette is what stands out the most. With a mix of shimmers and mattes as well as pops of color and wearable shades, the shadow set has it all. One look and you'll be ready to add this to your to-buy list.
You don't have to wait much longer for the products to be yours, either. The entire My Little Pony: The Movie Collection will be available for purchase on the PUR website on Aug. 10. After that, you can shop online at Ulta on Aug. 19 or in-stores on Sept. 1. That leaves you plenty of time to stock up before the My Little Pony: The Movie premiere on Oct. 6.
Mark your calendars, my friends, because this is one collection that you won't want to miss. From the stunning makeup shades to the fun names of the shades, you really can't go wrong with this magical launch.
The brand also teamed up with YouTuber Hailie Barber for the collection as well. The influencer looks absolutely stunning wearing the collection, and shows you exactly how to embrace the color-friendly products. She also has a full video up explaining all of her favorite products.
Can we talk about these glosses for a second? Because they definitely deserve some love. They might be super bright colors, but they go on so smooth and shiny that it's perfect for everyday wear. Honestly, what more could you possibly ask for?
This collection is completely different than what PUR normally puts out color-wise. It's nice to see them branching out into bright territory. Of course, there's no better occasion to amp it up than with My Little Pony: The Movie.